Accessories Nutrition Performance Gels - Road Bike Shop
Shop
>
Health & Beauty > Health Care > Fitness & Nutrition > Nutrition Gels & Chews
>
Accessories > Nutrition & Performance > Gels
Clifbar Bloks Energy Chews - 18-Pack Tropical Punch W/Caffeine, One Size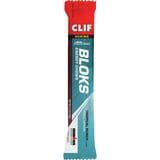 Clif Bar's Clif Shot Bloks are basically advanced fruit snacks for grown-ups, and we're so down with that. While the taste and texture are reminiscent of childhood, the content of Shot Bloks is specially designed to replace the key carbs and electrolytes that you burn through when you're riding,...
Clifbar Clif Shot Energy Gel - 24 Pack Razz, One Size
Pop a Clif Shot in your pack and never fear the bonk again. Clif Bars give you more energy for your ride or hike and leave you feeling better afterward. A 24-Pack and you should be set for your next, uh, 24 rides.
GU Energy Gel - 15-Servings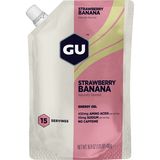 That nifty GU flask you picked up in a fit of frustration after finding yet another sticky ball of forgotten gel packets nesting in a jersey pocket on laundry day doesn't do any good unless it's filled with delicious, energy-infusing nectar straight from your GU Energy Gel 15-Serving Pouch. This...
GU Energy Gel - 24 Pack Salted Caramel, 24 PACK
The 100 calories of complex carbohydrates found in all 24 pouches of the Energy Gel 24 Pack are only part of the reason why Gu is such a ubiquitous sight in the peloton and on recreational rides. Gu's Energy Gel also packs amino acids, antioxidants, and muscle buffers to help begin the recovery...
GU Energy Gel - 8-Pack Raspberry Lemonade, One Size
Whether we're racking up the miles in our running shoes or on our bike, the caffeine-infused GU Energy Gel delivers a quick and effective boost of sustained energy and vital nutrition to keep our body replenished and performing smoothly.These handy packets slide easily into pockets or hip packs,...
GU Roctane Energy Gel - 24 Pack Salted Lime, One Size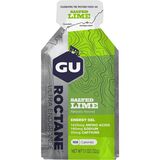 The Roctane Ultra Endurance Energy Gel improves upon GU's original recipe incorporating advanced ingredients to boost your performance. The Roctane features a superior mix of complex and simple carbs for quick and consistent energy, includes electrolytes to keep you replenished, and contains...
GU Roctane Energy Gel Bulk Pack - 15-Servings Sea Salt Chocolate, One Size
We all love a little boost of delicious energy during extended, intense efforts, but we don't like fiddling with sticky wrappers and the inevitable gross ball of trash nested in our jersey pocket at the end of a ride. Get what you need without the trash with the GU Roctane Energy Gel Bulk Pack....
Honey Stinger Organic Energy Chews - 12 Pack Pomegranate Passion Fruit, One Size
There's no shortage of energy foods on the market, but its much preferred that snack consumption entails eating as much "real" food as one can get in a reasonably sized package, and that's where Honey Stinger's Organic Energy Chews come in. Based primarily on honey, this pint-sized package...
Honey Stinger Organic Energy Gels - 24-Pack Kiwi Strawberry - Naturally Caffeinated, One Size
After so long, there's only so many granola bars and energy chews one person can handle. So the next time you don your cycling jersey or head out the door for a long trail run, make sure you reach for the Honey Stinger Organic Energy Gels. Designed as an alternative to the chalky and chewy, this...
Neversecond C30 + Energy Gel - 12-Pack Espresso, One Size
When our endurance needs a little boost, we tear into the Neversecond C30 + Energy Gel for some clean calories and caffeine. Based on clinical trials, each gel includes 30 grams of carbohydrates, 200mg of sodium, and 75 grams of caffeine to optimize athletes' performance energy needs. Neversecond...
<< Prev | 1 | 2 | Next >>