Accessories Nutrition Performance Hydration - Road Bike Shop
Shop
>
Health & Beauty > Health Care > Fitness & Nutrition
>
Accessories > Nutrition & Performance > Hydration
First Endurance Optygen HP
If you're an endurance athlete looking to maximize your performance, turn to the trusted Optygen HP. This proven supplement will not only help enhance your overall performance, endurance, and VO2 Max, but will also help you recover and stay healthy until your next big race or training day.
Formula 369 Drink Mix
Formula 369 is a simple and cost effective way to give endurance athletes exactly what they need in a drink mix, and nothing more. A lack of calories often holds athletes back from performing at their best, but with 90+ grams of carbohydrates per serving, Formula 369 will keep you going strong...
Formula 369 Drink Mix + Caffeine - 45 Serving Bag
Formula 369 with Caffeine is the same great formula you've come to love and trust, but with that extra little boost. Caffeine is one of the very few legal ergogenic aids that can actually improve performance and reduce perceived exertion during exercise. Use this product when it really matters,...
Gnarly BCAAs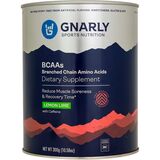 Deeeeeeeeamn, those are good! is a very real response from Gnarly BCAA customers. No need to tilt your head back, hold your nose, and chug these aminos. Weve worked hard to bring you a refreshing BCAA blend that tastes amazing and doesnt compromise our commitment to provide clean, natural...
Gnarly Collagen Pro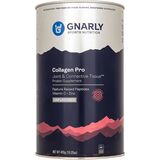 Collagen is the most abundant structural protein in the body and provides the scaffolding that builds structure and strength in joints. Taking collagen peptides in the 30 to 60 minutes prior to training kickstarts collagen synthesis and may make tendons, ligaments, and joints stronger, and more...
Gnarly Creatine Unflavored, 90 Servings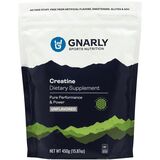 Creatine is a peptide (a short string of amino acids) that every human produces on their own. This molecule is part of our bodys energy systems: it combines with a molecule of phosphate to form creatine phosphate, which can be broken back apart to regenerate ATP the energy currency of the body....
Gnarly Fuel2O Tropical, Box of 10 Sticks - 20 Servings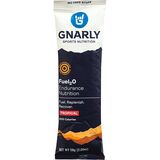 Looking for nutrition fuel for long days on the trails, mountains, at the gym or the crag? Gnarly Nutritions Fuel20 is your all-in-one, vegan-friendly solution. Created with fueling, replenishment and recovery in mind. Gnarly Fuel20 contains 100 calories per 12 oz serving from sucrose and...
Gnarly Hydrate
Electrolytes are pivotal to athletic performance. Electrolytes, like sodium and magnesium, are critical for proper hydration, nerve function, muscle function and body pH. Loaded with electrolytes and B vitamins to fuel tough workouts, serious races and big days out in the hills, Gnarly HYDRATE is...
Gnarly Performance Greens Blueberry Acai, 30 Servings
When it comes to performance, nutrition is key to help you achieve your goals. While were set on our hydration and fueling needs, we tend to forget about our micronutrients that come from greens and superfoods. Greens and superfoods are proven to give your body all the essential micronutrients...
Gnarly Pre-Workout Mango, 30 Servings
Gnarly Pre has everything you need and nothing you dont. This pre-workout combines six high-quality ingredients in dosages that are proven to be effective. This means all the benefits of this product are real and available to you. And with no proprietary blends, you can know exactly what youre...
<< Prev | 1 | 2 | 3 | 4 | 5 | 6 | Next >>