Trailers - Road Bike Shop
Shop
>
Accessories
>
Trainers & Rollers
>
Trailers
Weehoo Cargo Basket Kit
The WeeHoo bike trailer systems are versatile to ensure that you and your family are able to get out and ride, together. To this end, WeeHoo's Cargo Basket Kit adds another level of usability to the trailers with extra carrying capacity. WeeHoo's Cargo Basket is constructed from lightweight alloy...
Weehoo iGo 2 Bike Trailer
While Weehoo's beloved iGo Pro trailer is a wonderful way to bring your kid along for the ride, what happens when more show up? When it's time to double-down on the fun, Weehoo's iGo Two Bike Trailer rolls up. Longer than the Pro version by 11 inches, the Two accommodates an extra seat for a...
Weehoo iGo Pro Bike Trailer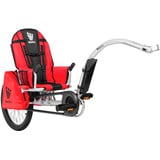 You really want to be able to get out and ride, but the kids are home from school. Sure you can have them ride their Striders and tricycles, but the pace is so slow you won't get that much needed endorphin release. WeeHoo developed a trailerthat not only features a higher weight capacity, it also...
Weehoo iGo Venture Bike Trailer
Bring both the grom and the grub with the iGo Venture Bike Trailer, a longer version of the company's famous iGo Pro, which boasts a cargo basket along with a child's seat, so you're able to bring all your precious cargo along. The Venture is otherwise extremely similar to the shorter Pro. It's...
Weehoo Seat Kit
With Weehoo's Seat Kit, you're able to easily convert your iGo Venture to an iGo Two passenger.