Powermeters - Road Bike Shop
Shop
>
Components
>
Drivetrain, Brakes
>
Powermeters
Pioneer Power Meter Installation Kit for Consumer Supplied Cranks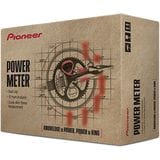 If you've got the good fortune to be riding a Dura-Ace or Ultegra four-arm crankset, but you missed out on the opportunity to get your cranks with a pre-installed Pioneer Power Meter, then this little box is your salvation. Simply drop your Shimano crankset into this here magical box, drop the...
Pioneer Shimano Dura-Ace 9000 Powermeter Crankset
Extensively tested by the Belkin professional cycling team over the last two years, the Pioneer Shimano Dura-Ace 9000 Power Meter Crankset provides real-time performance data under the most rigorous conditions. It's compatible with ANT+ cycling computers, working best with Pioneer's SGX-CA900 and...
Pioneer Shimano Ultegra 6800 Powermeter Crankset
After teaming up with Belkin's professional cycling team for extensive testing, Pioneer created its latest power meter design to ensure the best possible performance through punishing conditions. The re-engineered Pioneer Shimano Ultegra 6800 Power Meter Crankset is compatible with ANT+ cycling...
PowerTap G3 AMP 35 Carbon Clincher Wheelset
The PowerTap G3 Amp 35 Carbon Clincher wheelset brings together two pieces of kit that are always appropriate for any occasion in the saddle. The Amp carbon rims' 35mm depth is ideal for virtually any conditions you might encounter. It excels on alpine climbs, sweeping descents, chip seal and...
PowerTap G3 AMP 50 Carbon Clincher Wheelset
When it comes to aerodynamic benefits across flat or hilly terrain, we find that 50mm rims tend to hit the sweet spot of maintaining forward momentum, negating drag, and keeping handling predictable and intuitive in crosswinds and less-than ideal yaw angles. On the power-measuring end of things,...
PowerTap G3 ENVE SES 3.4 Powermeter Clincher Wheelset
You want your wheels to be rigid, strong, light ... and you want them to have a power meter. And while the two are often mutually exclusive, the G3 ENVE SES 3. 4 Power Meter Clincher Wheelset mates them perfectly. The rims are the same used for the ENVE Smart System 3. 4 carbon clinchers....
PowerTap G3 ENVE SES 3.4 Powermeter Tubular Wheelset
You live and breathe by numbers. Sure, your training wheels have a PowerTap, but you need the money-makers. Why? Because you need to know just how powerful that final sprint was, but your training wheels just won't do for racing. Now, there's finally a wheelset that utilizes the very latest in...
PowerTap G3 ENVE SES 6.7 Carbon Powermeter Clincher Wheelset
The ENVE SES 6. 7 Carbon Wheels are at the forefront of aerodynamic technology, and, paired with the G3 Powertap, they are an untouchable powerhouse. You'll have a race-worthy package that gives you all the numbers, when you need them. The SES 6. 7 is the same carbon clincher that ENVE sells as...
PowerTap G3 HED Belgium Wheelset
Though the use of aluminum box clinchers has largely fallen out of favor in the peloton -- even on the stones -- those of us among the ranks of the self-sponsored still appreciate the durability, the versatility, and the cost of rims like those on the PowerTap G3 HED Belgium Wheelset. Of course,...
PowerTap GS AMP 35/50 Carbon Clincher Wheelset
Retail Price:
$2199.00
Our Price: $1499.00
buy now
While the key feature of the GS Amp 35/50 Carbon Clincher Wheelset is inarguably its PowerTap G3 rear hub, the added stability of the mixed-depth rims deserves special mention. We love the effortless way that 50mm rims maintain speeds around 23mph, but 50mm up front can make for trying times in...
<< Prev | 1 | 2 | 3 | Next >>