Powermeters - Road Bike Shop
Shop
>
Components
>
Drivetrain, Brakes
>
Powermeters
Pioneer Power Meter Installation Kit for Consumer Supplied Cranks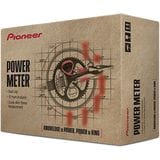 If you've got the good fortune to be riding a Dura-Ace or Ultegra four-arm crankset, but you missed out on the opportunity to get your cranks with a pre-installed Pioneer Power Meter, then this little box is your salvation. Simply drop your Shimano crankset into this here magical box, drop the...
Pioneer Shimano Dura-Ace 9000 Powermeter Crankset
Extensively tested by the Belkin professional cycling team over the last two years, the Pioneer Shimano Dura-Ace 9000 Power Meter Crankset provides real-time performance data under the most rigorous conditions. It's compatible with ANT+ cycling computers, working best with Pioneer's SGX-CA900 and...
Pioneer Shimano Ultegra 6800 Powermeter Crankset
After teaming up with Belkin's professional cycling team for extensive testing, Pioneer created its latest power meter design to ensure the best possible performance through punishing conditions. The re-engineered Pioneer Shimano Ultegra 6800 Power Meter Crankset is compatible with ANT+ cycling...
PowerTap G3 Alloy Powemeter Wheelset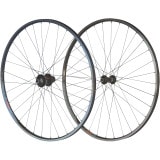 Retail Price:
$999.99
Our Price: $749.99
buy now
You may see a lot of power Meters on race day, but they're really most useful as a training tool: quantifying your outputs is a surefire way to keep your training on track. That's the idea behind the PowerTap G3 Alloy Power Meter Wheelset. PowerTap has paired its venerable G3 hub to a pair of...
PowerTap G3 ENVE SES 3.4 Powermeter Clincher Wheelset
You want your wheels to be rigid, strong, light ... and you want them to have a power meter. And while the two are often mutually exclusive, the G3 ENVE SES 3. 4 Power Meter Clincher Wheelset mates them perfectly. The rims are the same used for the ENVE Smart System 3. 4 carbon clinchers....
PowerTap G3 ENVE SES 3.4 Powermeter Tubular Wheelset
You live and breathe by numbers. Sure, your training wheels have a PowerTap, but you need the money-makers. Why? Because you need to know just how powerful that final sprint was, but your training wheels just won't do for racing. Now, there's finally a wheelset that utilizes the very latest in...
PowerTap G3 ENVE SES 6.7 Carbon Powermeter Clincher Wheelset
The ENVE SES 6. 7 Carbon Wheels are at the forefront of aerodynamic technology, and, paired with the G3 Powertap, they are an untouchable powerhouse. You'll have a race-worthy package that gives you all the numbers, when you need them. The SES 6. 7 is the same carbon clincher that ENVE sells as...
PowerTap G3 ENVE SES 6.7 Powermeter Tubular Wheelset
Pair the engineering of a former F1 aerodynamicist with some of the most advanced power training technology available, and you receive a package that's nearly impossible to beat. Yes, we're talking about PowerTap's new G3 SES 6. 7 Tubular Wheelset that incorporates wind tunnel-developed front...
Quarq Elsa RS Power Meter Crank Arms - GXP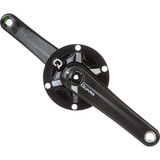 Anyone who has ever trained or raced with the benefit of a power meter knows how irreplaceable those metrics can be. Anyone who hasn't is probably keenly aware of a difference between themselves and certain other members of their local scene. Chances are good that if you're at the top, then you...
Quarq Riken AL Power Meter Crank Arms - BB30
The BB30-specific Quarq Riken AL Power Meter Crank Arms combine Quarq's industry-leading power tracking capabilities with forged aluminum crank arms for wallet-friendly satisfaction of all your power analysis needs. Track your training progress on the road, gravel, or cyclocross course and get...
<< Prev | 1 | 2 | Next >>