Mens Road Bike Accessories - Road Bike Shop
Shop
>
Men's Apparel Clothing
>
Men's Apparel Road Bike Clothing
>
Men's Apparel Road Bike Accessories
DeFeet Electronic Touch Gloves Reflective - Men's
DeFeet's Reflective Electronic Touch Gloves add a hit of reflective detailing to the company's knit Duraglove platform. We're rarely comfortable making broad generalizations for the tastes and preferences of all cyclists, but it's pretty safe to say that these mid-weight knit gloves have a...
Etxeondo Aero Gloves - Men's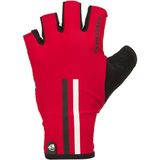 Retail Price:
$59.80
Our Price: $38.87
buy now
The Etxeondo Aero Gloves cut through the breeze without sacrificing grip or dexterity, thanks to their half-finger design and grippy silicone palm overlays. Low-profile padding softens the sting of jarring road surfaces and grueling endurance efforts. Elastic fabric securely clings to your hands...
Fox Racing Forge CW Glove - Men's
When the weather gets cold the trails get empty, so it's prime time to pull on the Fox Racing Forge CW Gloves and get after it. Fox hooks the Forge up with a 10K waterproof and breathable membrane to keep the weather's worst at bay, and lined it with soft and warm brushed tricot to retain enough...
Giordana AV 100 Winter Glove - Men's
If you happen to live in the kind of climate that rarely sees temperatures below 40 degrees Fahrenheit, then, well, we're jealous. Giordana builds its AV 100 Winter Gloves for fortunate cyclists like you. We suggest you think of those of us riding in single digits through snow while you enjoy the...
Giordana AV 200 Winter Glove - Men's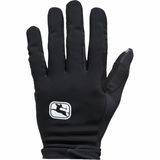 Giordana's AV glove line covers every part of the spectrum of winter cycling, and the breathable, windproof, and water-resistant AV 200 Winter Glove is arguably the most versatile member of the line. The 100 is lightweight enough for late autumn but will wilt if it's your only option come January...
Giordana AV 300 Winter Glove - Men's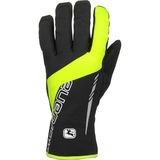 Two options define the top-end of Giordana's winter glove line: the AV Extreme and the AV 300 Winter Glove. The former is waterproof, which is desirable in some situations; the latter is water-resistant enough to fend off all but the most monsoon-like of deluges, but it also features warmer...
Giordana Corsa Lycra Glove - Men's
Even smooth roads can take a toll on your hands when you ride for hours on end, but it's the rough ones--chip seal, packed dirt, gravel--that take the most out of you. Giordana designed the Corse Men's Lycra Glove to give you some extra protection without giving up your feel for the bars by...
Giordana EXO Gloves - Men's
Gloves may not be at the top of your list on a summertime ride, but on a long ride, the lack of padding can start to hurt, or worse, cause nerve damage. The Giordana EXO Gloves are designed for the sweltering summer tarmac, making use of big mesh inserts. Since comfort is really the only reason...
Giordana Strada Gel Glove - Men's
The road is smooth, choppy, rough, and not really a road at all. This is the typical experience of most cyclists and the reason Giordana made their Men's Strada Gel Glove. The back is designed to be soft and form-fitting, the kind of thing you're happy to pull on and keep on all day. It's made of...
Giordana Strada Gel Glove - Men's
For those days when the road is so bumpy that just calling it a road is an overstatement, there's the Giordana Strada Gel glove. The Strada Gel is made with a soft gel insert in the palm that reduces impact and vibration from rough roads, so you can spend hours in the saddle without your hands...
<< Prev | Back | 1 | 2 | 3 | 4 | 5 | 6 | 7 | 8 | 9 | 10 | More | Next >>