Mens Road Bike Accessories - Road Bike Shop
Shop
>
Men's Apparel Clothing
>
Men's Apparel Road Bike Clothing
>
Men's Apparel Road Bike Accessories
Craft Neoprene Gloves - Men's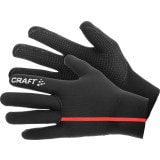 Retail Price:
$69.95
Our Price: $55.96
buy now
The Craft Neoprene Gloves are about as straightforward as gloves get. An ergonomic cut, simple style, and 2mm-thick nylon neoprene rubber make them durable, comfortable, and able to stand up to a wide variety of nasty weather. Available in the color Black/bright red only, and in six sizes.
Craft Siberian Glove - Men's
If you're prepared, you don't have to hide by the fireplace when Old Man Winter comes to town. Instead, you can welcome him and shake his icy hand--just make sure that you're wearing the Craft Siberian Gloves. Featuring an ergonomic construction made from exclusive materials, the Siberian Gloves...
Craft Siberian Split Finger Glove - Men's
Riding with frozen hands is like riding with no legs. Frigid temperatures inhibit your hands' ability to shift, brake, and handle the bike. The Craft Thermal Split Finger Glove will protect you from the assault of winter weather. With a warming, weather-resistant design made from proprietary...
Craft Storm Glove - Men's
Retail Price:
$49.95
Our Price: $39.96
buy now
Aligning itself between the heavy-duty insulated winter gloves and the thin liner varieties, Craft's new Storm Gloves strike an effective balance for cold and wet riding conditions. They were designed to protect your hands from the elements, yet they maintain a sleek anatomic design. The Storm...
De Marchi Classic Mitts - Men's
Retail Price:
$169.95
Our Price: $118.96
buy now
Whether you're a roadie out for a spin in your wool jersey on your lugged steel frame or a sport motorist taking the roadster for a lap through the country, the De Marchi Classic Mitts will keep your finger on the down-tube shifters or your hands on the wheel. The Classic Mitts use 100% Italian...
De Marchi Pro Gloves - Men's
Retail Price:
$58.95
Our Price: $26.53
buy now
De Marchi designed its Pro Gloves to be as lightweight and streamlined as possible, providing you with just the right amount of support at the handlebars. At the back of the gloves, ultralight stretch panels effectively wrap your hands for a precise fit. The gloves feature a light amount of...
De Marchi Thermal Gloves - Men's - Men's
Retail Price:
$49.95
Our Price: $34.96
buy now
While the form of De Marchi's cycling gear is typically classic, it isn't afraid to incorporate contemporary materials. As evidence of this assertion, we submit the Thermal Gloves, which take the concept of the classic Merion wool cycling gloves and notch them up to Italian Roubaix. Roubaix is a...
De Marchi Thermal Windproof Gloves - Men's - Men's
Retail Price:
$99.95
Our Price: $69.96
buy now
Between the durable, anti-rip outer layer and the fleece lining, De Marchi's Thermal Windproof Gloves incorporate Schoeller's c_change membrane. C_change is borderline sentient: When the temperature ramps up, it lets heat and moisture out; when the temperature falls, it battens down the hatches...
De Marchi Urban Jungle Gloves - Men's
Retail Price:
$59.00
Our Price: $26.55
buy now
Whether you're trying to conceal your shifts for that final sprint, or you just feel a need to channel your inner combat instincts, De Marchi's Urban Jungle Gloves have your digits covered. Aside from the sleek "lowlands" leaf camouflage patterning on the stretch back panels, the gloves feature a...
DeFeet DuraGlove ET Gloves - Men's
Similar to DeFeet's standard DuraGloves, The ET version was made to protect cyclists' and runners' hands in cold weather conditions. The difference between the two, however, is that this "Electronic Touch" (ET) model lets you operate your touch screen phone through the use of specific yarns at...
<< Prev | Back | 1 | 2 | 3 | 4 | 5 | 6 | 7 | 8 | 9 | 10 | More | Next >>