Mens Road Bike Accessories - Road Bike Shop
Shop
>
Men's Apparel Clothing
>
Men's Apparel Road Bike Clothing
>
Men's Apparel Road Bike Accessories
Louis Garneau Mondo 2 Gloves - Men's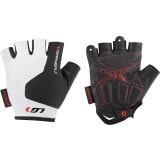 Retail Price:
$44.95
Our Price: $22.48
buy now
If you suffer from hand fatigue, the Louis Garneau Mondo 2 Gloves just may be the answer you've been looking for. These well-vented, short finger gloves feature a generously padded gel palm, which cuts down on road vibrations, hand numbness, and pain. While the palms are plush, the blend of...
Louis Garneau Mondo Sprint Gloves - Men's
Keep your hands comfortable in the Louis Garneau Mondo Sprint Gloves. Made with breathable Power Mesh and spandex across the back of the hand, these gloves feature a nearly seamless construction for exceptional comfort for long days in the saddle. Progressive gel padding spans the palm to absorb...
Louis Garneau Monsoon Gloves - Men's
Those hands of yours are stuck out there in the elements, shifting, braking, and controlling your machine as you spin away on the arctic roads and trails. Louis Garneau knows just how important it is that those digits are looked after out there, which is why it created the new Monsoon Gloves. As...
Louis Garneau Nimbus Gloves - Men's
The Louis Garneau Men's nimbus is packed with features to keep you comfortable and reduce numbness on long rides. Gel padding, Ergo Air ventilation, a microfiber nose wipe, and micro-mesh construction are just some of the construction features that set the Nimbus apart.
Louis Garneau Smart Touch Glove - Men's
Why is it called the Louis Garneau Smart Touch Glove? "Smart" because it's made of a thin-but-warm acrylic and spandex blend that makes it warm on its own in cooler weather, but minimal enough that it makes a great liner for heavier-duty gloves. "Touch" because it not only has a silicone-printed...
Louis Garneau Super Prestige Gloves - Men's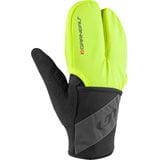 With the dynamic nature of weather, especially in winter, it makes sense to have some adaptability built into your cycling clothing. After all, when you spend five hours out on the bike, a lot can change over the course of the ride. The Garneau Super Prestige Gloves are made with this...
Louis Garneau Vorttice Glove - Men's
In an age where the simple jersey has morphed into a dimpled body suit and our heads are made to suffer under ventless carapaces in the name of aerodynamics, it's easy to forget that our hands are actually the body part leading into the wind. Fortunately, the folks at Louis Garneau think about...
Louis Garneau Wave Gloves - Men's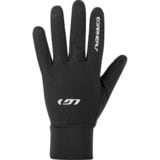 If you're in the market for some just-right gloves when riding in those cooler conditions this fall, and you know LG's Defend gloves will be a bit too much, your better bet would be the Louis Garneau Wave Gloves. The gloves are lightweight but still fairly warm for those chillier mornings,...
Louis Garneau Windtex Eco Flex 2 Glove - Men's
Retail Price:
$39.95
Our Price: $15.98
buy now
We think the Louis Garneau Windtex Eco Flex 2 Glove may be the perfect cyclocross glove for many riders in temperate climates. It's certainly an excellent glove for fall road riding as well, but the rigors of 'cross demand an even more intricate balance of insulation, moisture management, and...
Mavic CXR Ultimate Glove - Men's
Retail Price:
$49.95
Our Price: $27.47
buy now
As Mavic's most aerodynamic glove, the Mavic Men's CXR Ultimate Glove complements its CXR outfit for increased speed when you're pushing your limits on the road. This glove forgoes padding in favor of an anatomic cut for increased grip and tactility. Its longer cuff increases aerodynamics, while...
<< Prev | Back | 11 | 12 | 13 | 14 | 15 | 16 | 17 | 18 | 19 | More | Next >>