Mens Road Bike Accessories - Road Bike Shop
Shop
>
Men's Apparel Clothing
>
Men's Apparel Road Bike Clothing
>
Men's Apparel Road Bike Accessories
Louis Garneau Mondo 2 Gloves - Men's
If you suffer from hand fatigue, the Louis Garneau Mondo 2 Gloves just may be the answer you've been looking for. These well-vented, short finger gloves feature a generously padded gel palm, which cuts down on road vibrations, hand numbness, and pain. While the palms are plush, the blend of...
Louis Garneau Monsoon Gloves - Men's
Those hands of yours are stuck out there in the elements, shifting, braking, and controlling your machine as you spin away on the arctic roads and trails. Louis Garneau knows just how important it is that those digits are looked after out there, which is why it created the new Monsoon Gloves. As...
Louis Garneau Super Prestige Gloves - Men's
With the dynamic nature of weather, especially in winter, it makes sense to have some adaptability with regards to your cycling clothing. After all, when you spend five hours out on the bike, a lot can change over the course of the ride. These Garneau Super Prestige Gloves are made with...
Louis Garneau Wave Gloves - Men's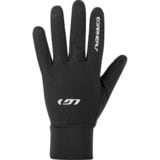 If you're in the market for some just-right gloves when riding in those cooler conditions this fall, and you know LG's Defend gloves will be a bit too much, your better bet would be the Louis Garneau Wave Gloves. The gloves are lightweight but still fairly warm for those chillier mornings,...
Louis Garneau Windtex Eco Flex 2 Glove - Men's
We think the Louis Garneau Windtex Eco Flex 2 Glove may be the perfect cyclocross glove for many riders in temperate climates. It's certainly an excellent glove for fall road riding as well, but the rigors of 'cross demand an even more intricate balance of insulation, moisture management, and...
Mavic Club Gloves - Men's
When you're a committed rider, logging hours in the cold is unavoidable, but it's a lot easier when you've got the right equipment. So when it's cold, but it's not time to bust out the lobster claws just yet, the Mavic Club Gloves fit the bill perfectly. With wind-blocking materials and synthetic...
Mavic Cosmic Wind Gloves - Men's
When you're heading out for a fall or spring ride, don't let a little wind make you reach for the cartoonishly oversized ski gloves. Instead, try mid-weight gloves like the Mavic Cosmic Wind Gloves, which resist elemental pressures while keeping you in touch with your bars. They'll keep you...
Mavic Espoir Gloves - Men's
Retail Price:
$29.95
Our Price: $11.98
buy now
The same tireless dedication reserved for Mavic's highest-end wheelsets is also employed at the granular level, even in their glove design. The Mavic Espoir Glove is a classic example of Mavic's intelligent engineering that breeds supreme comfort in absolute simplicity.
Mavic Inferno Extreme Gloves - Men's
Cyclists know many sorts of pain, but none quite like the misery of frozen-numb fingers, tucked into inadequately insulated gloves, clawing slowly and vaguely at shifters and brakes as you desperately try to just make it home. Fear not such a scenario with the Mavic Inferno Extreme Gloves, and...
Mavic Inferno Thermo Gloves - Men's
Mavic's Inferno Thermo Gloves combine extensive cycling know-how with 3M's synthetic fibers specifically engineered for thermal insulation. This means the Infernos have a non-bulky, articulated fit that's at home wrapped around both mountain and drop-bars and will provide warmth in sub-freezing...
<< Prev | Back | 11 | 12 | 13 | 14 | 15 | 16 | 17 | 18 | More | Next >>