Mens Road Bike Accessories - Road Bike Shop
Shop
>
Men's Apparel Clothing
>
Men's Apparel Road Bike Clothing
>
Men's Apparel Road Bike Accessories
Louis Garneau Elite Touch Glove - Men's - Men's
These days it's harder and harder to get away from our electronic gadgets. Sometimes you just can't afford the luxury of leaving them behind. The Louis Garneau Elite Touch Glove makes being a responsible adult a little easier with smartphone-friendly pads on the index finger and thumb, so you don...
Louis Garneau Gel Ex Glove - Men's
There are many telltale signs that the seasons are changing on us, but one of the most apparent is the chill that we get at our extremities. We slowly give in and wrap our feet in booties, holding out with our short-fingered gloves until absolutely necessary. With the Louis Garneau Gel Ex Gloves,...
Louis Garneau LG Shield Glove - Men's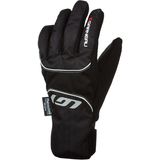 We all know that when it comes to fall/winter cycling gloves, lobster claw designs are the warmest because they retain more body heat. But some of us simply can't get used to the feel. If this sounds like you, the Louis Garneau LG Shield Gloves are a wise choice. Of Garneau's five-finger gloves,...
Louis Garneau LG Super Shield Glove - Men's
Riding a bike in wintry conditions with under-insulated gloves is a recipe for disaster. After all, you have to be able to feel the brakes to use them correctly. For the coldest rides, consider the Louis Garneau LG SuperShield Gloves -- they're Garneau's warmest, combining a lobster claw design...
Louis Garneau Match Gloves - Men's
Louis Garneau knows that fall riding conditions often necessitate lightly insulated full-finger coverage for your hands, which is why it developed its new Match Gloves. Constructed with several flexible fabrics, the Match Gloves provide you with plenty of grip, ample padding, and solid wind and...
Louis Garneau Mondo 2 Glove - Men's
If you suffer from hand fatigue, the Louis Garneau Mondo 2 Gloves just may be the answer you've been looking for. These well-vented, short finger gloves feature a generously padded gel palm, which cuts down on road vibrations, hand numbness, and pain. While the palms are plush, the blend of...
Louis Garneau Monsoon Gloves - Men's
Those hands of yours are stuck out there in the elements, shifting, braking, and controlling your machine as you spin away on the arctic roads and trails. Louis Garneau knows just how important it is that those digits are looked after out there, which is why it created the new Monsoon Gloves. As...
Louis Garneau Smart Touch Glove - Men's
Why is it called the Louis Garneau Smart Touch Glove? "Smart" because it's made of a thin-but-warm acrylic and spandex blend that makes it warm on its own in cooler weather, but minimal enough that it makes a great liner for heavier-duty gloves. "Touch" because it not only has a silicone-printed...
Louis Garneau Super Prestige Gloves - Men's
With the dynamic nature of weather, especially in winter, it makes sense to have some adaptability with regards to your cycling clothing. After all, when you spend five hours out on the bike, a lot can change over the course of the ride. These Garneau Super Prestige Gloves are made with...
Louis Garneau Vorttice Glove - Men's
In an age where the simple jersey has morphed into a dimpled body suit and our heads are made to suffer under ventless carapaces in the name of aerodynamics, it's easy to forget that our hands are actually the body part leading into the wind. Fortunately, the folks at Louis Garneau think about...
<< Prev | Back | 11 | 12 | 13 | 14 | 15 | 16 | 17 | 18 | 19 | More | Next >>