Mens Road Bike Accessories - Road Bike Shop
Shop
>
Men's Apparel Clothing
>
Men's Apparel Road Bike Clothing
>
Men's Apparel Road Bike Accessories
Louis Garneau Nimbus Evo Glove - Men's
Retail Price:
$34.95
Our Price: $27.96
buy now
The Louis Garneau Men's nimbus is packed with features to keep you comfortable and reduce numbness on long rides. Gel padding, Ergo Air ventilation, a microfiber nose wipe, and micro-mesh construction are just some of the construction features that set the Nimbus apart.
Louis Garneau Super Prestige 2 Gloves - Men's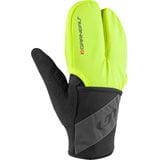 Retail Price:
$49.95
Our Price: $39.96
buy now
With the dynamic nature of weather, especially in winter, it makes sense to have some adaptability built into your cycling clothing. After all, when you spend five hours out on the bike, a lot can change over the course of the ride. The Garneau Super Prestige Gloves are made with this...
Louis Garneau Vorttice Glove - Men's
Retail Price:
$39.95
Our Price: $31.96
buy now
In an age where the simple jersey has morphed into a dimpled body suit and our heads are made to suffer under ventless carapaces in the name of aerodynamics, it's easy to forget that our hands are actually the body part leading into the wind. Fortunately, the folks at Louis Garneau think about...
Louis Garneau Wave Glove - Men's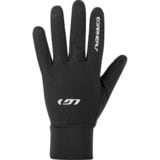 Retail Price:
$24.95
Our Price: $19.96
buy now
If you're in the market for some just-right gloves when riding in those cooler conditions this fall, and you know LG's Defend gloves will be a bit too much, your better bet would be the Louis Garneau Wave Gloves. The gloves are lightweight but still fairly warm for those chillier mornings,...
Louis Garneau Windtex Eco Flex 2 Glove - Men's
Retail Price:
$39.95
Our Price: $13.98
buy now
We think the Louis Garneau Windtex Eco Flex 2 Glove may be the perfect cyclocross glove for many riders in temperate climates. It's certainly an excellent glove for fall road riding as well, but the rigors of 'cross demand an even more intricate balance of insulation, moisture management, and...
Mavic Aksium Gloves - Men's
Rough roads and hot weather can take a toll on your hands, as well as the rest of you, so Mavic's Aksium Men's Gloves can really come in handy. They sport plenty of EVA foam palm padding to absorb vibration from chipseal, gravel, and generally raggedy roads, and feature a stretch mesh upper to...
Mavic Cosmic Pro Gloves - Men's
The Mavic Men's Cosmic Pro Gloves deliver minimalist protection and cool-wearing comfort when the mercury rises into oppressive realms. Forgoing padding with their less-is-more design philosophy, the Cosmic Pro Gloves retain durability and grip along the palm with a textured synthetic fabric....
Mavic Ksyrium Elite Glove - Men's
Say goodbye to numb fingers and embrace long miles in the saddle with the Mavic Ksyrium Elite Gloves. With three areas of gel and foam padding, these gloves provide exceptional cushioning and vibration dampening to soften the roughest roads. The back features a mix of breathable yet protective...
Mavic Ksyrium Pro Gloves - Men's
Falling asleep at night is wonderful, but when it's your hands that decide to take a nap 12 miles into a century, you'll wish you had Mavic's Ksyrium Pro Gloves. Mavic designed the Ksyrium Pro expressly to prevent mid-ride finger tingling by integrating 6mm of OrthoLite foam padding into...
Mavic Ksyrium Pro Thermo Gloves - Men's
In Mavic's clothing line, if a piece of gear comes with the venerable Ksyrium label, it means that warmth is priority number one. The Ksyrium Pro Thermo Gloves are designed for riding on seriously chilly days, and while they aren't the absolute warmest glove Mavic makes (that'd be the Ksyrium Pro...
<< Prev | Back | 11 | 12 | 13 | 14 | 15 | 16 | 17 | 18 | 19 | More | Next >>