Pre-Configured Triathlon Bikes - Road Bike Shop
Shop
>
Bikes
>
Triathlon Bikes
>
Pre-Configured Triathlon Bikes
Kestrel 4000 105 Complete Tri Bike - 2016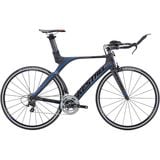 With lines embodying the sweeping dive of a falcon, Kestrel has been a staple at triathlon events around the world since the original 4000 took the discipline by storm as the first full carbon TT bike in 1987. Almost 30 years later, the Kestrel 4000 105 Complete Tri Bike continues Kestrel's...
Kestrel 4000 Ultegra Complete Tri Bike - 2016
Kestrel's signature swooping lines have held court at triathlons across the world for decades. Named after the original carbon triathlon bike, the 1987 4000, the 2016 Kestrel 4000 Ultegra Complete Tri Bike delivers long-mile comfort and wind-tunnel tested speed. Kitted out with a mix of Oval...