Pre-Configured Cyclocross Bikes - Road Bike Shop
Shop
>
Bikes
>
Cyclocross Bikes
>
Pre-Configured Cyclocross Bikes
Niner RLT 9 4-Star Ultegra Hydro Complete Bike - 2017
Whether you're ripping buttery singletrack, packing up for a multi-day gravel adventure, or toeing the line at a cyclocross race, the 2017 Niner RLT 9 4-Star Ultegra Hydro Complete Bike boasts the versatility to cover it all. Featuring what Niner dubs "fire road geometry," the RLT is a little bit...
Niner RLT 9 RDO 3-Star Rival Complete Bike - 2017
Eschewing national sanctioning bodies for miles upon miles of desolate gravel roads and embracing self-supported autonomy doesn't mean you have to give up your roadie-inspired love of speedy carbon. Niner's new addition to its Road Less Traveled lineup, the 2017 RLT 9 RDO 3-Star Rival Complete...
Niner RLT 9 RDO 4-Star Ultegra Complete Bike - 2017
Unsanctioned gravel races have seen a massive influx of disenchanted road racers fleeing from the current state of sanctioned events in search of a more welcoming competitive venue. In addition to boosting numbers, this shift in participation has introduced a demand for high end, carbon fiber...
Niner RLT 9 RDO 5-Star Ultegra Di2 Complete Bike - 2017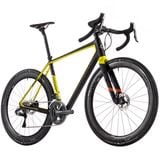 After a few too many years of repeating road race courses and uncountable circles in boring business park criteriums, it's time to take a break from the pavement and tackle some finish lines on the road less traveled. But all that time on the road has set some pretty high standards for...
Niner RLT 9 RDO Frameset - 2017
Niner's 2017 RLT 9 RDO Frameset brings dream build potential to those of us who eschew traditional racing disciplines and instead choose miles and miles of packed dirt and gravel roads as our playground. Featuring Niner's renowned RDO carbon fiber, this RLT breaks from its aluminum and steel...
Raleigh RX 2.0 Complete Cyclocross Bike - 2017
While smaller statured riders applauded the Raleigh RXW for its range of sizes to accommodate those on the shorter end of the spectrum, the taller riders among us roared approval of its counterpart, the 2017 RX 2. 0 Complete Cyclocross Bike and its sizing options that include riders up to 6-feet,...
Raleigh RXC Complete Cyclocross Bike - 2017
The latest version of the RXC Complete Cyclocross Bike really needs no introduction. The previous model became a staple at start lines because it combined the pedigree of one of 'cross' most storied brands with the early adapter innovation of twin thru-axles. Now, a host of upgrades further...
Raleigh RXM Complete Cyclocross Bike - 2017
The 2017 Raleigh RXM Complete Cyclocross Bike is a modern answer to the whirlwind of new materials and ever more expensive cyclocross setups that seem to forget that steel is a favorite for a reason. Basking in tradition, the RXM, or RXMetal as Raleigh dubs it it, brings a mix of springy...
Raleigh RXW Complete Cyclocross Bike - 2017
While Raleigh bills its 2017 RXW Complete Cyclocross Bike as a "women's specific" option, we like to think of it more as a bike for smaller statured humans who want to get in on the Raleigh cyclocross fun. Its light and durable aluminum frame paired with a one-by SRAM Rival drivetrain and TRP...
Ridley X-Night 40 Disc Rival 1 Complete Cyclocross Bike - 2017
Retail Price:
$3179.00
Our Price: $2225.30
buy now
The 2017 Ridley X-Night 40 Disc Rival 1 Complete Cyclocross Bike comes prepared for it all with a blend of technology and classic design to tackle the snow, sleet, rain, or random hot and sunny days of a given 'cross season. Ridley kits this build out with SRAM's workhorse one-by Rival 1...
<< Prev | 1 | 2 | Next >>