Pre-Configured Cyclocross Bikes - Road Bike Shop
Shop
>
Bikes
>
Cyclocross Bikes
>
Pre-Configured Cyclocross Bikes
Ridley X-Fire 10 Disc Complete Cyclocross Bike - 2015
Cyclocross, for most of us, is the off-season sport. Competition is friendly, the beer is good, and the bacon-cupcake hand-ups even better. The X-Fire 10 Disc is the ideal frame for the weekend cyclocross warrior who desires a steadfast steed and durable components. Ridley enjoyed such success...
Ridley X-Fire 20 SRAM Disc Complete Cyclocross Bike - 2015
The X-Fire is Ridley's go to frame for riders who like the aesthetics of a beefier frame. Unlike the X-Night, which has been streamlined to decrease weight and increase stiffness, the X-Fire retains the over-sized squared-edge tubes, headtube juncture and bottom bracket from last season. This...
Ridley X-Night 20 Disc Complete Cyclocross Bike
The Ridley X-Night was already one of the most dominant cyclocross framesets in the world -- so what happens when a new 'cross season rolls around and the company slaps some fancy new parts on it? It gets even better, and the 2015 Ridley X-Night 20 Disc Complete Bike is a great example of this....
Ridley X-Night 30 Disc Complete Cyclocross Bike - 2015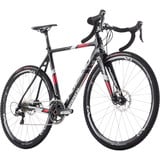 Although Ridley was gunning for an eighth World Championship victory earlier this year, the race was lost to another multi-time World Champion. But, one race doesn't dictate success, and the redesigned X-Night from last season showed such promise, that Ridley Bicycles of Belgium chose to continue...
Ridley X-Night/SRAM Red 22 Hydro Disc Complete Bike
Retail Price:
$5695.00
Our Price: $3999.00
buy now
Zonhoven, Koppenbergcross...these are the courses where the hardmen come to play. Try running up a sandy thirty-five percent grade. Now, try doing it in bike shoes...in the rain...with a bike on your back. Now, do it again and again, and yet again. This is cyclocross, and these courses in...
Ridley X-Ride 20 Disc Complete Cyclocross Bike - 2015
If you're planning on battling it out with the A group this season, or if you have sights set on nationals, you'll want to ride the Ridley X-Night or its little brother the X-Fire. However, if your aim is to see how much heckling you can conjure up from the crowd, or how many dollar bills you can...
<< Prev | 1 | 2 | Next >>