Custom Cyclocross Bikes Frames - Road Bike Shop
Shop
>
Bikes
>
Cyclocross Bikes
>
Custom Cyclocross Bikes & Frames
Fuji Bicycles Altamira CX 2.1 Carbon Cyclocross Frameset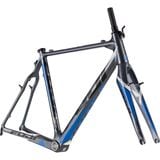 Retail Price:
$1599.00
Our Price: $639.99
buy now
Getting into the carbon game often involves swapping out your entire stable of wheels and components to accommodate the trend of disc brake systems and thru-axle standards. Keep your components, stay true to cantilever brakes, and upgrade your ride with the Fuji Altamira CX 2. 1 Carbon Cyclocross...
Ibis Hakkalugi Disc - 2016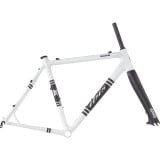 While Ibis has long been in the cyclocross market, it wasn't until 2013 that it navigated this domain with discs at the ready. The resulting frame, the Hakkalugi Disc, underwent a complete redesign. More than just a revised iteration of the "lugi" that you'd come to know and love, the Hakkalugi...
Merlin CrusherTi Frameset
The Merlin CrusherTi Frameset began life here in our office-bound daydreams with the eventual aim of producing the ideal gravel racer. The Crusher isn't a grinder made for noodling and commuting. Instead, it's inspired by the new breed of multi-surface races and events that take riders across...
Niner BSB 9 RDO Cyclocross Frameset - 2016
Niner revisited the world of Blood, Sweat, and Beers, namesake of the BSB 9 RDO, to update the race-ready frameset for the upcoming cyclocross season. The already stiff, light frame got stronger with the addition of 12 x 142mm rear thru axle; but otherwise, Niner was so pleased with the...
Niner RLT 9 Frameset - 2015
Retail Price:
$1049.00
Our Price: $679.99
buy now
When Niner introduced the RLT 9 Frameset, we admit we were taken by surprise. Then again, even though it does have 700c wheels, it's outfitted to take on everything from the local gravel roads to summertime touring. It's more than a road bike. The most noticeable part of the RLT is that its...
Pinarello FCX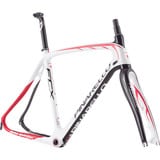 Mid-September through October may just be the finest time of the year for cycling. You get to enjoy long mornings with coffee and a leisurely breakfast without worrying about beating the summer heatwave, you get to indulge your inner fashionista with long sleeve kits and stylish cool-weather...
Pivot Vault
Retail Price:
$2299.00
Our Price: $1599.00
buy now
Efficiency and versatility were two of the main objectives set forth when Pivot's engineers decided to build the ultimate cyclocross machine. The new Vault is the result, as its geometry, tube shapes, and intuitive features perfectly illustrate these primary goals. The frameset serves to redefine...
Ridley X-Fire Cyclocross Frameset - 2015
Retail Price:
$1800.00
Our Price: $539.99
buy now
While cyclocross has certainly branched out to include races and communities with robust traditions outside of Europe, it's hard to imagine the sport's heart pumping any colors but those on the Belgian tricolor. By combining the tradition of Belgian heritage with today's leading carbon fiber...
Santa Cruz Bicycles Stigmata Carbon CC Cyclocross Frameset - 2016
As Santa Cruz points out, most frame manufacturers started their adventures into the realm of carbon with road machines. The thinking behind this makes sense: road frames see less abuse, have fewer moving parts, etc., so you can dial in construction methods and structural integrity without...