Custom Cyclocross Bikes Frames - Road Bike Shop
Shop
>
Bikes
>
Cyclocross Bikes
>
Custom Cyclocross Bikes & Frames
Boardman Bikes Elite CXR 9.8 - 2015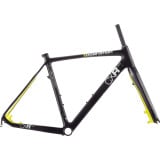 Retail Price:
$2200.00
Our Price: $1759.00
buy now
Chris Boardman, star British cyclist and multi-time world champion and record holder, believes that the cyclocross bike is the most versatile bike out there. From racing, to touring, to commuting, Boardman's CX frames are designed with all the necessary details to make each discipline a delight....
Fuji Bicycles Altamira CX 1.1 Carbon Cyclocross Frameset
Retail Price:
$1829.00
Our Price: $799.00
buy now
With an eye on competition, the Fuji Altamira CX 1. 1 Carbon Cyclocross Frameset is engineered to be an uncompromising speed machine, yet it's more than tough enough for any course or trail you're ready to tackle. In fact, with its 38mm tire clearance, some of Fuji's employees even confess to...
Ibis Hakkalgi Disc -
Retail Price:
$1849.99
Our Price: $1399.99
buy now
Face it, the days of cantilevers are coming to a close. We say good riddance, and coincidentally, so does Ibis. New for 2013, Ibis is introducing the Hakkalugi Disc Carbon Frameset. More than just a revised iteration of the 'Lugi that you've come to know and love, the Hakkalugi Disc features an...
Ibis Hakkalugi Disc - 2015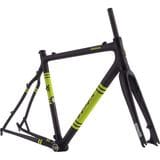 While Ibis has long been in the cyclocross market, it wasn't until 2013 that it navigated this domain with discs at the ready. The resulting frame, the Hakkalugi Disc, underwent a complete redesign. More than just a revised iteration of the "lugi" that you'd come to know and love, the Hakkalugi...
Niner RLT 9 Frameset - 2015
Retail Price:
$1049.00
Our Price: $724.99
buy now
We know better than to expect the folks at Niner to bow to expectations, which is part of why we like those guys so darn much. But even we were surprised when Niner announced the RLT 9 Road Bike Frame. Then again, maybe calling it a road bike isn't quite fair. Sure, it has 700c wheels, and disc...
Pinarello FCX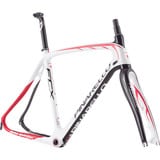 Mid-September through October may just be the finest time of the year for cycling. You get to enjoy long mornings with coffee and a leisurely breakfast without worrying about beating the summer heatwave, you get to indulge your inner fashionista with long sleeve kits and stylish cool-weather...
Pivot Vault
Efficiency and versatility were two of the main objectives set forth when Pivot's engineers decided to build the ultimate cyclocross machine. The new Vault is the result, as its geometry, tube shapes, and intuitive features perfectly illustrate these primary goals. The frameset serves to redefine...
Santa Cruz Bicycles Stigmata Carbon CC Cyclocross Frameset - 2015
As Santa Cruz points out, most frame manufacturers started their adventures into the realm of carbon with road machines. The thinking behind this makes sense: road frames see less abuse, have fewer moving parts, etc., so you can dial in construction methods and structural integrity without...