Womens Tri Swim - Road Bike Shop
Shop
>
Women's Apparel Clothing
>
Women's Apparel Triathlon Clothing
>
Women's Apparel Tri Swim
Blueseventy Energy Stripe One-Piece Swimsuit - Women's
We know that we're not blowing any minds when we say that training calls for training apparel. However, this concept's lack of practice makes it seem like it's falling on deaf ears. This is especially important in triathlon preparation, where your training finds you in chlorine-doused pools. It's...
Blueseventy Fusion Full Wetsuit - Women's
We consider ourselves lucky that some still believe that you needn't pay a fortune to obtain quality. And applying this ideology to the world of triathlon is the Washington-based Blueseventy. Sure, wetsuits like its Helix are amazing for anyone that's willing to spare no expense, but for those of...
Blueseventy Helix Full Wetsuit - Women's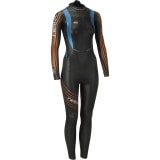 It's rare that we find a wetsuit that knows exactly what its market needs and doesn't need. Not surprisingly, we're talking about the Blueseventy Helix Women's Wetsuit. We'll be blunt, you're not going to find any core-corrective or proprioception panels on the Helix. After all, if you're...
Blueseventy Reaction Full Wetsuit - Women's
If the names Gina Crawford and Lucy Hall mean anything to you, you're probably already familiar with the Washington-based Blueseventy. But, if you're not familiar with the names, perhaps you're familiar with one of its products, the Nero. Yes, the swimskin that was shortly banned from competition...
ZOOT Z Force 1.0 Women's WetZoot
Retail Price:
$199.95
Our Price: $119.97
buy now
While the price of admission for elite-level racing can be daunting, you don't need a bicycle that costs more than a reasonable used car to be competitive. Along these lines, you also don't need to break the bank on a wetsuit. Enter the domain of the Zoot Z Force 1. 0 Women's WetZoot. It packs...