Womens Tri Swim - Road Bike Shop
Shop
>
Women's Apparel Clothing
>
Women's Apparel Triathlon Clothing
>
Women's Apparel Tri Swim
2XU A:1 Active Sleeveless Wetsuit - Women's
You don't have to spend your entire paycheck to pick up a fast, flexible, and comfortable wetsuit. With the 2XU A:1 Active Women's Wetsuit, you can get serious mobility, flotation, and comfort while still having money left over to buy some running shoes or bike components. Although it's priced...
2XU A:1 Active Wetsuit - Women's
The 2XU A:1 Active Wetsuit falls near the lower price point of its wetsuits, yet it is designed with all the features of suits that cost twice as much. Top-tier neoprene and an array of body positioning panels create a fast suit for an optimal swim. Yamamoto neoprene is known for its flexibility,...
2XU R:3 Race Wetsuit - Women's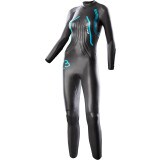 A step above the 2XU T:3, the R:3 Wetsuit features the same Yamamoto neoprene, fit-to-swim cut, and technology designed to position you higher in the water for a more optimal swim stroke. What sets it apart are a few key details that help to optimize the effectiveness of your stroke, making it an...
2XU V:3 Velocity Wetsuit - Women's
It's nice to say that you don't need a wetsuit to land a spot on the podium, but the reality is that you'll feel pretty foolish if you just miss out because you came out of the water a few seconds too slow. If you're finally ready to take the neoprene-clad plunge and pick up those key seconds,...
Blueseventy Fusion Full Wetsuit - Women's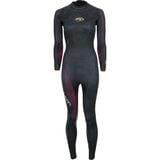 Some of us aren't, believe it or not, professional triathletes, so we have to strike a balance between performance and affordability. Lucky for us, Blueseventy understands our predicament and made the Fusion Women's Wetsuit, which brings features from both the top-shelf Helix and race-ready...
Blueseventy Fusion Full Wetsuit - Women's
Retail Price:
$319.95
Our Price: $223.96
buy now
We consider ourselves lucky that some still believe that you needn't pay a fortune to obtain quality. And applying this ideology to the world of triathlon is the Washington-based Blueseventy. Sure, wetsuits like its Helix are amazing for anyone that's willing to spare no expense, but for those of...
Blueseventy Helix Full Wetsuit - Women's
Channeling two decades of experience designing the world's best wetsuits for serious triathletes and Olympians, the Blueseventy Women's Helix Full Wetsuit takes obsessive performance to new heights, delivering outstanding buoyancy, unparalleled upper-body flexibility, and fluid stroke movements....
Blueseventy Helix Full Wetsuit - Women's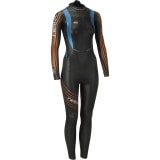 Retail Price:
$699.95
Our Price: $384.97
buy now
It's rare that we find a wetsuit that knows exactly what its market needs and doesn't need. Not surprisingly, we're talking about the Blueseventy Helix Women's Wetsuit. We'll be blunt, you're not going to find any core-corrective or proprioception panels on the Helix. After all, if you're...
Blueseventy Loop Dot One-Piece Swimsuit - Women's
Retail Price:
$49.95
Our Price: $27.47
buy now
Blueseventy has a very simple mission -- to make you faster in the water. However, to build up your speed, you must train. And to train, you need a training suit for the pool. This is especially important in triathlon preparation, where your training finds you in chlorine-doused pools. It's for...
Blueseventy Lotus Racerback One-Piece Swimsuit - Women's
Blueseventy's all about making triathlon gear for serious competitors, but the Lotus Racerback One-Piece Swimsuit is all about training swims and pool sessions. The Darwin polyester fabric provides superior compression and longer life than standard polyester, and offers UPF 50+ sun protection and...
<< Prev | 1 | 2 | 3 | Next >>