Womens Tri Swim - Road Bike Shop
Shop
>
Women's Apparel Clothing
>
Women's Apparel Triathlon Clothing
>
Women's Apparel Tri Swim
2XU A:1 Active Wetsuit - Women's
The 2XU A:1 Active Wetsuit falls near the lower price point of its wetsuits, yet it is designed with all the features of suits that cost twice as much. Top-tier neoprene and an array of body positioning panels create a fast suit for an optimal swim. Yamamoto neoprene is known for its flexibility,...
Blueseventy Fusion Full Wetsuit - Women's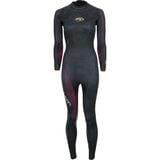 Some of us aren't, believe it or not, professional triathletes, so we have to strike a balance between performance and affordability. Lucky for us, Blueseventy understands our predicament and made the Fusion Women's Wetsuit, which brings features from both the top-shelf Helix and race-ready...
Blueseventy Helix Full Wetsuit - Women's
Channeling two decades of experience designing the world's best wetsuits for serious triathletes and Olympians, the Blueseventy Women's Helix Full Wetsuit takes obsessive performance to new heights, delivering outstanding buoyancy, unparalleled upper-body flexibility, and fluid stroke movements....
Blueseventy Lotus Racerback One-Piece Swimsuit - Women's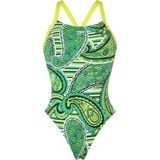 Retail Price:
$56.95
Our Price: $28.47
buy now
Blueseventy's all about making triathlon gear for serious competitors, but the Lotus Racerback One-Piece Swimsuit is all about training swims and pool sessions. The Darwin polyester fabric provides superior compression and longer life than standard polyester, and offers UPF 50+ sun protection and...
Blueseventy Sprint Fullsuit - Women's
Retail Price:
$229.95
Our Price: $114.97
buy now
The Bluesign Sprint Women's Wetsuit is, sure enough, an entry-level suit, but that doesn't mean it skimps on details or performance. As triathlon wetsuits become more and more advanced, even the more basic offerings are nearly equivalent to what top-of-the-line suits used to be. While the Sprint...
TYR Hurricane Cat 2 Wetsuit - Women's
The spirit animal of all open-water swimmers is the seal, and the industry has spent countless hours in R&D trying to replicate the mammals' cold-water swimming abilities. TYR's Hurricane Cat 2 Wetsuit is a prime example of this, because it insulates and boosts buoyancy, hydrodynamics, and core...
TYR Hurricane CAT1 Wetsuit - Women's
The Women's TYR Hurricane Cat 1 Wetsuit includes the same drag reduction, durability, uninhibited stroke movement, and easy on/off as TYR's top of the line offerings. Combined with neoprene's nitrogen-injected buoyancy, these qualities make it the ideal choice for aspiring triathletes and...
TYR Hurricane CAT3 Wetsuit - Women's
The TYR Women's Hurricane C3 Wetsuit is the result of TYR's engineers wanting to expand many of the benefits of the world-class C5 suit to a wider variety of athletes. Designed in conjunction with world-renowned triathlete Andy Potts, it'll propel you to your fastest swim split yet. The C3 was...
TYR Riva Bikini Bottom - Women's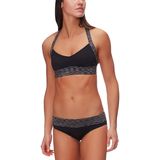 At the crossroads of comfort and performance, you'll find the TYR Women's Riva Bikini Bottom. Designed to effortlessly waffle between the lapping the lake and a stand-up paddle boarding session, the Riva features a modest silhouette and a comfortable, wide waist band, while the UPF 50+ rating...
ZOOT Swim Training Bikini Bottom - Women's
Retail Price:
$29.95
Our Price: $7.49
buy now
Ready for strenuous swim sessions, the Zoot Women's Swim Training Bikini Bottom offers some 280-hours of chlorine resistance, as well as lightweight, quick-drying comfort with its Performance Endura fabric. This performance-orientated swim bottom features flatlock stitching for a smooth,...
<< Prev | 1 | 2 | Next >>