Tri Accessories - Road Bike Shop
Shop
>
Men's Apparel Clothing
>
Men's Apparel Triathlon Clothing
>
Tri Accessories
100% SpeedCraft SL Sport Sunglasses - Men's
100% SpeedCraft SL Sport Sunglasses are exactly like their big brother, the SpeedCraft, but pared down a bit to fit smaller faces. The nose piece doesn't wrap so far around the lens at the bottom, either. This design saves a few grams. The first thing you notice about 100% Speedcraft SL...
Assos Active Wear Cleanser
Assos understands that a special garment deserves special care, and its Active Wear Cleanser is designed to do just that. Assos' antibacterial treatment not only cleans the clothing, it maintains the elasticity and softness of the fabric and keeps the colors vibrant. It's also PH-neutral and...
Assos Chamois Cream
Assos' venerable Chamois Cream is found in the gear bags of cyclists of all ranks, the world over. Designed to reduce friction between your skin and your chamois, the Assos Chamois Cream is formulated from 100% natural ingredients. For best results, we recommend applying it directly to your skin...
Assos Chamois Cream - 6 Pack
If you haven't ever experienced saddle abrasion or the dreaded saddle sore, consider yourself lucky. However, you should also consider yourself as riding on borrowed time. As sad as it is to say, even the best of chamois can only offer so much after 80 plus miles. And if you're 80 miles from home...
Assos Chamois Creme - Women's
Featuring a soothing formula with natural extracts, the Assos Women's Chamois Creme is designed to relieve and prevent chafing, while also preventing bacterial build up. This creme works equally well on both natural and synthetic chamois, and keeps you feeling fine through long hours in the...
Assos Zegho Amplify Sunglasses - Men's
We've been around long enough to accept that true innovation requires a shift from the rigidity of paradigms. By this, we mean that change requires a bit of turning the status quo on its head, starting over, and reinventing every aspect that's ever been used as a design crutch. Or, in even...
Assos Zegho Crystal Sunglasses - Men's
The clear-lens pair of sunglasses. To some, they're an anomaly, while to others, they're a necessary component of a versatile cycling wardrobe -- we tend to gravitate towards the latter. After all, when clouds loom, and the light is low, you need protection that won't cloud your field of vision....
Assos Zegho Noir Sunglasses - Men's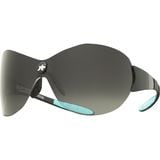 One look at the Assos Zegho Noir Sunglasses, and its clear that something special is going on. What that is may not quite be apparent at first glance, so we'll dive right in. The Zegho Noir uses Zeiss lenses, first and foremost. These lenses are completely distortion-free, which puts them in...
Bliz Arrow Sunglasses - Men's
When your favorite run starts out in the sunny valley, enters the trees, and winds up and down the mountain before circling back along the banks of the river, you need eye protection that offers flexibility when it comes to features. Que up the Bliz Arrow Sunglasses. Designed to fit smaller faces...
Bliz Force Photochromic Sunglasses - Men's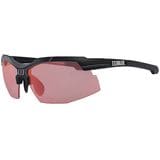 As the wind whips your face like a pony swats its tail aggressively at flies, you're made incredibly aware of the fact that your shades not only don't fit, but they're pinching your nose like nobody's business, which that bitter cold breeze has made you more painfully aware of. Thankfully, the...
<< Prev | Back | 1 | 2 | 3 | 4 | 5 | 6 | 7 | 8 | 9 | 10 | More | Next >>