Tri Accessories - Road Bike Shop
Shop
>
Men's Apparel Clothing
>
Men's Apparel Triathlon Clothing
>
Tri Accessories
Smith Guides Choice Sunglasses - Polarized - Men's
Smith built the Guide's Choice Polarized Sunglasses to withstand everything that Mother Nature can throw your way. The Techlite glass lenses feature TLT tapering for distortion-free vision during the gnarliest storms, and polarizing filters to eliminate glare on sunny days.
Smith Maverick Sunglasses - Photochromic - Men's
Ride a technical section of single track with the Smith Maverick Polarized Polarchromic Sunglasses helping you at every turn. Smith made the Maverick Sunglasses with their polarized lenses to reduce glare and give you precision optics while you're on the trail. When you ride from a sunny field...
Smith Maverick Sunglasses - Polarized - Men's
Grab the Smith Maverick Polarized Sunglasses and head for the river. Smith's polarized lens reduces glare from the road while driving, and it allows you to see below the water's surface when you're fishing for that elusive trout. The medium- to large-fit Smith Maverick Sunglasses are treated with...
Smith Parallel D-Max Sunglasses - Men's
The Smith Parallel D-Max Sunglasses were designed with cycling, running, and other active outdoor pursuits in mind. The medium-sized frame boasts extra-large lenses and a nine base curve for a good, snug fit with adequate coverage. When the light changes, swap out the lenses with the included...
Smith Parallel Max Polarized Sunglasses - Men's
Retail Price:
$159.00
Our Price: $111.30
buy now
The Smith Parallel Max shares the lightness of their Vxe and Pivlock 90 series sunglasses; they're so unobtrusive you'll likely forget you're wearing them. The key difference is a matter of style. The Parallel Max has separate lenses where the aforementioned models use one full coverage eyeshield...
Smith Pivlock Arena Sunglasses - Men's
Retail Price:
$159.00
Our Price: $79.50
buy now
Ever gotten a bug in your eye when you're descending at 50mph? Kind of a bummer, but with Smith's Pivlock Arena Sunglasses, you'll never have to worry about it again. The Pivlock offers an enormous and uninterrupted field of view thanks to its bridgeless wraparound design, along with the crystal...
Smith Pivlock Overdrive Sunglasses - Men's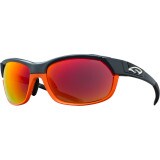 Retail Price:
$199.00
Our Price: $89.55
buy now
With three different lenses for any light condition, you'll be able to see the stunned looks on the faces of your competitors as you fly by in the Smith Pivlock Overdrive Sunglasses. The frames are designed to work with your bike and ski helmets, as well as your running hats and straw golf hats,...
Smith Precept Polarchromic Sunglasses - Men's
Retail Price:
$239.00
Our Price: $143.40
buy now
As you crest the ridge and walk into the sunlight, the Polarchromic Smith Precept Sunglasses automatically change their tint so you can soak in the view, rather than a bunch of UV rays into your retinas. The flexible, shock-resistant, medium-sized Grilamid TR90 frame comfortably holds a pair of...
Smith Tenet Polarchromic Sunglasses - Men's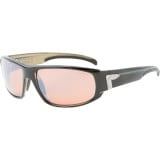 Retail Price:
$219.00
Our Price: $131.40
buy now
Catch a big, slimy bass while wearing the polarchromic Smith Tenet Sunglasses, which respond to the changing light conditions and adjust their tint accordingly. Smith's most advanced glass lens to date, the polarized Techlite TLT, delivers unmatched clarity and versatility to give you better...
Smith Trailblazer Sunglasses - ChromaPop - Men's
Get off the beaten path and add some vibrancy to your view with the Smith Trailblazer ChromaPop Sunglasses. The ChromaPop polarized TLT lens gives you a view of optimal clarity, reducing color confusion. The anti-reflective lens coating eliminates bounce-back glare and internal reflections, and...
<< Prev | Back | 41 | 42 | 43 | 44 | 45 | 46 | 47 | 48 | 49 | 50 | More | Next >>