Tri Accessories - Road Bike Shop
Shop
>
Men's Apparel Clothing
>
Men's Apparel Triathlon Clothing
>
Tri Accessories
Julbo Dust Sunglasses - Zebra Photochromic - Men's
The dust may be swirling on the trail ahead of you, choking the competitors behind you, or merely riding on you face in the form of the Julbo Dust Zebra Photochromic Sunglasses. Sleek and streamlined, these shades adjust according to the conditions so you can see all and stay one step ahead.
Julbo Explorer Sunglasses - Alti Arc 4 Lens - Men's
Adventure in high altitudes or on the high seas demands maximum protection from your eyewear; get it from the Julbo Explorer Sunglasses with the Alti Arc 4 Lens. The Alti 4's mineral glass offers extreme optical clarity and scratch resistance, as well as blocking all but 7% of visible light...
Julbo Explorer Sunglasses - Alti Spectron 4 Lens - Men's
Julbo gave their high-tech Explorer Sunglasses incredible Alti Spectron 4 Lens that provide 95% visible light reduction to protect your eyes on high-altitude mountaineering trips. Take these Julbo glacier glasses to Rainier, Alaska, or even the Himalayas. Designed with help from Chamonix mountain...
Julbo Explorer Sunglasses - Camel Polarized Photochromic - Men's
By paring the professionally designed Explorer Sunglasses with photochromic Camel Antifog Lenses, Julbo created high-tech eyewear for any mountain in the world. Chamonix mountain guides teamed up with Julbo to ensure the Explorer glacier glasses include every feature an alpinist needs.
Julbo Explorer XL Sunglasses - Spectron 4 Lens - Men's
Julbo designed the Explorer XL Sunglasses to give you the sun-protection you need when you're getting after it in the high mountains. The Spectron 4 Lenses protect against the harsh high-altitude light, and built-in side shields ensure no light creeps in from the temples. Julbo gave these glacier...
Julbo Groovy Photochromic Sunglasses - Men's
Retail Price:
$169.95
Our Price: $101.97
buy now
Bring some style that stands out on track, trail, or asphalt with the Julbo Women's Groovy Photochromic Sunglasses. The wide one-piece lens design not only brings a fashionable look, but it also provides a wide, uninterrupted field of vision. The photochromic lens automatically adjusts to...
Julbo Groovy Sunglasses - Spectron 3 Lens - Men's
Retail Price:
$100.00
Our Price: $60.00
buy now
Operating in the French Jura mountains since 1888, Julbo has been crafting sunglasses for active explorers the world over. Julbo's enormous wealth of experience has led to the Groovy Sunglasses, the perfect pair of sunglasses for hikers, trail runners, and bikers alike. The pair's large coverage...
Julbo Limited Edition Vermont Mythic Sunglasses - Alti Arc 4+ Lens - Men's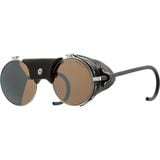 Grab the legend-making Julbo Limited Edition Vermont Mythic Sunglasses, and ascend into the sky with the ultimate in eye protection. These alpine-ready glasses shield your precious eyeballs with Alti Arc mineral glass category 4 lens, which provide durable, scratch- and shock-resistant superior...
Julbo Micropore Sunglasses - Alti Arc 4+ Lens - Men's
The Julbo Micropore Sunglasses use classic glacier glass styling with a steel frame and leather side shields in addition to high-quality Alti Arc lenses. Thanks to the excellent coverage of these Julbo and 87% visible light reduction from the lenses, the Micropore Sunglasses keep you safe from...
Julbo Montebianco Sunglasses - Camel Antifog Polarized/Photochromic Lens - Men's
To truly enjoy environments with rapidly changing conditions, you need changeable sunglasses like the Julbo Montebianco Sunglasses with the Camel polarized, photochromic lens. This advanced lens gets darker or lighter in accordance with the intensity of light around it, so you always get just the...
<< Prev | Back | 21 | 22 | 23 | 24 | 25 | 26 | 27 | 28 | 29 | 30 | More | Next >>