Tri Accessories - Road Bike Shop
Shop
>
Men's Apparel Clothing
>
Men's Apparel Triathlon Clothing
>
Tri Accessories
Science in Sport GO Isotonic Gel
You're tucked in the paceline, jamming the watts and perched on the tip of your saddle when it happens: a barely perceptible let up on pace, and you're out of the saddle and on the attack. Depending on what you used to fuel a few minutes ago, this is going to go one of two ways. If you took a...
Science in Sport GO Isotonic Gels
We've all been there, 56 miles into a 64-mile slugfest, chasing breaks and shattering echelons in search of a prestigious end-of-season county line sprint for glory. And then that slight edge of fatigue starts to creep in as we weigh the chances of powering to the line without bonking versus...
Shimano CE-S71R Cycling Sunglasses - Men's
For you, cycling sunglasses don't have to be a fashion statement, but they do need to do their job every time you wear them, every day of the season. You don't have much patience for fads, trends, and shiny new-releases, and you're not alone. Classic, functional, and reliable, Shimano's CE-S71R...
Shimano Rokko Bike Hydration Pack
The day you don't bring your pack is the day an hour-long cruise turns into an all-day epic, so you don't want to risk leaving the Shimano Rokko Bike Hydration Pack at home. Calling the Rokko a hydration pack is selling it a little short, though, because while it does comfortably hold a reservoir...
Shimano Unzen Bike Hydration Pack with Reservior
Instead of buying several trail packs in quick succession after realizing yours are continuously too big, too small, or without a feature you didn't realize you needed, you could invest in a pack like Shimano's Unzen Bike Hydration Pack with Resevoir. With a versatile size that won't weigh you...
Shimano Unzen Enduro Racepack - 244cu in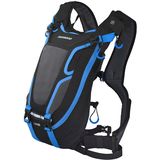 Shimano's Unzen Enduro Racepack was designed for all-mountain riding, with a place to hold onto the stuff you need when you're out on the trails for hours so you can focus on steering your enduro sled through sloppy terrain. We're pretty sure the designers at Shimano had unpleasant memories of...
Skoop A-Game
Retail Price:
$40.00
Our Price: $32.00
buy now
We'll be the first to admit that the market for performance supplements and nutritional powders seems to be getting crowded, with new all-natural this and non-GMO that coming out every other day. It falls on us, then, to seek out, test, and sell only the stuff we think is really worth your time...
Skratch Labs Cookie Mix
Back up the energy-supplementing deliciousness of the Skratch Labs Cookie Mix before your next ride. This 13. 9-ounce mix is good for approximately 18 cookie bars that are moist and solid enough to transport in your cycling jersey's pocket without 'em turning into a crumbly mess. To bake these...
Skratch Labs Daily Electrolyte Drink Mix
To be honest, water isn't always the most delicious beverage. However, many flavored drinks can be overpowering, especially after a hard cardio workout. Skratch Labs Daily Electrolyte drink mix was specifically designed to fall somewhere in the middle--to maintain optimal hydration with a bit of...
Skratch Labs Daily Electrolyte Drink Mix - Box
Dr. Allen Lim has worked with professional cyclists to develop the very best in hydration solutions. the Daily Electrolyte Drink Mix is no exception. In fact, it is one of the most versatile drink mixes offered by Skratch Labs -- perfect for pre-hydration or off-the-bike hydration. It was created...
<< Prev | Back | 21 | 22 | 23 | 24 | 25 | 26 | 27 | 28 | 29 | 30 | More | Next >>