Tri Accessories - Road Bike Shop
Shop
>
Men's Apparel Clothing
>
Men's Apparel Triathlon Clothing
>
Tri Accessories
Oakley Turbine Rotor Prizm Sunglasses - Men's
Whether you're grinding out tough miles up mountainous passes on your bike or just relaxing on the beach, you'll enjoy the uninhibited vision and lightweight comfort of the Oakley Turbine Rotor Prizm Sunglasses. The single-piece lens design offers unrestricted viewing of the road ahead, and Prizm...
Oakley Turbine Rotor Sunglasses - Men's
Much like a large piece of metal often used as protection against an enemy's blows, the Oakley Turbine Rotor Sunglasses combine wide lens coverage with high performance that ultimately provides stylish protection from the sun's harmful rays. Constructed with the stress resistant O-Matter frame,...
Oakley Turbine S Polar Junior Polarized Sunglasses - Kids' - Men's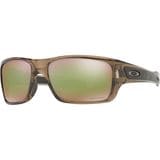 Whether your troublemaker is trying their hand at disc golf or the lot of you are headed to the lake for a day of beach games and grilled burgers, the Oakley Kids' Turbine S Polar Sunglasses assure adaptive style and performance. The Kids' Turbine features the same dependable performance as the...
Oakley Turbine S Sunglasses - Kids' - Men's
Other than a beach towel and pair of swim trunks, what are two things you should never send your kid off to the beach without? If you answered sunscreen and the Oakley Turbine S Kid's Sunglasses, then you're probably already well aware of the style and protection that the Turbine S (and sunscreen...
Oakley Unstoppable Polarized Sunglasses - Women's
When long-awaited Saturday morning dawns bright and cloudless, grab the Oakley Unstoppable Polarized Sunglasses and get to your favorite trail for your standing running date with your girlfriends. The Unstoppable's polarized lenses will shield your eyes when the sun is directly in front of you on...
Oakley Unstoppable Sunglasses - Women's
Whether you're getting after it on your favorite trail, training on your road bike, or out for an evening run, Oakley's Unstoppable Women's Sunglasses keep your eyes covered from harsh rays and debris. With a women-specific frame, these sunglasses complement small faces and feature a lightweight...
Oakley Wind Jacket 2.0 Sunglasses - Men's
When spring slush laps are on the menu, throw the Oakley Wind Jacket 2. 0 Sunglasses on your dome for the perfect amount of protection for those warm spring sessions. Their Prizm Snow lens enhances contrasts when the sun is blasting the mountain and everything is blindingly white--not to mention...
Oakley YSC Commit SQ Signature Sunglasses - Women's
Oakley designed the Commit Sunglasses specifically for women who are serious about winning. The commit incorporates Oakley's exclusive Three-Point Fit and hydrophobic Unobtainium to ensure a comfortable, non-slip fit so you don't have to think about your sunglasses in the middle of the sixth...
Osmo Nutrition Acute Recovery for Women - 16 Serv Tub
Get the recovery nutrition that matches your physiology and feel the difference in your performance with the Osmo Nutrition Acute Recovery for Women 16 Serv Tub. Women's recovery physiology is largely influenced by the menstrual cycle, which results in progesterone and estrogen inhibiting muscle...
Osmo Nutrition PreLoad Hydration for Men - 20 Serv Tub
Prepare to perform with the Osmo Nutrition PreLoad Hydration for Men 20 Serv Tub. As its name suggests, the PreLoad Hydration is only for use before intense efforts, ultra-endurance events, or exercise in hot conditions, and is ill-advised for use during exercise. Developed based on peer-reviewed...
<< Prev | Back | 21 | 22 | 23 | 24 | 25 | 26 | 27 | 28 | 29 | 30 | More | Next >>