Tri Accessories - Road Bike Shop
Shop
>
Men's Apparel Clothing
>
Men's Apparel Triathlon Clothing
>
Tri Accessories
Native Eyewear Hardtop XP Interchangeable Polarized Sunglasses - Men's
Interchangeable lenses and temples make the Native Eyewear Hardtop XP Polarized Sunglasses ideal for any outdoor activity in any lighting conditions. Hardtop XP sunglasses come with polarized lenses to reduce glare and provide eye protection in low-light conditions like trail runs at dusk....
Nuun Active
If summertime sweat sessions routinely leave you sore and lethargic, sipping on any sugary sports drink you can find, save yourself the calories and give your couch some space by guzzling Nuun Active post-workout. When you push your body, you lose valuable electrolytes that are important to...
Nuun Active Variety Pack
Whether you're on a strict tri training plan or let your active time outdoors take on a more organic form, summertime sweat sessions take their toll on your body. Working hard in the heat saps you of valuable nutrients and electrolytes, and if you don't replenish them, you risk day after day of...
Nuun All Day - 8-Pack
Retail Price:
$55.90
Our Price: $50.00
buy now
Nuun All Day tablets are the evolution of hydration. Each tab contains 17 vitamins and minerals, no sugar, and fewer than 8 calories. Nuun All Day tablets come in Grapefruit Orange, Tangerine Lime, Blueberry Pomegranate, and Grape Raspberry.
Nuun Energy Tube - 8 Pack
Retail Price:
$52.00
Our Price: $39.00
buy now
Each Nuun Energy Tube contains 10 Nuun tablets. Each is delicious when mixed with 16 ounces water and contains a healthy mix of electrolytes, B vitamins, and caffeine. The tablets contain no sugar and have a light, subtle taste that's great before, during, and after your ride or workout.
Nuun Mixed Fruit Nuun Tube - 4 Pack
Retail Price:
$23.95
Our Price: $22.00
buy now
The Nuun Electrolyte Tablets Mixed Fruit 4 Pack bundles Nuun's best flavors for easy on-the-go consumption. Each tube contains 12 tablets, with each tablet constituting one serving and dissolving in 16 ounces of water for an optimum balance of body-replenishing electrolytes and subtle, yet...
Nuun Nuun Plus Tablet Singles - 18 Pack
Rapidly restoring lost electrolytes and carbohydrates, the Nuun Plus Tablet Singles - 18 Pack keeps you going strong in competitive races and grueling workouts alike. This 18-pack of single-serving tablets contains one Nuun Plus tablet and one Nuun Active tablet within each pack, rapidly...
Nuun People For Bikes - 4-Pack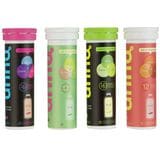 People For Bikes is a nonprofit organization that works to provide a unified voice advocating for cycling and cyclists on a national level. Eager to support the organization, Nuun has launched a collaboration with People For Bikes in order to get out the good word and boost funds at the same time...
Oakley Badman Prizm Sunglasses - Polarized - Men's
Inspired by the legendary X Metal collection, the Oakley Badman Prizm Polarized Sunglasses combine innovative performance with iconic style. Polarized lenses with Prizm Daily technology not only eliminate glare, but also enhance colors and contrast for a sharper, brighter view of the world. The...
Oakley Badman Sunglasses - Polarized - Men's
With a look that's borderline villainous, the Oakley Badman Polarized Sunglasses are brimming with Oakley's signature tech. Equipped with stress-resistant Plutonite HDPolarized lenses and a full 8. 75 base-curvature, the Badman glasses filter out any harmful UV-rays, eliminate glare entirely, and...
<< Prev | Back | 21 | 22 | 23 | 24 | 25 | 26 | 27 | 28 | 29 | 30 | More | Next >>