Tri Accessories - Road Bike Shop
Shop
>
Men's Apparel Clothing
>
Men's Apparel Triathlon Clothing
>
Tri Accessories
Hammer Nutrition Perpetuem Endurance Fuel - Men's
Formulated to prevent muscle fatigue during grueling rides and marathon races, Hammer Nutrition Perpetuem Endurance Fuel delivers long-lasting energy on rides lasting three or more hours. Each container has 16 servings of soy protein-based fuel that's both gluten-free and Vegan-certified. Its...
Hammer Nutrition Phytomax - Men's
Many athletes who consistently use Phytomax enjoy increased energy levels, faster recovery, improved immune system function, improved moods and mental clarity, and a higher quality of sleep. Why? Because they're providing what their body needs but isn't getting from their paltry intake of...
Hammer Nutrition PSA Caps - Men's
Even though cycling keeps you young both in body and mind, constant pressure from years of sitting on a saddle, even the best-fitting saddle on the market, can wreak havoc with your prostate. An enlarged prostate is common among cyclists over the age of 40, and Hammer Nutrition's PSA Caps are a...
Hammer Nutrition Recoverite Glutamine Fortified Recovery Drink - Men's
Recovery is an essential part of training, and Hammer Nutrition's Recoverite Glutamine Fortified Recovery Drink helps your body put itself back together. Recoverite is formulated with a 3:1 carbohydrate to protein ratio to encourage glycogen synthesis and the building of muscle tissue. There are...
Hammer Nutrition Recovery Bar - Men's
Post ride, refuel with Hammer Nutrition's gluten-free, GMO-free, and certified dairy kosher Recovery Bar. Each Hammer Recovery Bar is comprised of 70% organic ingredients, including ample amounts of carbohydrates, 20 grams of a cold-processed whey protein blend derived from grass-fed cows, and 8...
Hammer Nutrition Super Anti-Oxidant - Men's
Everything you do, including breathing, creates free radicals and when you exercise the amount increases dramatically. Excess free radicals can easily overwhelm your body's natural antioxidant defense systems, wreaking havoc on your athletic endeavors and, more importantly, your health....
Hammer Nutrition Tissue Rejuvenator - Men's
Extended exercise doesn't just break down muscles. It subjects your joints, cartilage, and tissues to real wear and tear, too, so it's as important to rebuild those three as it is heal your muscles after a long run, ride, or race. Hammer Nutrition's Tissue Rejuvenator uses glucosamine sulfate (a...
Hammer Nutrition Vegan Protein Powder - Men's
Part of your recovery after training should always include replenishing protein stores. Most riders opt for a protein shake of sorts. If you're vegan, the choice of protein is often limited to tasteless powders and supplements. Hammer Nutrition's Vegan Protein Powder, however, is an easily...
Hammer Nutrition Vegan Recovery Bar - Men's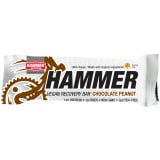 Available in a 12-count box, Hammer Nutrition's Vegan Recovery Bar comes in two savory flavors: Almond Cacao and Chocolate Peanut. The nutritionists at Hammer combine organic tapioca, a healthy carbohydrate source, with pea and brown-rice protein, along with other high-quality ingredients for a...
Hammer Nutrition Xobaline - Men's
While eating a balanced diet and allowing your body adequate recovery go a long way in ensuring results, sometimes your metabolism just needs a little boost. Hammer Nutrition's Xobaline contains B12 plus folic acid in a ratio that assists in red blood cell production and in the synthesis of RNA...
<< Prev | Back | 21 | 22 | 23 | 24 | 25 | 26 | 27 | 28 | 29 | 30 | More | Next >>