Tri Accessories - Road Bike Shop
Shop
>
Men's Apparel Clothing
>
Men's Apparel Triathlon Clothing
>
Tri Accessories
Hammer Nutrition Recoverite Glutamine Fortified Recovery Drink - Men's
The extent to which you recover today will largely determine the quality of your performance tomorrow. When you put as much effort into the recovery process as you do for active training, you're ahead of the game and you'll no doubt enjoy improved performance. Along with adequate rest, it's...
Hammer Nutrition Recovery Bar - Men's
Post ride, refuel with Hammer Nutrition's gluten-free, GMO-free, and certified dairy kosher Recovery Bar. Each Hammer Recovery Bar is comprised of 70% organic ingredients, including ample amounts of carbohydrates, 20 grams of a cold-processed whey protein blend derived from grass-fed cows, and 8...
Hammer Nutrition REM Caps - Men's
Training, job, family -- it's almost impossible to find the time to devote to adequate sleep. Athletes engaged in hard training especially need the benefits of sound sleep to allow their bodies to recover. Don't let an insufficient amount of quality sleep compromise your health and sabotage...
Hammer Nutrition Super Anti-Oxidant - Men's
Everything you do, including breathing, creates free radicals and when you exercise the amount increases dramatically. Excess free radicals can easily overwhelm your body's natural antioxidant defense systems, wreaking havoc on your athletic endeavors and, more importantly, your health....
Hammer Nutrition Sustained Energy Ultra Endurance Fuel - Men's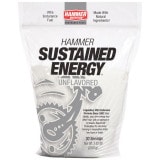 Unless you supplement your carbohydrate source with protein, your body will start to digest its own protein (muscle tissue) for energy after about 90 minutes of hard exercise. So when your training takes you beyond the range of Hammer Gel alone, you can rely on Hammer Nutrition Sustained Energy...
Hammer Nutrition Vegan Protein Powder - Men's
Part of your recovery after training should always include replenishing protein stores. Most riders opt for a protein shake of sorts. If you're vegan, the choice of protein is often limited to tasteless powders and supplements. Hammer Nutrition's Vegan Protein Powder, however, is an easily...
Hammer Nutrition Vegan Recovery Bar - Men's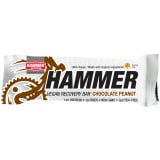 Available in a 12-count box, Hammer Nutrition's Vegan Recovery Bar comes in two savory flavors: Almond Cacao and Chocolate Peanut. The nutritionists at Hammer combine organic tapioca, a healthy carbohydrate source, with pea and brown-rice protein, along with other high-quality ingredients for a...
Hammer Nutrition Whey - Men's
Anyone serious about performing as an athlete knows that it's critical to refuel after a workout. Beyond complex carbs, your body also desperately needs pure protein -- like Hammer Whey. First, the reason for protein is fairly straightforward. In any workout longer than about two hours, your body...
Hammer Nutrition Xobaline - Men's
While eating a balanced diet and allowing your body adequate recovery go a long way in ensuring results, sometimes your metabolism just needs a little boost. Hammer Nutrition's Xobaline contains B12 plus folic acid in a ratio that assists in red blood cell production and in the synthesis of RNA...
Honey Stinger Energy Bar - 15 Pack - Men's
If you've ever done a 12 hour bike race or a long adventure race, you'd know that gels can only remain appetizing for so long. After a half day of slurping down semi-liquid nutrition products, you'll crave something that you can chew. Honey Stinger Energy Bars "feel" more like normal food, but...
<< Prev | Back | 21 | 22 | 23 | 24 | 25 | 26 | 27 | 28 | 29 | 30 | More | Next >>