Tri Accessories - Road Bike Shop
Shop
>
Men's Apparel Clothing
>
Men's Apparel Triathlon Clothing
>
Tri Accessories
Hammer Nutrition Hammer Bar - Men's
We all know we should eat healthy, complete meals, but sometimes life just gets in the way. The Hammer Nutrition Bar isn't a four-course meal, but it is a healthy alternative to a bag of chips. Hammer Bars are loaded with healthy, non-GMO, energy-producing organic ingredients such as almond...
Hammer Nutrition High Energy Electrolyte Drink - Men's
Instead of throwing water, salt, and sugar at your body almost at random, try replenishing your lost electrolytes, carbs, and calories with Hammer Nutrition's High Energy Electrolyte Drink (HEED). HEED is less sugary than most sports drinks and drink mixes, which helps you avoid blood sugar...
Hammer Nutrition Perpetuem Endurance Fuel - Men's
Hammer Nutrition Perpetuem Endurance Fuel is the result of years of research and thousands of miles of testing in a variety of endurance disciplines. Perpetuem is Hammer's ultimate link to satisfying the body's fueling requirements no matter how long or difficult your exercise session or race is....
Hammer Nutrition Phytomax - Men's
Many athletes who consistently use Phytomax enjoy increased energy levels, faster recovery, improved immune system function, improved moods and mental clarity, and a higher quality of sleep. Why? Because they're providing what their body needs but isn't getting from their paltry intake of...
Hammer Nutrition Premium Insurance Caps - Men's
While everyone (especially athletes) should strive to eat a healthy and balanced diet, we're the first to admit that few of us do. Even if you're somewhat obsessed about diet, it's almost impossible to get all of the nutrients you need from your food. It's more or less a universally agreed-upon...
Hammer Nutrition PSA Caps - Men's
Even though cycling keeps you young both in body and mind, constant pressure from years of sitting on a saddle, even the best-fitting saddle on the market, can wreak havoc with your prostate. An enlarged prostate is common among cyclists over the age of 40, and Hammer Nutrition's PSA Caps are a...
Hammer Nutrition Recovery Bar - Men's
Post ride, refuel with Hammer Nutrition's gluten-free, GMO-free, and certified dairy kosher Recovery Bar. Each Hammer Recovery Bar is comprised of 70% organic ingredients, including ample amounts of carbohydrates, 20 grams of a cold-processed whey protein blend derived from grass-fed cows, and 8...
Hammer Nutrition REM Caps - Men's
Training, job, family -- it's almost impossible to find the time to devote to adequate sleep. Athletes engaged in hard training especially need the benefits of sound sleep to allow their bodies to recover. Don't let an insufficient amount of quality sleep compromise your health and sabotage...
Hammer Nutrition Super Anti-Oxidant - Men's
Everything you do, including breathing, creates free radicals and when you exercise the amount increases dramatically. Excess free radicals can easily overwhelm your body's natural antioxidant defense systems, wreaking havoc on your athletic endeavors and, more importantly, your health....
Hammer Nutrition Sustained Energy Ultra Endurance Fuel - Men's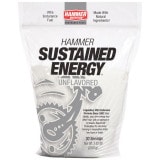 Unless you supplement your carbohydrate source with protein, your body will start to digest its own protein (muscle tissue) for energy after about 90 minutes of hard exercise. So when your training takes you beyond the range of Hammer Gel alone, you can rely on Hammer Nutrition Sustained Energy...
<< Prev | Back | 21 | 22 | 23 | 24 | 25 | 26 | 27 | 28 | 29 | 30 | More | Next >>