Tri Accessories - Road Bike Shop
Shop
>
Men's Apparel Clothing
>
Men's Apparel Triathlon Clothing
>
Tri Accessories
Green Guru Gear Ruckus Bike Tube Backpack - 1700cu in - Men's
Backpacks are arguably at the pinnacle of human-based cargo-carrying methods: they keep the hands and head free, they keep weight distributed symmetrically, and they stay out of the way. Green Guru takes the common backpack and adds to it not just great functionality, but environmental...
Green Guru Gear Spinner Backpack - Men's
Take the practicality and functionality of your average backpack, kick up the quality a notch or three, swirl in some progressive style, and wrap it in superlative environmental friendliness, and you'll wind up with the Green Guru Spinner Backpack. Made entirely of recycled materials -- such as...
Green Guru Gear Transcend - Men's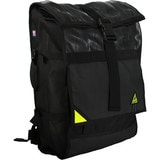 When it comes to roll-top bags, there's no shortage of options out there. But Green Guru does it differently, in that its bags are built in the USA using recycled materials, and every model incorporates features essential for those on the move. The Transcend follows this mindset, as this spacious...
GU Brew Electrolyte - 16 Pack - Men's
Retail Price:
$31.95
Our Price: $15.97
buy now
When you work out, you sweat. Water is lost, but so are salts. Drinking plain water to replace the sweat will create an unbalanced electrolyte situation. This is a bad thing, because your body needs the sodium and potassium to balance the water in your cells. Gu Electrolyte Brew can help maintain...
GU Brew Electrolyte Canister - Men's
Retail Price:
$36.00
Our Price: $27.00
buy now
Just like you, the nutritional braniacs over at GU keep making it better. Reformulated this year for even better performance, GU Brew is a staple of the training and competing diets of countless athletes. The new GU Brew shifts the formula slightly away from carbs and towards electrolyte...
GU Brew Electrolyte Tablets - Box (10 Tubes) - Men's
Sodium and potassium are critical to help you retain the fluids you need to function properly; be sure to enrich your water with the GU Brew Electrolyte Tablets for effective hydration. Each tube comes packed with twelve tablets that you can easily carry with you to drop into your water before,...
GU Brew Recovery - 12 Pack - Men's
Retail Price:
$39.95
Our Price: $17.97
buy now
GU Recovery Brew is what you need when you've trained hard today and you need to accelerate the recovery process so you can hit it hard again tomorrow. It's like massage-in-a-bottle, and it'll be the difference between feeling 'the burn' and not early on in tomorrow' ride.GU Recovery Brew has a...
GU Chomps Energy Chews - 16-Pack - Men's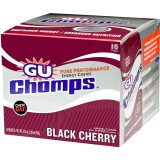 Retail Price:
$35.20
Our Price: $21.30
buy now
GU Chomps. It's the GU that you chew. While we got along fine before chewy energy supplements, we're glad that we now have a choice. Chomps are easy to store in your back pocket once opened. It's not necessary to eat them all at once. The old mantra "a little bit at a time over a long time" seems...
GU Energy Gel - 24-Pack - Men's
GU is a convenient, great tasting carbohydrate gel formulated to energize before, sustain during, and aid in recovery after training and competitions. Made with a unique blend of ingredients, GU provides: complex carbohydrates for sustained energy, amino acids to maintain muscle protein,...
GU Energy Gel - 8-Pack - Men's
Revive and refuel during your workout or race with the GU 8-Pack Energy Gel. Gel provides a boost of energy during a workout to help sustain your endurance, refuels sugars and protein to your muscles to reduce cramping, and helps with recovery so you're ready to go the next dayGel form means you...
<< Prev | Back | 11 | 12 | 13 | 14 | 15 | 16 | 17 | 18 | 19 | 20 | More | Next >>