Tri Accessories - Road Bike Shop
Shop
>
Men's Apparel Clothing
>
Men's Apparel Triathlon Clothing
>
Tri Accessories
Fox Racing Oasis Hydration Backpack
Hitting the sweet spot for carrying water, trail snacks, and tools, the Fox Racing Oasis Hydration Backpack is a ready companion for daily rides around your local trail network. Its six-liter capacity and two-liter hydration reservoir offer plenty of carrying volume for multi-hour rides across...
Fox Racing Portage Hydration Backpack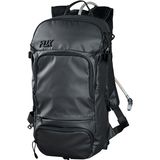 Offering 16-liters of cavernous storage and a three-liter hydration reservoir, the Fox Racing Portage Hydration Backpack effortlessly carries all of your tools, riding snacks, extra layers, and water needed to complete epic loops with thousands of feet of climbing and technical stretches. The...
Garmin Adjustable Mounting Arm Kit
If you've got a Garmin VIRB camera, you need this Adjustable Mounting Arm kit. It has a handful of useful attachments, enabling you to affix your camera to just about anything. This kit includes a short link, a long link, a right angle link, an adapter to popular industry mounts, flat and curved...
Garmin Anti-Glare Film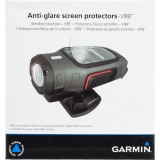 When the sun is shining, the display screen of your new Virb might be difficult to see. That's why Garmin recommends using its Anti-Glare Film to make every action visible. The film also protects against fingerprints and scratches in order to keep your screen like new. The Garmin Anti-Glare Film...
Garmin Bike Cadence Sensor
Cadence data is key to any serious training program, and the Garmin Bike Cadence Sensor is one of the cleanest designs out there. It mounts to your crank arm, and you don't need to mount anything to your frame. That keeps your bike looking good. The Cadence Sensor is also easy to swap between...
Garmin Bike Speed and Cadence Sensor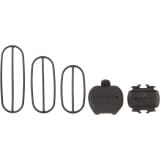 The Garmin Bike Speed and Cadence Sensor attaches to your bike's chainstays with a zip tie, or the included rubber bands, and tracks both the speed of your bike and your pedaling cadence. It's compatible with a host of Garmin and ANT+ products, with the Garmin models listed below.
Garmin Bike Speed Sensor
Knowing how fast you're going isn't just fun; it's a key piece of data when you're putting together a training plan or proving to your friends how much faster than them you are. If you're serious about getting faster or stacking bragging rights, Garmin's Bike Speed Sensor is vital. A low-profile...
Garmin Edge 810 Bike Computer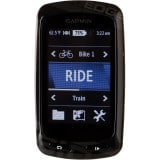 Retail Price:
$499.99
Our Price: $399.99
buy now
If you want the pinnacle of sport-specific computing sitting atop your stem, look no further. That sounds like a high, hard sales pitch, but it's the damn truth. The Garmin Edge 810 does everything that anyone as dreamed of a bike computer doing, and probably a couple more things, too. It handles...
Garmin Edge Remote
If you've ever tried to change screens or adjust settings on your Garmin while riding, you know that removing your hand to push the right combination of buttons is just an accident waiting to happen. The Garmin Edge Remote was specifically designed to interface wirelessly with your Edge 1000 to...
Garmin Edge Touring
The Garmin Edge Touring is designed for the rider who cares less about heart rates than they do about where they're headed. It'll offer 17 hours of turn-by-turn navigation, but it's not going to tell you how many beats per minute you're up to on that climb. You can search for a destination within...
<< Prev | Back | 11 | 12 | 13 | 14 | 15 | 16 | 17 | 18 | 19 | 20 | More | Next >>