Tri Accessories - Road Bike Shop
Shop
>
Men's Apparel Clothing
>
Men's Apparel Triathlon Clothing
>
Tri Accessories
Garmin Fenix 2 - Men's
Running, climbing, riding, hiking, paddling, skiing, and swimming. What do these sports share in common besides the great outdoors? That'd be Garmin's Fenix 2 -- a full-featured navigator GPS watch that uses its altimeter, barometer, and compass to provide essential information on elevation,...
Garmin Fenix 2 Performer Bundle - Men's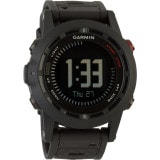 Garmin's Fenix 2 Performer Bundle includes a heart rate monitor for out-of-the-box compatibility and functionality. The Fenix also utilizes Garmin's GPS technology to provide navigation and tracking functionalities to guide your next adventure, whether by road, trail, or machete-hacked jungle....
Garmin Forerunner 10 - Men's
With Garmin's new Forerunner 10, you're always able to have your running partner on hand. As its lightest-available GPS watch, the Forerunner seemingly disappears once you've put it on, yet it jumps into action when needed. Track your distance, speed/pace, and even your calories with this...
Garmin Forerunner 15 - Men's
Blending the best of its Forerunner 10 and Vivofit into a single package, Garmin's new Forerunner 15 tracks the same metrics as the 10, along with adding in Vivofit's extensive day-to-day activity tracking features and heart rate support. This means one lightweight unit on your wrist, and you are...
Garmin Forerunner 15 Bundle - Men's
For those in need of a tireless, dedicated partner, the Garmin Forerunner 15 Bundle is here to not just rise to the challenge, but help you do so, too. The Forerunner 15 is designed to be worn at all times -- not just while riding or running, and not just outdoors, either. An activity-tracking...
Garmin Forerunner 210 - Men's
A device that bridges the gap between your indoor and outdoor training makes the difference between effective progression and outright failure. This is why Garmin developed its new Forerunner 210. Like the Forerunner 110, it accurately records your time, pace, and distance while outside, only you...
Garmin Forerunner 210 HRM - Men's
Garmin knows that you need your GPS watch to track your workouts both inside and outdoors, which is why it developed the new Forerunner 210 HRM. Like the 110 model, the 210 HRM accurately records the vital information from your training sessions, but you now have the capabilities to track your...
Garmin Forerunner 220 Bundle - Men's
The Garmin Forerunner 220 Bundle is ideal for daily runners and those looking to take their running abilities and physical fitness to the next level. This bundle pairs a Garmin Forerunner 220 GPS watch with a Premium (soft strap) heart rate monitor, giving this duo the ability to capture distance...
Garmin Forerunner 310XT GPS - Men's
Garmin seems to be on a miniaturization kick this season; it's a habit we're glad they got in on. Their Forerunner 310XT is much less obtrusive than the other watches in the Forerunner series, but seems to have more features, and they're features the multi-sport crowd will love. Garmin brags...
Garmin Forerunner 620 - Men's
The Garmin Forerunner 620 is an innovative, run-tracking GPS watch designed to enhance running and training performance. Distance and pace are measured through the watch's GPS, which is also capable of sharing location data when synced with the Garmin LiveTrack application (sold separately). This...
<< Prev | Back | 11 | 12 | 13 | 14 | 15 | 16 | 17 | 18 | 19 | 20 | More | Next >>