Womens Tri Bike - Road Bike Shop
Shop
>
Women's Apparel Clothing
>
Women's Apparel Triathlon Clothing
>
Women's Apparel Tri Bike
2XU Active Tri Shorts - Women's
Who would argue with free speed? Not us, and probably not you, either. This is why a calculated gear selection needs to extend beyond the hard goods and into areas less obvious. Yes, we're referring to your clothes. And whether you're looking to gain time in the water or on the land, the 2XU...
2XU Active Tri Top - Women's
Built specifically for the varying disciplines of triathlon, 2XU made its Women's Active Tri Top to be comfortable, supportive, and efficient throughout each leg of your race. Constructed from SBR Skin X fabric, the Active top dries quickly once through T1. It features a midweight gauge that,...
2XU Elite Compression Tri Shorts - Women's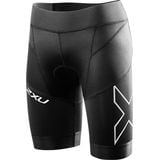 The benefits of compression are well known, but 2XU's Elite Compression Women's Tri Shorts are so much more than a circulation-enhancing, muscle-supporting, lactic-acid-reducing wondershort. They're also constructed with Ice X2 CT panels, which provide active cooling that can reduce your skin's...
2XU Elite Compression Tri Singlet - Women's
Triathlons are designed to push your limits, so there's no need to make them any harder by wearing uncomfortable and inefficient gear. Having the perfect setup, starting with the 2XU Elite Women 's Compression Tri Singlet, can be the difference between crawling your way across the finish line or...
2XU Long Distance Women's Tri Singlet
Retail Price:
$109.95
Our Price: $32.98
buy now
Advantages can be measured in multiple ways, almost to the extent of being ruled subjective. However, there're a few items in the world of triathlon that manage to expertly roll all of the conceivable into one -- items like the 2XU Long Distance Women's Tri Singlet. With it, 2XU engineered...
2XU Perform Tri Shorts - Women's
Retail Price:
$89.95
Our Price: $44.98
buy now
It's no secret that triathlon apparel manufacturers have their work cut out for them. Essentially, you have to produce a piece that's suitable for three very different environments without sacrificing any one for the other. Luckily, though, 2XU has long been up to the challenge, which is...
2XU Perform Tri Shorts - Women's
Triathlon apparel has a tough job, but 2XU has figured out how to make gear, like the Perform Women's Tri Shorts, that excels in the water, on the bike, and during the run. The Perform uses 2XU's elastane SBR Power fabric for compressive support and a sleek fit, and incorporates SMD Mesh into key...
2XU Perform Tri Singlet - Women's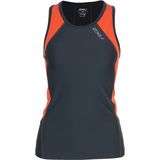 To complement the Perform Tri Shorts, 2XU updated the Perform Tri Singlet with a more streamlined fit and added ventilation. Now you're able to move from the start to finish line with even more comfort and support than before. Constructed from SBR Lite Fabric, the Perform Tri Singlet dries...
Backcountry.com Topo Merino Comp Trail Sock
If you tend to get lost when you're hammering down the trail, the backcountry. com Topo Merino Comp Trail Sock has you covered with a topographic map pattern that will guide you to back to safety. Of course, you have to be on exactly the right trail. Regardless of where you are, the Topo is made...
Blueseventy TX1000 Short - Women's
Retail Price:
$64.95
Our Price: $35.72
buy now
If you wrote a list of the top features you want in a tri short, you'd think you were describing pro-tier goods. Blueseventy designed the TX1000 Women's Shorts to be comfortable, breathable, and supportive, all at a price that is nice on your wallet. Blue Seventy used its Velo fabric for the bulk...
<< Prev | 1 | 2 | 3 | 4 | 5 | 6 | 7 | 8 | 9 | 10 | Next >>