Womens Tri Bike - Road Bike Shop
Shop
>
Women's Apparel Clothing
>
Women's Apparel Triathlon Clothing
>
Women's Apparel Tri Bike
2XU Active Singlet Tri Top - Women's
Before you race three disciplines back to back for hours on end, you first need to have confidence in your gear. That's why you pulled on the 2XU Women's Active Singlet Tri Top. Designed to help you dominate in each stage, this top is made from a lightweight, moisture-wicking fabric. Mesh panels...
2XU Active Tri Short - Women's
Satisfying the needs of all three triathlon stages, the 2XU Women's Active Tri Short provides mild compression, quick-drying comfort, and streamlined efficiency. Both SBR Lite and SBR Skin fabrics employ low-gauge elastane, which is mildly compressive without being restrictive like high-gauge...
2XU X-Vent 4.5in Tri Short - Women's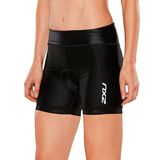 When race day rolls around and you're feeling less than enthusiastic about your one-piece suits, reach for the 2XU Women's X-Vent 4. 5in Tri Shorts. Designed with a more minimal inseam than most racing shorts, the X-Vent doesn't sacrifice on performance features. It's crafted from a performance...
Castelli ALII Run Jersey - Sleeveless - Women's
Retail Price:
$79.95
Our Price: $35.98
buy now
Tri training requires a pretty significant amount of organization, and whether you're planning a grueling brick day or are heading to the track to work on your leg speed, you don't want to add gear complications to the list of things you have to think about. Castelli's ALII Run Jersey for women...
Castelli Body Paint Tri Short - Women's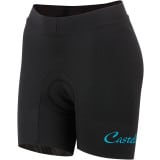 Retail Price:
$149.95
Our Price: $37.49
buy now
Having a clear head on the start line is essential, so you can't be sweating your gear before you even hit the water. Castelli's Body Paint Women's Tri Short helps you focus on the tough task at hand while supporting your muscles on land and in the water and keeping you comfy on the bike....
Castelli Body Paint Tri Short Top - Women's
Castelli's Body Paint Tri Women's Short Top has a tough role to fill. It's got to excel at three different disciplines requiring radically different ranges of arm and shoulder motion. It's also got to dry quickly in T1, maintain breathability and wicking, and minimize an athlete's aerodynamic...
Castelli Body Paint Tri Singlet - Women's
The Castelli Body Paint Tri Women's Singlet is dedicated to providing optimal functionality for all three legs of triathlon with its fast-drying, highly elastic seamless construction. Castelli started with its ultra-lightweight Velocity fabric. This material not only dries quickly once you are...
Castelli Core Tri Shorts - Women's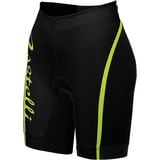 Triathlon's a tricky sport -you're doing three dramatically different sports, and your time switching between each counts toward your overall time. The Castelli Core Tri Women's Shorts make transition a bit easier, with quick-drying fabric, a low-profile chamois, and even a feature called Speed...
Castelli Core Tri Singlet - Women's
Retail Price:
$69.95
Our Price: $34.97
buy now
Castelli's Core Tri Singlet incorporates all of the unexpected innovation of the men's model but with one additional benefit. The front is lined, which offers better support and a touch more modesty during your event. This lining is in addition to the aerodynamic Tempo 3 material, a lightweight,...
Castelli Free Donna Tri Shorts - Women's
One could argue that the combination of aero- and hydro-dynamic properties will make or break a pair of triathlon shorts, and possibly the race. Essentially, it comes down to managing airflow, and coincidentally, the human body accounts for over 90% of aerodynamic drag on the bike and 100% of...
<< Prev | 1 | 2 | 3 | 4 | 5 | 6 | 7 | 8 | Next >>