Womens Tri Bike - Road Bike Shop
Shop
>
Women's Apparel Clothing
>
Women's Apparel Triathlon Clothing
>
Women's Apparel Tri Bike
2XU Elite Compression Tri Singlet - Women's
Retail Price:
$139.95
Our Price: $41.98
buy now
Triathlons are designed to push your limits, so there's no need to make them any harder by wearing uncomfortable and inefficient gear. Having the perfect setup, starting with the 2XU Elite Women 's Compression Tri Singlet, can be the difference between crawling your way across the finish line or...
Asics Gel-Kayano Trainer Evo Shoe - Women's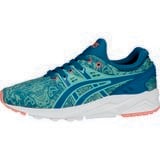 Retail Price:
$89.95
Our Price: $58.47
buy now
You'd walk around in your running sneakers all day if they didn't smell like sweaty feet, so replace them with the Asics Women's Gel-Kayano Trainer Evo Shoes. Styled just like your own trainers, the Gel-Kayano boasts a breathable mesh upper with durable overlays for longevity. Underfoot, this...
Asics MET-Conviction Shoe - Women's
Retail Price:
$109.95
Our Price: $71.47
buy now
Between the sandbag lunges and one-legged squats, that evening cheat-meal doesn't stand a chance, especially when you're wearing the Asics Women's MET-Conviction Shoe. Built specifically for high-intensity training, these lightweight trainers offer outstanding performance with their...
Castelli ALII Run Jersey - Sleeveless - Women's
Retail Price:
$79.95
Our Price: $35.98
buy now
Tri training requires a pretty significant amount of organization, and whether you're planning a grueling brick day or are heading to the track to work on your leg speed, you don't want to add gear complications to the list of things you have to think about. Castelli's ALII Run Jersey for women...
Castelli Body Paint Tri Short Top - Women's
Castelli's Body Paint Tri Women's Short Top has a tough role to fill. It's got to excel at three different disciplines requiring radically different ranges of arm and shoulder motion. It's also got to dry quickly in T1, maintain breathability and wicking, and minimize an athlete's aerodynamic...
Castelli Body Paint Tri Singlet - Women's
The Castelli Body Paint Tri Women's Singlet is dedicated to providing optimal functionality for all three legs of triathlon with its fast-drying, highly elastic seamless construction. Castelli started with its ultra-lightweight Velocity fabric. This material not only dries quickly once you are...
Castelli Core Tri Shorts - Women's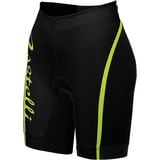 Triathlon's a tricky sport -you're doing three dramatically different sports, and your time switching between each counts toward your overall time. The Castelli Core Tri Women's Shorts make transition a bit easier, with quick-drying fabric, a low-profile chamois, and even a feature called Speed...
Castelli Free Donna Tri Shorts - Women's
One could argue that the combination of aero- and hydro-dynamic properties will make or break a pair of triathlon shorts, and possibly the race. Essentially, it comes down to managing airflow, and coincidentally, the human body accounts for over 90% of aerodynamic drag on the bike and 100% of...
Castelli Free Tri Singlet - Women's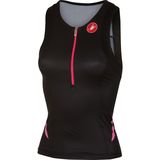 Retail Price:
$89.95
Our Price: $40.48
buy now
Boasting generous storage space and fast-drying, aerodynamic fabrics, the Castelli Women's Free Tri Singlet is well suited for long events and long-distance rides. Castelli constructs the Free Tri Singlet from SpeedFreak ventilated fabric on the front, which glides through the water with ease and...
Castelli Impalpabile Socks - Women's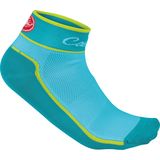 The Castelli Women's Impalpabile Socks all but disappear when you slip on your shoes to keep you cool over the miles. Made from soft, light Meryl Skinlife yarns with bacteriostatic silver ions, these socks whisk moisture away to keep your toes dry while fighting off stink-producing bacteria. A...
<< Prev | 1 | 2 | 3 | 4 | 5 | 6 | 7 | Next >>