Womens Tri Bike - Road Bike Shop
Shop
>
Women's Apparel Clothing
>
Women's Apparel Triathlon Clothing
>
Women's Apparel Tri Bike
TYR Competitor 6in Tri Short - Women's
Come race day, you need every advantage that you're able to get. However, when it comes to triathlon shorts, matching an advantage with a disadvantage is common practice. By this, we mean that shorts that're fast on land are typically slow in the water. Conversely, shorts that are comfortable are...
TYR Competitor 8in Tri Women's Shorts
Retail Price:
$74.95
Our Price: $37.47
buy now
On the surface, triathlon shorts seem like a simple concept. However, once you take all three disciplines into account, a myriad of potential problems present themselves. Lucky for you, TYR is out of the pool and into the triathlon world. And with its Competitor 8in Tri Women's Shorts, you gain...
TYR Competitor Front Zip Tri Suit - Women's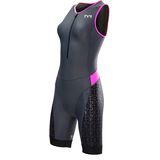 If you've ever expressed disappointment in your triathlon race apparel, we understand why. When you think about it, creating one piece to function throughout three disciplines is quite the endeavor. And while we applaud the industry's ambition to do so, we're generally disappointed with the...
TYR Competitor Tank Top - Women's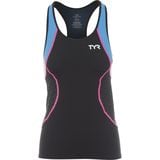 Retail Price:
$64.95
Our Price: $32.47
buy now
If you're going to race three disciplines for hours on end, you need your clothing to perform from start to finish. TYR's Competitor Tank Top is designed to dominate all three disciplines. TYR uses its Competitor Woven fabric for the top. This is lightweight, high stretch fabric that conforms to...
TYR Competitor Thin Strap Tri Bra Top - Women's
Rome wasn't built in a day, and the TYR Women's Competitor Thin Strap Tri Bra Top most likely wasn't either, however it was designed to dominate the disciplines in one fell swoop. Fashioned with TYR's Competitor Woven technology, this bra top provides a compression qualities to prevent bouncing,...
TYR Competitor Tri Tank Top - Women's
Race organizers don't call triathlons a competition for no particular reason at all, but it would be most beneficial if you weren't exactly racing to the finish line for the sake of tri-attire removal. However, ready yourself, because there's a new sheriff in town and it's the TYR's Competitor...
TYR Hurricane Cat 1 Neo Shorts - Women's
Designed for triathletes training in the pool and open water, the TYR Women's Hurricane Cat 1 Neo Shorts increase buoyancy and hydrodynamic efficiency. Slick Skin Neoprene helps to lift your hips and replicate the feeling of swimming in a full wetsuit. The Hurricane Cat 1 Neo Shorts come with a...
TYR Torque Elite Tri Suit - Women's
While the term high-octane is usually reserved for motor-based endeavors, we'd venture to say that the expression can be applied to the swim leg of a triathlon race. And it would appear that the designers at TYR agree with us, too, simply on account of their Women's Torque Elite Tri Suit creation...
Under Armour Speedform Amp Shoe - Women's
Unleahs the power of your own strength with the Under Armour Women's Speedform Amp Shoe. The Amp Shoe uses a technology that amplifies the biomechanics of your movements, in turn getting you the most out of your training sessions every time you lace up. A SpeedForm upper keeps the fit as precise...
ZOOT Active Tri 6in Short - Women's
Retail Price:
$54.95
Our Price: $43.96
buy now
The Zoot Women's Active Tri 6in Shorts deliver streamlined efficiency and impeccable comfort for fast times through any distance. Endura+ fabric offers ample stretch and quick-drying comfort to keep you dry and comfortable when transitioning between race stages. Rated at UPF 50+, this fabric also...
<< Prev | 1 | 2 | 3 | 4 | 5 | 6 | 7 | 8 | Next >>