Womens Tri Bike - Road Bike Shop
Shop
>
Women's Apparel Clothing
>
Women's Apparel Triathlon Clothing
>
Women's Apparel Tri Bike
Louis Garneau Tri X-Lite II Shoe - Women's
The Louis Garneau Women's Tri X-Lite II Shoe has effortless transitions and pedaling efficiency in mind, so you can shave precious time off your T1 and maintain a blistering cadence in the bike stage of your upcoming triathlon. Hook-and-loop straps quickly secure the shoe when seconds are rapidly...
Louis Garneau Tri X-Speed III Shoe - Women's
Not all triathletes are in the business of winning; there are plenty of us who just focus on finishing. This is especially true of the 140. 6 events, and the Louis Garneau Tri X-Speed III Women's Shoes are made to ensure that bucket listers get through the bike leg with feet that are still able...
Louis Garneau Tri-400 Shoes - Women's
Retail Price:
$324.95
Our Price: $227.46
buy now
Humanity has a rich history of causing pain and suffering in complex ways, but triathlons have to be one of the more convoluted and exquisite methods we've devised, particularly for your feet. As it turns out, though, performance and pain don't have to go together, so Louis Garneau designed the...
Louis Garneau Tuscan Socks - Women's
Enjoying your ride starts from the feet up, so stay dry and comfy with the Louis Garneau Tuscan Women's Socks. They're light, airy, and perfect for hot days. Plus, they'll stay fresh thanks to the blend of bacteria-fighting Meryl Skinlife, durable nylon, and stretchy Lycra. This blend provides...
Pearl Izumi Elite In-R-Cool Tri Support Singlet - Women's
As you know, not all triathlon apparel is created equal. It's sad, we know. However, unlike most manufacturers, Pearl Izumi understands that a triathlon top needs to perform equally across all three events. And, as a result, it created the Elite In-R-Cool Women's Tri Singlet. Over the shoulders,...
Pearl Izumi ELITE Pursuit Tri Short - Women's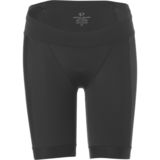 Whether you're adding to your training kit or looking to upgrade your racing outfit for the upcoming season, Pearl Izumi's ELITE Pursuit Tri Short makes a versatile addition to your wardrobe. Featuring a quick-drying synthetic fabric composition designed to help you stay cool on the course, the...
Pearl Izumi ELITE Pursuit Tri SL Jersey - Sleeveless - Women's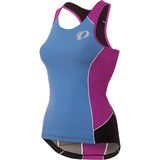 Retail Price:
$84.95
Our Price: $46.72
buy now
Stepping into the water with the Pearl Izumi ELITE Pursuit Tri SL Jersey under your wetsuit will leave you free to focus on your race, rather than discomfort. As part of Pearl's highest end line of race kit, the ELITE pursuit promises to work with you while you put your months of swimming, biking...
Pearl Izumi ELITE Pursuit Tri Tank - Women's
If you prefer to race without zippers and tech features on your jerseys, you don't have to forgo a slim, aerodynamic fit in order to wear a simpler design. Pearl Izumi's ELITE Pursuit Tri Tank achieves the contoured, next-to-skin fit that's crucial to your tri kit, with a sleeker, minimal...
Pearl Izumi ELITE Socks - Women's
Retail Price:
$13.95
Our Price: $9.76
buy now
A little stretchy, remarkably breathable, and amazingly lightweight, the Pearl Izumi Women's Elite Socks provide serious cyclists with quality materials and comfort. The socks' Elite Transfer yarn wicks moisture like crazy, which means your feet are able to regulate temperature without moisture...
Pearl Izumi ELITE Wool Sock - Women's
The Pearl Izumi Elite Wool Women's Socks provide a supportive fit and excellent thermo-regulation for any season, ranging from hot summer days to crisp fall mornings. The key to their year-round versatility is Elite Transfer Merino wool fabric, with strategically placed merino along the toe and...
<< Prev | 1 | 2 | 3 | 4 | 5 | 6 | 7 | 8 | Next >>