Mens Tri Swim - Road Bike Shop
Shop
>
Men's Apparel Clothing
>
Men's Apparel Triathlon Clothing
>
Men's Apparel Tri Swim
2XU A:1 Active Wetsuit - Men's
Reduced drag, while hugely important, isn't the only consideration when trying to cut your swim time. Buoyancy and tracking also play key roles, and while almost all wetsuit address the drag issue, 2XU has also chosen to tackle the problems with buoyancy and drag to put the A:1 Active wetsuit...
Blueseventy Element Swim Goggles
If you feel just at home in the water as on dry land, the Blueseventy goggle is the perfect addition to your gear bag. It marries the best of a competitive goggle and a triathlon face mask to create one goggle that's comfortable anywhere. The frame of the Element goggle features a silicone gasket...
Blueseventy Fusion Full Wetsuit - Men's
Some of us aren't, believe it or not, professional triathletes, so we have to strike a balance between performance and affordability. Lucky for us, Blueseven understands our predicament and made the Fusion Men 's Wetsuit, which cribs features from both the top-shelf Helix and race-ready Reaction...
Blueseventy Helix Full Wetsuit - Men's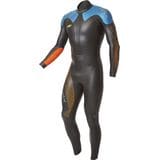 If the neoprene it's made from were its DNA, then the pedigree of Blueseventy's Helix Full Wetsuit is gifted at a molecular level. Its double-helix building block is Yamamoto C40 neoprene, the most flexible in the business. It's also coated with SCS, which is a hydrodynamic, silicone sheathe that...
Blueseventy Nero Race Swim Goggles
Many triathletes like a mask style swim goggle, but for some, it's just too bulky and non-hydrodynamic. If you're a purist, Blueseventy's Nero Race Swim Goggle was designed for you. The goggles feature UV and A/F polycarbonate lenses for clarity and protection. The lenses are low-profile to...
Blueseventy PZ4TX Tri Swimskin - Men's
The governing body's tendency to keep a tight lid on what is and is not race-legal in a triathlon can make successfully navigating an event a taxing endeavor before you even hit the swim. Racing bans certainly sent Blueseventy to the drawing board, but after countless prototypes and some...
Blueseventy Reaction Full Wetsuit - Men's
Speedy swimming is about more than just being strong and fit. Body position, ergonomics, and buoyancy all play a big role in helping you get to T1 as quickly as possible, and Blueseventy engineered the Reaction Men's Wetsuit to improve all three benchmarks to help you swim faster, smoother, and...
Blueseventy Silicone Swim Cap
Retail Price:
$11.95
Our Price: $9.99
buy now
The list goes on and on as to why silicone swim caps are superior to latex. To name a few, silicone is non-allergenic, more protective against chlorine, and features a greater longevity of use. For these reasons, and more, Blueseventy created its Silicone Swim Cap. With it, you obtain the...
Blueseventy Skull Cap
We don't need to tell you that indoor pool training doesn't necessarily cross over to podium results in the open water. And if you're racing in cold water, like Alcatraz, this is especially true. For these reasons, Blueseventy created its Skull Cap. Constructed from 3mm Yamamoto Neoprene (the...
Blueseventy Sprint Fullsuit - Men's
The Bluesign Sprint Men's Wetsuit is, sure enough, an entry-level suit, but that doesn't mean it skimps on details or performance. As triathlon wetsuits become more and more advanced, even the more basic offerings are nearly equivalent to what top-of-the-line suits used to be. While the Sprint...
<< Prev | 1 | 2 | 3 | 4 | Next >>