Mens Tri Run - Road Bike Shop
Shop
>
Men's Apparel Clothing
>
Men's Apparel Triathlon Clothing
>
Men's Apparel Tri Run
TYR Wetsuit Care Kit - Men's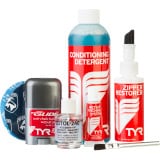 The night before your A race is no time to have a wetsuit malfunction. Make sure you take proper care of your wetsuit with TYR's Wetsuit Care Kit. It contains conditioning detergent that removes organics such as bacteria, mold, mildew, salt deposits, and chlorine. It also prevents premature...
Under Armour Mini Headband - 6-Pack - Women's - Men's
The Under Armour Mini Headband 6-Pack is perfect for those who don't like wearing headbands while they work out but still want to keep their hair in place. These skinny headbands use grippy silicone inserts to prevent a single strand of hair from coming out while at the same time not pulling...
Under Armour Reflective Mini Headbands - Women's - Men's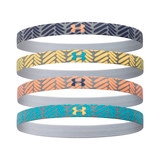 Think about safety from your toes to the tips of your hair. Pull the Under Armour Women's Reflective Mini Headband on and keep your hair out of your eyes while adding some extra reflectivity to your running ensemble. The soft, stretchy elastic makes for a comfortable fit, while the silicone...
Under Armour UA Big Logo Cap - Women's - Men's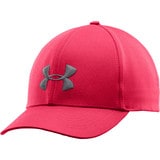 Whether you're carrying your bar league softball team to the championships or showing your boyfriend up on the tennis court, the Under Armour Women's UA Big Logo Cap will keep your hair back and eyes shaded while you make another solid connection with the ball.
Under Armour UA Flyfast Cap - Women's - Men's
Run like the wind with the Under Armour Women's UA Flyfast Cap. This athletic cap features Under Armour's HeatGear fabric for moisture-wicking performance during high-intensity outdoor exercise. Mesh side panels channel cool air over your head for enhanced comfort when you're working up a sweat....
Under Armour UA Striped Out Stretch Fit Cap - Men's - Men's
Extreme athletics and training call for extreme headgear, like the Men's UA Striped Out Stretch Fit Cap from Under Armour. The simplistic style of this cap belies the healthy host of tech hidden inside. A built-in HeatGear sweatband wicks moisture away from you and helps to keep sweat from...
Yankz Sure Lace Shoe Lace System - Men's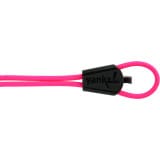 We all learned how to tie our shoes, and it's a pretty easy task. That said, when you're racing a triathlon, tying shoes in transition is a waste of valuable time. Yankz' Sure Lace Shoe Lace System secures your shoes with a simple, yet adjustable system. Constructed from strong elastic cord, the...
<< Prev | 1 | 2 | 3 | 4 | Next >>