Mens Tri Bike - Road Bike Shop
Shop
>
Men's Apparel Clothing
>
Men's Apparel Triathlon Clothing
>
Men's Apparel Tri Bike
2XU Active Tri Short - Men's
Between setting up your transition spot just right, putting on enough body glide, and making sure your timing chip isn't going to fall off, you have enough to worry about on race day, so you should be able to pull on your shorts and not give them another thought until you're looking down at them...
2XU Active Tri Singlet - Men's
Your clothing plays a big part in your comfort during a race, but an effective kit doesn't have to come laden with tech and extra details. The 2XU Active Tri Singlet's design is simple and sleek, constructed out of the mid-gauge SBR Skin X fabric to provide a mix of muscle support and...
2XU Compression Full-Zip Sleeved Tri Suit - Men's
Rather than worry about choosing tri separates to race in that will achieve the right fit and pair well together, you can simplify race day by investing in a one-piece suit like 2XU's Compression Full-Zip Sleeved Tri Suit. Tri suits offer a streamlined, contoured fit without the chance for gaping...
2XU Compression Sleeved Tri Top - Men's
If you have a drawer full of sleeveless tri kit and you're looking to mix it up this season, 2XU is one of the few brands we've seen that gives you the chance to race or train with sleeves with its Compression Sleeved Tri Top. Offering graduated compression throughout, the jersey supports the...
2XU Compression Tri Short - Men's
Support for your muscles and your core during a tri is key, and the compression aficionados at Australia-based 2XU know this fact well. No strangers to crafting garments that move with you throughout the exhausting phases of the swim, bike, and run legs of a race, 2XU created its Compression Tri...
2XU Elite Compression Tri Singlet - Men's
Retail Price:
$139.95
Our Price: $62.98
buy now
Triathlons are hard enough without uncomfortable and inefficient gear slowing you down. Having the correct setup, starting with the 2XU Elite Men's Compression Tri Singlet, can be the difference between struggling through the last few miles or pushing for your personal best. 2XU designed the...
2XU GHST Tri Short - Men's
As one of its premium racing shorts, 2XU's GHST Tri Short combines the brand's lightest fabric and its expertise in muscle support to create a short you can depend on in your longest, most demanding tri's. When you're spending half a day on-course, you need to know that your kit will perform...
2XU Perform Full Front-Zip Tri Suit - Men's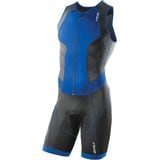 It's no exaggeration that tris are demanding, and the challenge of managing your body temperature during hours spent moving through each discipline adds another level of difficulty to race day. 2XU designed its Perform Full Front-Zip Tri Suit for racers looking for more ventilation, adding a...
2XU Perform Tri 7in Shorts - Men's
Tri gear has some of the highest expectations of any discipline. After all, we wear it for hours through wet and dry conditions, relying on it in the water, on the bike, and during a run. It's a tough task to pull off, but the 2XU Perform Tri 7in Men's Shorts exceed expectations with a...
2XU Perform Tri 9in Short - Men's
Offering a couple of inches of additional leg coverage compared to its shorter sibling, the 2XU Perform Tri 9in Short was designed to be worn with 2XU's Perform tri top. The short offers the same 70D elastane construction as the Perform top for a supportive, contoured fit that will hold its shape...
<< Prev | Back | 1 | 2 | 3 | 4 | 5 | 6 | 7 | 8 | 9 | 10 | More | Next >>