Mens Tri Bike - Road Bike Shop
Shop
>
Men's Apparel Clothing
>
Men's Apparel Triathlon Clothing
>
Men's Apparel Tri Bike
2XU Elite Compression Tri Singlet - Men's
Retail Price:
$139.95
Our Price: $69.97
buy now
Triathlons are hard enough without uncomfortable and inefficient gear slowing you down. Having the correct setup, starting with the 2XU Elite Men's Compression Tri Singlet, can be the difference between struggling through the last few miles or pushing for your personal best. 2XU designed the...
Assos fuguBootie_S7
Fugu, the exotic puffer fish, is a lighthearted jape at how cyclists need to dress in the winter. The irony is deliberate. While winter Assos apparel, like this fuguBootie, are a bit bulky by comparison to other Assos pieces, they're lighter, thinner, and sleeker than other togs on the market....
Assos summerBootie_S7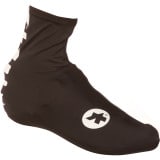 Whether you're hiding an ugly pair of sale-bought shoes, or gaining an aerodynamic advantage for the time trial, the Assos summerBootie S7 is the cover of choice. Used by everyone from Fabian Cancellara to the Swiss national track team, the summerBootie S7 offers a lightweight aerodynamic...
Assos thermoBootie_s7 Shoe Covers
Winter riding isn't a walk in the park. Then again, at freezing temperatures, a walk in the park doesn't really align with its own figurative adage. You need to layer up, and those aero shoe covers that you wore at the crit race this spring aren't going to cut it. Do the right thing and protect...
Assos toeCover_S7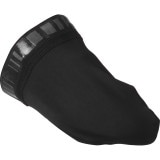 A disarmingly simple solution to cold toes is the Assos toeCover. S7. Just cover the toes and shoe up to the end of the cleat without worrying about sealing your whole foot. It's fast, easy, and effective. The fabric should look familiar as the toeCover is made from Assos airBlock 851 fabric, the...
Assos winterBootie_S7
While Assos has a multitude of seemingly complicated shoe coverings to choose from, these are easy to explain. They're the direct descendant of Assos' legendary airBlock bootie. The Assos winterBootie_S7 is aimed at the same temperature range and does everything the now-discontinued airBlock did,...
Bell Javelin Helmet - Men's
Is there any accessory item that looks quite so pro as a proper time trial helmet? Nevertheless, none of us want to be so gauche as to wear one during inappropriate situations - like a criterium, for instance. But if you regularly race week-long stage races that feature tests against the clock,...
Blueseventy TX2000 Singlet - Men's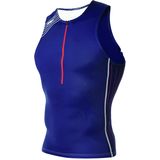 Retail Price:
$84.95
Our Price: $38.23
buy now
If you were to build the perfect triathlon top, it would probably look a whole lot like the Blueseventy TX2000 Singlet. List off the things that matter to you, and it's a good bet the TX2000 has them. A muscle-supporting and vibration-dampening compressive fit? Thanks, Xytra Life Lycra material....
Blueseventy TX2000 Singlet - Men's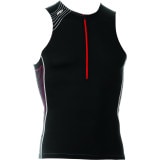 Retail Price:
$84.95
Our Price: $36.53
buy now
If you were to compile a list of all of you triathlon apparel wants, you'd essentially be describing the attributes of the Blueseventy TX2000 Singlet. Yes, we're being completely serious. In fact, we're still struggling with how Blueseventy was able to produce this for under $100. It has...
Capo ISO Neoprene Bootie
Retail Price:
$59.95
Our Price: $35.97
buy now
If your hometown is anything like ours, you spend at least four months out of the year riding in sub- or near-freezing temperatures. And while this makes the indoor trainer rather enticing, the well prepared are able to ride outdoors all winter. How? With pieces like the Capo ISO Neoprene Booties...
<< Prev | Back | 1 | 2 | 3 | 4 | 5 | 6 | 7 | 8 | 9 | 10 | More | Next >>