Mens Tri Bike - Road Bike Shop
Shop
>
Men's Apparel Clothing
>
Men's Apparel Triathlon Clothing
>
Men's Apparel Tri Bike
2XU Elite Compression Tri Shorts - Men's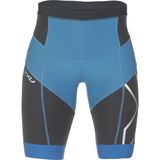 Retail Price:
$159.95
Our Price: $71.98
buy now
On the face of it, a triathlon is a pretty simple endeavor: just run, bike, and swim faster than everybody else. When you get down to the nuts and bolts, though, it gets a little tougher. 2XU's spent years building gear to make the tri life easier, better, and faster, and the Elite Men's...
2XU Elite Compression Tri Singlet - Men's
Retail Price:
$139.95
Our Price: $69.97
buy now
Triathlons are hard enough without uncomfortable and inefficient gear slowing you down. Having the correct setup, starting with the 2XU Elite Men's Compression Tri Singlet, can be the difference between struggling through the last few miles or pushing for your personal best. 2XU designed the...
2XU G:2 TR Compression Tri Shorts - Men's
Retail Price:
$159.95
Our Price: $79.97
buy now
Engineered with compressive support, active cooling, and pressure relief, the 2XU G:2 TR Compression Tri Men's Shorts offer the very best in triathlon performance. Looking to the short's compressive 105D/CK panels, you'll find they boost endurance by reducing fatiguing muscle oscillation, while...
2XU Perform Compression Tri Singlet - Men's
Retail Price:
$119.95
Our Price: $65.97
buy now
You've been training for months ??? maybe even years ??? so you want to find every advantage you can during your next triathlon. Anything you can do to move more efficiently matters, and wearing the 2XU Perform Men's Compression Tri Singlet is almost like cheating. It combines 105D/CK, SBR Lite,...
2XU Perform Tri Singlet - Men's
Retail Price:
$84.95
Our Price: $42.47
buy now
To complement the Perform Tri Shorts, 2XU updated the Perform Tri Singlet with a more streamlined fit and added ventilation. Go from start to finish in dryness and comfort. Constructed from SBR Lite Fabric, the Perform Tri Singlet dries quickly once through T1. It is a midweight gauge that, once...
Assos fuguBootie - Men's
Fugu, the exotic puffer fish, is a lighthearted jape at how cyclists need to dress in the winter. The irony is deliberate. While winter Assos apparel, like this fuguBootie, are a bit bulky by comparison to other Assos pieces, they're lighter, thinner, and sleeker than other togs on the market....
Assos summerBootie_S7 - Men's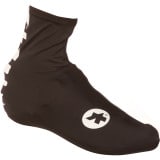 Whether you're hiding an ugly pair of sale-bought shoes, or gaining an aerodynamic advantage for the time trial, the Assos summerBootie S7 is the cover of choice. Used by everyone from Fabian Cancellara to the Swiss national track team, the summerBootie S7 offers a lightweight aerodynamic...
Assos thermobootie.Uno_s7 Shoe Covers - Men's
Winter riding isn't a walk in the park. Then again, at freezing temperatures, a walk in the park doesn't really align with its own figurative adage. You need to layer up, and those aero shoe covers that you wore at the crit race this spring aren't going to cut it. Do the right thing and protect...
Assos toeCover_S7 - Men's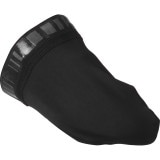 A disarmingly simple solution to cold toes is the Assos toeCover. S7. Just cover the toes and shoe up to the end of the cleat without worrying about sealing your whole foot. It's fast, easy, and effective. The fabric should look familiar as the toeCover is made from Assos airBlock 851 fabric, the...
Assos winterBootie_S7 - Men's
While Assos has a multitude of seemingly complicated shoe coverings to choose from, these are easy to explain. They're the direct descendant of Assos' legendary airBlock bootie. The Assos winterBootie_S7 is aimed at the same temperature range and does everything the now-discontinued airBlock did,...
<< Prev | Back | 1 | 2 | 3 | 4 | 5 | 6 | 7 | 8 | 9 | 10 | More | Next >>