Mens Tri Bike - Road Bike Shop
Shop
>
Men's Apparel Clothing
>
Men's Apparel Triathlon Clothing
>
Men's Apparel Tri Bike
Castelli Body Paint 2 Tri Top - Men's - Men's
The Castelli Body Paint 2 Tri Top is dedicated to providing optimal functionality for all three legs of triathlon with its fast-drying, highly elastic, seamless construction. Castelli started with its ultra-lightweight Velocity fabric. This material not only dries quickly once you are out of the...
Castelli Body Paint SR Tri Suit - Sleeveless - Men's - Men's
Castelli's Sanremo technology has come to triathlon with its Body Paint SR Tri Suit. In a sport where, over the course of hours, races sometimes come down to a few seconds, wearing a suit that is easier to take nature breaks in, and that is more comfortable on the bike and run, is just common...
Castelli Diluvio All-Road Shoe Covers - Men's
In frigid climates, shoe covers are a winter-weather necessity. Castelli has perfected the on-the-bike fit of its shoe covers for comfort, fit, and weather-protection. The Castelli Diluvio All-Road Shoe Covers are its first overshoe designed specifically for riders who need to walk short...
Castelli Diluvio Shoe Covers - Men's
Retail Price:
$59.95
Our Price: $29.98
buy now
If the weather can only be appropriately described as a deluge, the Castelli Diluvio Shoecover will keep your feet warm and dry while you knock out the training miles. The Diluvio's three millimeter-thick neoprene has thermosealed seams to block water, and cleat and heel cut-outs to make walking...
Castelli Diluvio Shoe Covers 16 - Men's
In the drudgery of winter, the improvisers freeze while the well-prepared flourish -- believe us, at 7000 feet, we know a thing or two about harsh weather. So, if you intend to ride all year, you'll need to make a choice. Hopefully, you chose the latter, and accordingly, you'll need the Castelli...
Castelli Estremo Shoe Covers - Men's
Retail Price:
$149.95
Our Price: $74.97
buy now
Riding in the cold is hard enough, but add a pair of sopping wet shoes into the mix, and your bike ride just turned into an ambulance ride to the hospital. Well, toe-losing hypothermia might be a bit of a hyperbole, but the lesson remains the same -- you won't be having any fun with freezing feet...
Castelli Free Men's Sleeveless Tri Top - Men's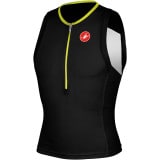 Your upper body movements vary drastically throughout the duration of a triathlon, and the top that you wear on race-day needs to be able to adapt to each of the separate stages. However, it also needs to provide you with maximum comfort and muscle support. Lucky for you, Castelli realizes the...
Castelli Free Sanremo Suit Sleeveless - Men's - Men's
For 2014, Castelli took the advantages of its Sanremo skinsuit and melded it with the Free. The result is the water-shedding, wind-cheating, highly ventilated Free Sanremo Sleeveless Men's Suit. The advantages to a one-piece triathlon suit are obvious. In a non-wetsuit-legal swim, you need a suit...
Castelli Nano Shoe Covers - Men's
When are shoecovers more than just a splash of style? When they're the Castelli Nano Shoecovers they are. Worn by the Cervelo Test Team, these ultra-lightweight shoecovers are made from Castelli's Nano material, a silicone-coated Lycra that keeps out chilling winds and light rain and road spray...
Castelli Narcisista All-Road Shoecover - Men's
Narcisista All-Road Shoecover
<< Prev | Back | 1 | 2 | 3 | 4 | 5 | 6 | 7 | 8 | 9 | 10 | More | Next >>