Mens Tri Bike - Road Bike Shop
Shop
>
Men's Apparel Clothing
>
Men's Apparel Triathlon Clothing
>
Men's Apparel Tri Bike
Castelli Free Sanremo Suit - Short Sleeve - Men's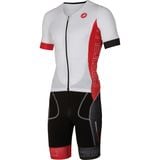 Retail Price:
$229.95
Our Price: $199.99
buy now
The Castelli Men's Short-Sleeve Free Sanremo Suit slips stealthily under your wetsuit or stands alone with water-shedding and wind-cheating properties to speed into T1 and beyond. On the bike, its nearly elbow-length sleeves add an extra dose of aerodynamics to slice through the air; on the run,...
Castelli Free Sanremo Suit - Sleeveless - Men's
The Castelli Men's Sleeveless Free Sanremo Suit boasts water-shedding, wind-cheating, highly ventilated functionality, and we think the advantages over a jersey/shorts pairing are obvious. In a non-wetsuit-legal swim, you need a suit that will slip through the water and won't weigh you down. On...
Castelli Free Tri Short - Men's
There's a reason you never see the usual podium dwellers on your local tri circuit showing up to races in mismatched athletic wear. Tri kit exists to keep you sane during the three teeth-grinding legs of a race, so don't ignore it in favor of an old pair of running shorts or your oversized...
Castelli Free Tri Top - Sleeveless - Men's
Racing triathlon can be full of challenges, and Castelli attacks those demands head-on in its line of tri clothing, anticipating the needs of triathletes before they can become complaints. The Free Tri top is a longstanding example of that, and as part of Castelli's Rosso Corsa line, it's at the...
Castelli Nano Shoe Covers
Retail Price:
$49.95
Our Price: $32.47
buy now
Upon initial inspection, it's clear that the Nano Shoe Covers are first and foremost intended to smooth the airflow over your bumpy, ratchety shoes. But once you start wearing them, you'll realize that they serve so many more purposes. Made from silicone-coated Lycra, they keep you aero and...
Castelli Narcisista All-Road Shoecover
Retail Price:
$64.95
Our Price: $29.23
buy now
Narcisista All-Road Shoecover
Castelli Narcisista Shoe Covers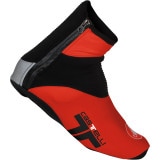 Retail Price:
$59.95
Our Price: $26.98
buy now
A thick, fleece shoe cover designed for riding in cold and windy conditions, the Castelli Narcisista Shoecover is the perfect addition to your winter wardrobe. The thick and fleecy portion of the Narcisista is Stratolight fabric. It's designed to provide superior insulation for your foot....
Castelli Reflex Shoe Covers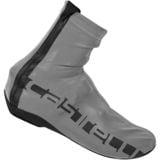 Retail Price:
$99.95
Our Price: $69.99
buy now
Castelli's Reflex Shoe Covers don't let your feet claim exemption from reflective duties on rides in low-light or inclement conditions. The booties' wind- and waterproof material is reflective and conspires with the sealed seams and neoprene cuffs to maintain an impervious barrier against the...
Castelli T.O. AlII Run Jersey - Sleeveless - Men's
Castelli worked with pro triathletes racing through the demanding conditions at Kona to develop its T. O. ALII Run Top. The result is an airy, sleeveless top that doesn't quite go so far as to be called loose but is optimized to keep athletes cool and dry as they tackle the final 26. 2 miles of...
Castelli Tempesta Shoecovers
Castelli made sure that keeping your feet warm and dry doesn't have to ruin your overall aesthetic with the Tempesta Shoe Covers, which protect your feet from rain, sleet, and snow with the streamlined design and functionality you'd expect from the Italian brand. The shoe covers are the first to...
<< Prev | Back | 1 | 2 | 3 | 4 | 5 | 6 | 7 | 8 | 9 | 10 | More | Next >>