Mens Tri Bike - Road Bike Shop
Shop
>
Men's Apparel Clothing
>
Men's Apparel Triathlon Clothing
>
Men's Apparel Tri Bike
Castelli Narcisista 2 Shoe Covers
Retail Price:
$69.95
Our Price: $52.46
buy now
When it comes to wind protection, few names inspire the confidence of GORE. Castelli enjoys a similarly glowing reputation for high-end cycling apparel. Since it represents a combination of the two venerable manufacturers, we had high expectations for the latest generation of Castelli's...
Castelli Reflex Shoe Covers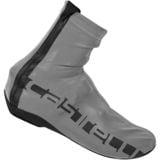 Retail Price:
$99.95
Our Price: $49.97
buy now
Castelli's Reflex Shoe Covers don't let your feet claim exemption from reflective duties on rides in low-light or inclement conditions. The booties' wind- and waterproof material is reflective and conspires with the sealed seams and neoprene cuffs to maintain an impervious barrier against the...
Castelli T.O. AlII Run Jersey - Sleeveless - Men's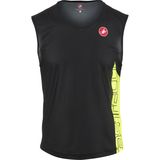 Retail Price:
$89.95
Our Price: $40.48
buy now
Castelli worked with pro triathletes racing through the demanding conditions at Kona to develop its T. O. ALII Run Top. The result is an airy, sleeveless top that doesn't quite go so far as to be called loose but is optimized to keep athletes cool and dry as they tackle the final 26. 2 miles of...
Castelli Tempesta Shoecovers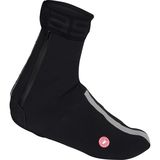 Retail Price:
$99.95
Our Price: $74.96
buy now
Castelli's Tempesta Shoe Covers make sure that keeping your feet warm and dry doesn't have to ruin your overall aesthetic. The Tempesta Shoe Covers protect your feet from rain, sleet, and snow with the streamlined design and functionality you'd expect from the Italian brand. The shoe covers are...
Castelli Toe Thingy
Retail Price:
$19.95
Our Price: $14.96
buy now
Balmy shoe covers aren't for everyone, especially when the weather doesn't warrant it. When the roads are wet, but the skies are clear, strapping on a full bootie is a recipe for hot, sweaty feet. That's why Castelli made the Toe Thingy. The Toe Thingy lets your feet breathe while protecting the...
Diadora NJ-303-2 Shoes - Men's
Retail Price:
$88.95
Our Price: $44.47
buy now
While Diadora's history of production alludes to soccer stardom, pristine turf grass, and stadiums filled with screaming fans, the Men's NJ-303-2 Shoes hint at athletic endeavors that involves a much more simple task--something most people call running. Constructed with a flexible, nylon mesh and...
Giordana AV 100 Shoe Covers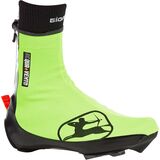 AV 100 Shoe Covers
Giordana AV 300 Shoe Cover
Winter is a time for layers, hot cocoa, and the never ending battle to keep your cycling shoes clean in preparation for spring race time. Protect your shoes and keep your feet warm in style with Giordana's AV 300 Shoe Covers. Made from windproof and water-resistant materials, these shoe covers...
Giordana EXO Shoecover
Some shoecovers are made to insulate, some to keep out water, and some to be fast; Giordana's EXO Shoecovers are definitely designed to be the latter. They're fast in the wind tunnel--thanks, smooth and stretchy Lycra--fast to put on--gracias, full rear zipper--and fast to walk on--much...
Giordana HydroShield Shoe Covers
Retail Price:
$44.95
Our Price: $17.98
buy now
Even if you have a good pair of mud guards on the front and back wheel of your bike, your feet are still going to suffer from the amount of water and spray they'll encounter on a seriously wet ride. The Giordana Hydroshield Waterproof Shoe Covers will be your BFFs in wet weather. By using...
<< Prev | Back | 1 | 2 | 3 | 4 | 5 | 6 | 7 | 8 | 9 | 10 | More | Next >>