Mens Tri Bike - Road Bike Shop
Shop
>
Men's Apparel Clothing
>
Men's Apparel Triathlon Clothing
>
Men's Apparel Tri Bike
Castelli Nano Shoe Covers
Retail Price:
$49.95
Our Price: $27.47
buy now
Upon initial inspection, it's clear that the Nano Shoe Covers are first and foremost intended to smooth the airflow over your bumpy, ratchety shoes. But once you start wearing them, you'll realize that they serve so many more purposes. Made from silicone-coated Lycra, they keep you aero and...
Castelli Narcisista All-Road Shoecover
Retail Price:
$64.95
Our Price: $25.98
buy now
Soggy, frigid feet are one of the ugliest aspects of staying in the saddle through winter. Castelli's Narcisista All-Road Shoecover cures these ills with the simple beauty of a classic 3-layer softshell membrane that enjoys a waterproof rating of 15,000mm. That translates to feet that will stay...
Castelli Narcisista Shoe Covers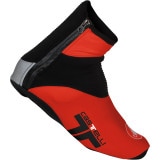 Retail Price:
$59.95
Our Price: $23.98
buy now
A thick, fleece shoe cover designed for riding in cold and windy conditions, the Castelli Narcisista Shoecover is the perfect addition to your winter wardrobe. The thick and fleecy portion of the Narcisista is Stratolight fabric. It's designed to provide superior insulation for your foot....
Castelli Reflex Shoe Covers
Castelli's Reflex Shoe Covers don't let your feet claim exemption from reflective duties on rides in low-light or inclement conditions. The booties' wind- and waterproof material is reflective and conspires with the sealed seams and neoprene cuffs to maintain an impervious barrier against the...
Castelli T.O. AlII Run Jersey - Sleeveless - Men's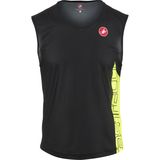 Retail Price:
$89.95
Our Price: $62.96
buy now
Castelli worked with pro triathletes racing through the demanding conditions at Kona to develop its T. O. ALII Run Top. The result is an airy, sleeveless top that doesn't quite go so far as to be called loose but is optimized to keep athletes cool and dry as they tackle the final 26. 2 miles of...
Castelli Tempesta Shoecovers
Castelli made sure that keeping your feet warm and dry doesn't have to ruin your overall aesthetic with the Tempesta Shoe Covers, which protect your feet from rain, sleet, and snow with the streamlined design and functionality you'd expect from the Italian brand. The shoe covers are the first to...
Castelli Ultra Shoe Covers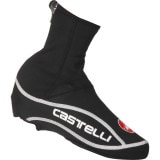 Retail Price:
$69.95
Our Price: $27.98
buy now
If you live in a region similar to ours, you know that winter saddle time can be a painful affair. And if you think that you're going to get in those base miles without covering up your soon to be frozen feet, you're sorely mistaken. We rely on the Castelli Ultra Shoe Covers to keep our toes...
Catlike Chrono Aero Plus Helmet - Men's
Retail Price:
$179.99
Our Price: $107.99
buy now
Even though it's styled with aerodynamics as its first priority, the Chrono Aero Plus Helmet uses Catlike's Dual Flow technology in order to keep your head cool while you race against the clock. It's a fairly straightforward design -- cool air flows into two wind tunnel shaped ports in the front,...
Craft Siberian Booties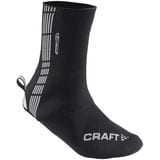 Retail Price:
$59.95
Our Price: $44.96
buy now
As the name implies, Craft's Siberian Booties mean business when it comes to fending off cold, wet weather. They're made with a super-elastic neoprene, sealed seams, and a zipper-less body to lock out the elements and keep your pedaling platforms warm and dry. Durable fabric protects the bottom...
De Marchi Overshoe
Retail Price:
$79.00
Our Price: $43.45
buy now
De Marchi's Overshoes are made in Italy with the reliable weather-resistance of scuba-grade neoprene. Their simple, classic design has been proven across decades of use, and a hit of reflective detailing gives them a touch of modern safety.
<< Prev | Back | 1 | 2 | 3 | 4 | 5 | 6 | 7 | 8 | 9 | 10 | More | Next >>