Mens Tri Bike - Road Bike Shop
Shop
>
Men's Apparel Clothing
>
Men's Apparel Triathlon Clothing
>
Men's Apparel Tri Bike
Castelli Diluvio 2 All-Road Shoecover
With the gravelly advent of all-road cycling, many of us are finding that our usual go-to shoecovers for rainy days lack the flexibility we need for mixed-surface outings. Castelli's Diluvio All-Road Shoecovers combine the waterproof neoprene bodies of the standard Diluvio models with an...
Castelli Diluvio Shoe Covers
Retail Price:
$49.95
Our Price: $29.97
buy now
Don't let those cold, wet, gross days of winter stop your ride before it starts. The Castelli Diluvio Shoe Covers' three millimeter-thick neoprene has thermosealed seams to block water, and cleat and heel cut-outs to make walking a little easier. Reflective details make you more visible after the...
Castelli Free Sanremo Suit - Short Sleeve - Men's
The Castelli Men's Short-Sleeve Free Sanremo Suit slips stealthily under your wetsuit or stands alone with water-shedding and wind-cheating properties to speed into T1 and beyond. On the bike, its nearly elbow-length sleeves add an extra dose of aerodynamics to slice through the air; on the run,...
Castelli Free Sanremo Suit - Sleeveless - Men's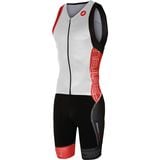 The Castelli Men's Sleeveless Free Sanremo Suit boasts water-shedding, wind-cheating, highly ventilated functionality, and we think the advantages over a jersey/shorts pairing are obvious. In a non-wetsuit-legal swim, you need a suit that will slip through the water and won't weigh you down. On...
Castelli Free Speed Race Tri Jersey - Men's
Tri season is fast approaching, and face it: you're not sold on your racing kit. Too often, tri kit shines in one or two legs of a race, but falls short in another. We don't blame it; swimming, cycling, and running are three entirely different disciplines, all of which require specialized kit. It...
Castelli Free Tri ITU Suit - Men's
While it may seem excessive to the uninitiated, experienced triathletes will understand why Castelli was compelled to use no fewer than six different materials in the Free Tri ITU Suit's construction. Over the course of a given day, this suit is expected to meet the often-contradictory...
Castelli Free Tri Short - Men's
There's a reason you never see the usual podium dwellers on your local tri circuit showing up to races in mismatched athletic wear. Tri kit exists to keep you sane during the three teeth-grinding legs of a race, so don't ignore it in favor of an old pair of running shorts or your oversized...
Castelli Free Tri Top - Sleeveless - Men's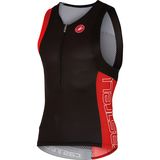 Retail Price:
$89.95
Our Price: $40.48
buy now
Racing triathlon can be full of challenges, and Castelli attacks those demands head-on in its line of tri clothing, anticipating the needs of triathletes before they can become complaints. The Free Tri top is a longstanding example of that, and as part of Castelli's Rosso Corsa line, it's at the...
Castelli Narcisista 2 Shoe Covers
When it comes to wind protection, few names inspire the confidence of GORE. Castelli enjoys a similarly glowing reputation for high-end cycling apparel. Since it represents a combination of the two venerable manufacturers, we had high expectations for the latest generation of Castelli's...
Castelli Reflex Shoe Covers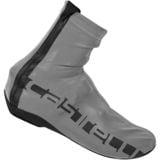 Retail Price:
$99.95
Our Price: $49.97
buy now
Castelli's Reflex Shoe Covers don't let your feet claim exemption from reflective duties on rides in low-light or inclement conditions. The booties' wind- and waterproof material is reflective and conspires with the sealed seams and neoprene cuffs to maintain an impervious barrier against the...
<< Prev | Back | 1 | 2 | 3 | 4 | 5 | 6 | 7 | 8 | 9 | 10 | More | Next >>