Mens Tri Bike - Road Bike Shop
Shop
>
Men's Apparel Clothing
>
Men's Apparel Triathlon Clothing
>
Men's Apparel Tri Bike
Capo Lombardia Wind Boot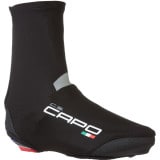 Retail Price:
$79.95
Our Price: $23.98
buy now
The Capo Lombardia Wind Booties work hard to keep your feet comfortable and warm. Constructed using breathable WindTex material, the Lombardia Wind Booties make sure you can hammer through the coldest winter days--whether you live in Lombardia or Lincoln, Nebraska. Reinforced heels and toes add...
Capo SL Cordura Shoe Covers
Retail Price:
$29.95
Our Price: $20.96
buy now
With a 15cm cuff and a durable Cordura nylon construction, Capo's SL Cordura Shoe Covers are a versatile necessity for shoulder season riding. While you'll probably want something a little burlier if you plan on riding through snow or temperatures hovering near freezing, the SL is a great three...
Castelli Aero Nano Shoe Covers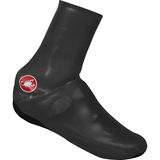 When you're shivering on the start line, waiting for the announcers to painstakingly work their way through mispronouncing every name in the call-ups as the rain slowly seeps through every layer of kit, the last thing you want to worry about is soggy, heavy shoes off the line and a cold squish in...
Castelli Aero Race Shoe Covers MR
Your TT rig is prepped for the race with a set of deep-dish wheels and perfectly placed aerobars while a pointy helmet and dimpled skinsuit wait in the wings. Now you just need a set of fast shoe covers to streamline the bumps from those bulky ratchets and seam edges. Utilizing technical fabrics...
Castelli Belgian Bootie 4 Shoe Covers
The Belgian Bootie 4 serves Castelli's pros well from cool fall road rides all the way through winter to the 'cross spring classics. While that's fine for the pros, the Belgian Bootie 4 gives the self-sponsored one feature that the pros don't share--four different colorways to choose from....
Castelli Body Paint 2 Tri Top - Men's
Retail Price:
$149.95
Our Price: $44.98
buy now
The Castelli Men's Body Paint 2 Tri Top effortlessly transitions from swim to bike to run stages without leaving you a sopping mess. Its ultralight, stretchy Velocity fabric dries quickly once you leave the water for maximum comfort. The top also reflects scalding-hot UV rays with its...
Castelli Body Paint Tri Sleeveless Men's Jersey
Retail Price:
$149.95
Our Price: $67.48
buy now
Engineered to provide cross functionality for each leg of your race, the Castelli Body Paint Tri Sleeveless Jersey is fast drying, highly elastic, and soft against the skin. This is due primarily to its microfiber, Body Paint tri fabric, but its one-piece design contributes significantly as well....
Castelli Core Tri Shorts - Men's
Castelli's Core Tri Shorts are designed to power through race after race all season long. The Core Tri Short is made with Pace 3 material, which supports your muscles with a gentle compression, and offers you a fast-drying, aerodynamic fit. The shorts are equipped with speed hooks that allow you...
Castelli Core Tri Suit - Men's
Though it lacks a few of the aerodynamic touches of its more expensive stablemates, the men's Core Tri Suit represents the workhorse entry in Castelli's triathlon skin suits, so it's well-suited for all but the most demanding triathlete. The upper portion is constructed entirely from the same...
Castelli Core Tri Top - Men's
Retail Price:
$69.95
Our Price: $34.97
buy now
Triathlon gear tends to be hyper-technical, full of things like carbon-fiber weaves, anti-magnetic properties, and static-defeating fabrics. Really? The Castelli Core Men's Tri Top is a little more sensible, and a lot more affordable, with a focus on fit and function rather than electrophysics....
<< Prev | Back | 1 | 2 | 3 | 4 | 5 | 6 | 7 | 8 | 9 | 10 | More | Next >>