Mens Tri Bike - Road Bike Shop
Shop
>
Men's Apparel Clothing
>
Men's Apparel Triathlon Clothing
>
Men's Apparel Tri Bike
Castelli Diluvio All-Road Shoe Covers
Retail Price:
$59.95
Our Price: $41.96
buy now
In frigid climates, shoe covers are a winter-weather necessity. Castelli has perfected the on-the-bike fit of its shoe covers for comfort, fit, and weather-protection. The Castelli Diluvio All-Road Shoe Covers are its first overshoe designed specifically for riders who need to walk short...
Castelli Diluvio All-Road Shoecover
With the gravelly advent of all-road cycling, many of us are finding that our usual go-to shoecovers for rainy days lack the flexibility we need for mixed-surface outings. Castelli's Diluvio All-Road Shoecovers combine the waterproof neoprene bodies of the standard Diluvio models with an...
Castelli Diluvio Shoe Covers
Don't let those cold, wet, gross days of winter stop your ride before it starts. The Castelli Diluvio Shoe Covers' three millimeter-thick neoprene has thermosealed seams to block water, and cleat and heel cut-outs to make walking a little easier. Reflective details make you more visible after the...
Castelli Estremo 2 Shoe Covers
Retail Price:
$149.95
Our Price: $37.49
buy now
The Castelli Estremo 2 Shoe Covers are the nuclear option of the Italian manufacturer's anti-element shoe cover line. The Italian estremo of their name translates to precipitation, wind, and temperatures as low as 28 degrees Fahrenheit. Extreme, indeed. The Estremo 2s are made from a windproof,...
Castelli Free Men's Sleeveless Tri Top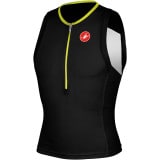 Retail Price:
$89.95
Our Price: $40.48
buy now
During a triathlon, you need complete freedom of movement, aero- and hydro-dynamics, and muscle support. The Castelli Free Tri Top uses two strategically placed fabrics to achieve peak performance during the run, on the bike, or in the water. The front panel is made with Instadry hydrophobic...
Castelli Free Sanremo Suit - Short Sleeve - Men's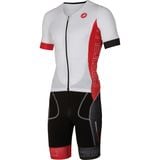 The Castelli Men's Short-Sleeve Free Sanremo Suit slips stealthily under your wetsuit or stands alone with water-shedding and wind-cheating properties to speed into T1 and beyond. On the bike, its nearly elbow-length sleeves add an extra dose of aerodynamics to slice through the air; on the run,...
Castelli Free Sanremo Suit - Sleeveless - Men's
The Castelli Men's Sleeveless Free Sanremo Suit boasts water-shedding, wind-cheating, highly ventilated functionality, and we think the advantages over a jersey/shorts pairing are obvious. In a non-wetsuit-legal swim, you need a suit that will slip through the water and won't weigh you down. On...
Castelli Free Tri Short - Men's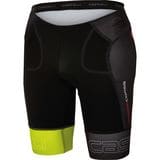 There's a reason you never see the usual podium dwellers on your local tri circuit showing up to races in mismatched athletic wear. Tri kit exists to keep you sane during the three teeth-grinding legs of a race, so don't ignore it in favor of an old pair of running shorts or your oversized...
Castelli Free Tri Top - Sleeveless - Men's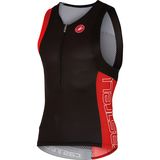 Retail Price:
$89.95
Our Price: $62.96
buy now
Racing triathlon can be full of challenges, and Castelli attacks those demands head-on in its line of tri clothing, anticipating the needs of triathletes before they can become complaints. The Free Tri top is a longstanding example of that, and as part of Castelli's Rosso Corsa line, it's at the...
Castelli Lycra Shoe Covers
Retail Price:
$34.95
Our Price: $20.97
buy now
Castelli made their Lycra Shoe Covers for those cool weather race days when shaving seconds is as imperative as keeping the temperature of your feet carefully regulated, though neither are mutually exclusive of the other. Their lightweight construction urges you to wear them whenever you desire...
<< Prev | Back | 1 | 2 | 3 | 4 | 5 | 6 | 7 | 8 | 9 | 10 | More | Next >>