Mens Tri Bike - Road Bike Shop
Shop
>
Men's Apparel Clothing
>
Men's Apparel Triathlon Clothing
>
Men's Apparel Tri Bike
Bell Javelin Helmet - Men's
Is there any accessory item that looks quite so pro as a proper time trial helmet? Nevertheless, none of us want to be so gauche as to wear one during inappropriate situations - like a criterium, for instance. But if you regularly race week-long stage races that feature tests against the clock,...
Blueseventy TX1000 Short - Men's - Men's
If you were to compile a list all of your wants from a pair of triathlon shorts, you would be describing the new Blueseventy TX1000 Shorts. Breathable? Check. Supportive? Double check. More importantly, though, the triathlon-veterans at Blueseventy designed the shorts for triathletes who need top...
Blueseventy TX1000 Singlet - Men's - Men's
While we don't wish to appear dismissive, we trust our triathlons to those who live and breath triathlon apparel. And when it comes to both history and results, not many compare to Blueseventy. More so, though, when it comes to triathlon singlets, not much compares to its TX1000 singlet. Blue...
Blueseventy TX2000 Short - Men's - Men's
We're still struggling to see how Blueseventy was able to produce its TX2000 Shorts for under $100. It has graduated compression, the thinnest possible fabric, a Coldblack finish, and fit that's nearly unrivaled. These shorts have checked off all of the boxes on our wishlist, leaving us wondering...
Blueseventy TX2000 Singlet - Men's - Men's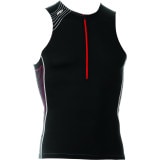 If you were to compile a list of all of you triathlon apparel wants, you'd essentially be describing the attributes of the Blueseventy TX2000 Singlet. Yes, we're being completely serious. In fact, we're still struggling with how Blueseventy was able to produce this for under $100. It has...
Capo Cordura Shoes Covers - Men's
Retail Price:
$24.95
Our Price: $6.24
buy now
Wearing socks over cycling shoes is PRO, particularly when the weather is not quite bootie-ready. Not all of us keep enough spare socks on hand to customize a pair for this purpose, hence the birth of the Cordura Shoe Cover. This stretchy Cordura oversock is warmer, fits tighter, and is more...
Capo Crono Lycra Shoe Covers - Men's
Retail Price:
$39.95
Our Price: $31.96
buy now
We wear shoe covers for various reasons. Sometimes, it's because it's a little chilly out, and other times, we're simply trying to eke out every aerodynamic advantage that we can muster. But, we have to admit that it's increasingly rare to find shoe covers that fulfill both roles. Fortunately, we...
Capo ISO Neoprene BootiesISO Neoprene Booties - Men's
If your hometown is anything like ours, you spend at least four months out of the year riding in sub- or near-freezing temperatures. And while this makes the indoor trainer rather enticing, the well prepared are able to ride outdoors all winter. How? With pieces like the Capo ISO Neoprene Booties...
Capo Lombardia Wind Booties - Men's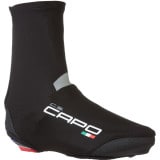 The Capo Lombardia Wind Booties work hard to keep your feet comfortable and warm. Constructed using breathable WindTex material, the Lombardia Wind Booties make sure you can hammer through the coldest winter days--whether you live in Lombardia or Lincoln, Nebraska. Reinforced heels and toes add...
Capo Piemonte Wind Booties - Men's
The Capo Piemonte Wind Bootie solves your frozen-foot dilemma. Slip it over your kicks and be prepared to actually still feel your foot in two hours. Constructed using WindTex material, the Piemonte Wind Bootie is here to do one thing--protect from the elements so you can get on with your training.
<< Prev | Back | 1 | 2 | 3 | 4 | 5 | 6 | 7 | 8 | 9 | 10 | More | Next >>