Mens Tri Bike - Road Bike Shop
Shop
>
Men's Apparel Clothing
>
Men's Apparel Triathlon Clothing
>
Men's Apparel Tri Bike
POC Tempor Raceday Helmet - Men's
If you look back at the history of stage races, you'll see that the margins of victory (or defeat) are agonizingly small. Eight seconds here and 15 seconds there isn't much after one to three weeks of racing. In short time trials, the gaps tend to be more like two seconds, so it's easy to...
Santini Krios Overshoes - Men's
Retail Price:
$109.95
Our Price: $49.48
buy now
In Greek mythology, Krios was one of the 12 aquatic deities known as the Titans. Krios was impervious to the wind, rain, or other elements, and the Santini Krios Overshoes bestow your feet with the same abilities. Made of Plastotex fabric that receives a wind- and water-proof coating, the...
Santini Winter Overshoes - Men's
Retail Price:
$64.95
Our Price: $32.48
buy now
Every winter, you head out to ride swathed in warm layers. That is, everywhere except for your feet, and of course, every winter you curse yourself for this. This year, with Santini's Winter Overshoes, you're finally able to say goodbye to cold feet, and to stay a few steps ahead of the cold....
Shimano SH-TR60 Men's Shoes - Men's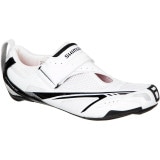 Retail Price:
$249.95
Our Price: $187.46
buy now
You can't put a price on comfort during the course of a triathlon. However, you also have to walk the razor's edge between too comfortable and too dynamically-driven. Luckily, no one understands this golden ratio better than Shimano, and its new SH-TR60 Shoes represent this knowledge. In its...
Sidi Caliper Buckles - Men's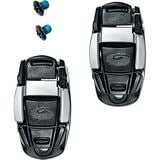 So your Sidis are five years old and the only problem is a worn-out buckle? Consider yourself lucky...or get out and ride more. For now, replace the worn bit with a Sidi Caliper Buckle and you'll be rockin' your favorite Sidis another five years--and saving yourself from buying new shoes. It's a...
Sidi Non-Adjustable Heel Security System - Men's
Retail Price:
$24.95
Our Price: $9.98
buy now
Crashes happen and things break. Luckily, the Sidi Non-Adjustable Heel Security System for your Dragon, Genius, or Ergo model shoes is the solution to repairing your favorite Sidi kicks. Just slap on a set and away you go. Happy pedaling. Fits any shoe model with the Heel Security System.
Sidi Rubber Heel Pads - Men's
One very nice aspect of Sidi shoes is that they are designed with longevity in mind. Of course, their choice of materials in the uppers of their cycling shoes is always top-notch. And as a complement, the heel pads on the soles of the shoes are replaceable should they get worn down. They're...
Sidi Sidi Sock Shoe Covers - Men's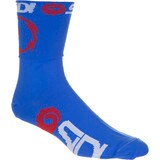 Retail Price:
$30.95
Our Price: $15.48
buy now
While they won't protect your feet from the wetter and windier elements you may encounter on your ride, the Sidi Sock Shoe Covers will keep the dust and dirt off, aid a bit in aerodynamics, and look pretty sweet while they're at it.
Sidi SRS Dragon Pred-Carbon Soles - Men's
Surfing rock gardens sans bike is exhilarating. It's also pretty rough on shoe soles. If you're lucky enough to ride Sidi Dragons, you can replace the tread parts with a few clicks of the mouse and a Phillips screwdriver. Each shoe has four replaceable sections, and the Sidi Dragon SRS Sole...
Sidi T3 Air Men's Shoes - Men's
Over the course of a triathlon, we know that you're living in the pain cave for hours on end. That's why it's essential that you benefit from any advantage that you can get. However, there are some things that are such prerequisites for equipment, that we're amazed at the level of which people...
<< Prev | Back | 11 | 12 | 13 | 14 | 15 | 16 | 17 | 18 | 19 | 20 | More | Next >>