Mens Tri Bike - Road Bike Shop
Shop
>
Men's Apparel Clothing
>
Men's Apparel Triathlon Clothing
>
Men's Apparel Tri Bike
Shimano SH-TR5 Cycling Shoe - Men's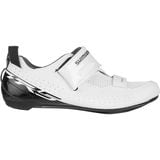 You've laid our your schedule for the year, dialed in your training plan, and just need a lightweight pair of shoes to cap off your race day kit. Enter Shimano's Men's SH-TR5 Cycling Shoes, with efficient power transfer and easy adjustability that will make transition time a snap.The SH-TR5's two...
Shimano SH-TR900 Cycling Shoe - Men's
You already have your tri calendar and gear pretty much set for the year, and you know the local guys you'll be training to beat this winter and spring. If you're just trying to settle on a stiff, lightweight pair of shoes that will give you power on the bike leg and get you into and out of...
Showers Pass Club Shoes Covers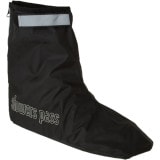 If you need a cleat-compatible, all-day every day shoe cover, the Showers Pass Club Shoe Cover will keep your feet dry and your spirits high. Pull these covers over your street or cycling shoes, and pedal comfortably to your destination.
Sidi Caliper Buckles
Give your old Sidis a new lease on life with a set of Sidi Caliper Buckles. Replacing those worn-out buckles will keep your feet happy and let you get years of miles out of your favorite shoes.
Sidi MTB Toe Spikes
Sidi MTB Spikes aren't for your typical trail ride. What they are for are the days that you'll experience sloppy hike-a-bike sections in a race or when you toe the line for a muddy 'cross race. They're easy enough to thread into the toes of your shoes for these days that you'll need extra...
Sidi Rubber Heel Pads
Walking around in your cycling shoes is necessary sometimes, but it can take a toll. However, don't fret. Sidi's replacement Rubber Heel Pads will have your Sidi shoes feeling new, and will help protect your investment. Sidi offers three different replacement heel pads: the Millenium 2, Millenium...
Sidi SRS Dragon 4 Soles
Accumulated over time, the occasional rock scramble, mid-corner dab, and kicking around the trail head all take their toll on the grippy lugs adorning any trail shoe. Thankfully, if you're rocking Sidi's Dragon 4, Dragon 4 Mega, or 2014 and newer Spiders, you can quickly swap those worn out lugs...
Sidi SRS Dragon Pred-Carbon Soles
Retail Price:
$82.99
Our Price: $33.18
buy now
Surfing rock gardens sans bike is exhilarating. It's also pretty rough on shoe soles. If you're lucky enough to ride Sidi Dragons, you can replace the tread parts with a few clicks of the mouse and a Phillips screwdriver. Each shoe has four replaceable sections, and the Sidi Dragon SRS Sole...
Sidi T-4 Air Carbon Composite Shoe - Men's
simultaneously rigid and comfortable, the Sidi T-4 Air Carbon Composite Shoes give you the advantage you've been looking for to slice time in the transition area in an eye-catching package that will stop your competitors in their tracks. From a purely functional standpoint, we can agree that...
Sidi T3.6 Men's Shoes
Retail Price:
$349.95
Our Price: $139.98
buy now
If you've ever raced a triathlon wearing traditional cycling shoes, you know that trying to adjust multiple straps while balancing on your bike isn't always easy. Sidi's T3. 6 Shoes make your transitions faster, while also giving you the on-the-bike power transfer you crave. Rather than using its...
<< Prev | Back | 11 | 12 | 13 | 14 | 15 | 16 | 17 | 18 | More | Next >>