Mens Tri Bike - Road Bike Shop
Shop
>
Men's Apparel Clothing
>
Men's Apparel Triathlon Clothing
>
Men's Apparel Tri Bike
Santini Neo Optic Shoe Covers - Men's
Retail Price:
$69.95
Our Price: $55.96
buy now
Protect your feet and your favorite shoes from winter weather with the Santini Neo Optic Shoe Covers. Made from neoprene with thermo-welded, waterproof seams, these shoe covers are fully waterproof and windproof to protect your toes through the worst conditions. They feature a rear zip closure at...
Santini Winter Overshoes - Men's
Retail Price:
$64.95
Our Price: $29.23
buy now
Every winter, you head out to ride swathed in warm layers. That is, everywhere except for your feet, and of course, every winter you curse yourself for this. This year, with Santini's Winter Overshoes, you're finally able to say goodbye to cold feet, and to stay a few steps ahead of the cold....
Scott Tri Pro Shoe - Men's
Shave precious seconds off your transition time with the Scott Men's Tri Pro Shoes. Their tongue-free, wraparound construction are easy to secure once you've cleared T1 and will keep your feet comfortable with or without socks till you dismount at T2, and the nylon/fiberglass co-injected soles...
SealSkinz Neoprene Overshoes - Men's
SealSkinz updated the classic Neoprene Overshoes design with a storm flap behind the zippers, a silicone grip at the cuffs, and Kevlar on the soles. Other than those design tweaks, SealSkinz lets the waterproof and wind-resistant neoprene do the talking, and a suite of reflective detailing helps...
Shimano SH-TR60 Men's Shoes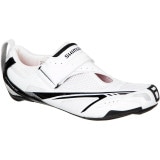 Retail Price:
$249.95
Our Price: $187.46
buy now
You can't put a price on comfort during the course of a triathlon. However, you also have to walk the razor's edge between too comfortable and too dynamically-driven. Luckily, no one understands this golden ratio better than Shimano, and its new SH-TR60 Shoes represent this knowledge. In its...
Shimano SH-TR9 Shoes - Men's
You already have your tri calendar and gear pretty much set for the year, and you know the local guys you'll be training to beat this winter and spring. If you're just trying to settle on a stiff, lightweight pair of shoes that will give you power on the bike leg and get you into and out of...
Sidi Caliper Buckles - Men's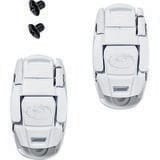 Give your old Sidis a new lease on life with a set of Sidi Caliper Buckles. Replacing those worn-out buckles will keep your feet happy and let you get years of miles out of your favorite shoes.
Sidi MTB Toe Spikes - Men's
Sidi MTB Spikes aren't for your typical trail ride. What they are for are the days that you'll experience sloppy hike-a-bike sections in a race or when you toe the line for a muddy 'cross race. They're easy enough to thread into the toes of your shoes for these days that you'll need extra...
Sidi Rubber Heel Pads - Men's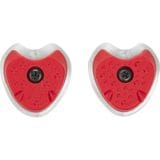 Walking around in your cycling shoes is necessary sometimes, but it can take a toll. However, don't fret. Sidi's replacement Rubber Heel Pads will have your Sidi shoes feeling new, and will help protect your investment. Sidi offers three different replacement heel pads: the Millenium 2, Millenium...
Sidi SRS Dragon Pred-Carbon Soles - Men's
Surfing rock gardens sans bike is exhilarating. It's also pretty rough on shoe soles. If you're lucky enough to ride Sidi Dragons, you can replace the tread parts with a few clicks of the mouse and a Phillips screwdriver. Each shoe has four replaceable sections, and the Sidi Dragon SRS Sole...
<< Prev | Back | 11 | 12 | 13 | 14 | 15 | 16 | 17 | More | Next >>