Mens Tri Bike - Road Bike Shop
Shop
>
Men's Apparel Clothing
>
Men's Apparel Triathlon Clothing
>
Men's Apparel Tri Bike
Sidi Non-Adjustable Heel Security System - Men's
Retail Price:
$24.95
Our Price: $7.49
buy now
Crashes happen and things break. Luckily, the Sidi Non-Adjustable Heel Security System for your Dragon, Genius, or Ergo model shoes is the solution to repairing your favorite Sidi kicks. Just slap on a set and away you go. Happy pedaling. Fits any shoe model with the Heel Security System.
Sidi SRS Dragon Pred-Carbon Soles - Men's
Retail Price:
$82.95
Our Price: $24.89
buy now
Surfing rock gardens sans bike is exhilarating. It's also pretty rough on shoe soles. If you're lucky enough to ride Sidi Dragons, you can replace the tread parts with a few clicks of the mouse and a Phillips screwdriver. Each shoe has four replaceable sections, and the Sidi Dragon SRS Sole...
Sidi SRS Metatarsus Pads - Men's
Retail Price:
$18.95
Our Price: $5.69
buy now
Finish off your Sidi sole rebuild with the Sidi SRS Metatarsus Pad. This pad set replaces worn out mid-foot plates on Sidi SRS soles so your hike-a-bikes can be slightly less embarrassing.
Sidi T3 Air Men's Shoes - Men's
Over the course of a triathlon, we know that you're living in the pain cave for hours on end. That's why it's essential that you benefit from any advantage that you can get. However, there are some things that are such prerequisites for equipment, that we're amazed at the level of which people...
Sidi T3.6 Men's Shoes - Men's
In a triathlon, every second counts. However, while most seconds are earned in the pain cave, some seconds are lost to human error, and some are simply purchased. Lucky for you, the Sidi T3. 6 Shoes cover you on all fronts. With a new design, transitions are simplified with the T3. 6's...
Sidi T3.6 Speedplay Men's Shoes - Men's
If you're a Speedplay loyalist, chances are that you're sick of getting the short end of the stick when it comes to compatibility. We're not sure why there's been this longstanding reluctance, but we are sure that the tides are changing. For example, with the T3. 6 Speedplay Shoes, Sidi created...
Sportful Lugano Booties - Men's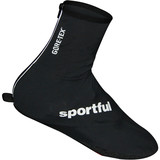 Wind? Rain? Nothing to worry about. While not as thoroughly insulated as the Windstopper or Roubaix booties, the Sportful Lugano booties are still entirely water and wind resistant, making it a perfect bootie for all but the absolutely coldest riding conditions. Reflective piping makes them...
Sportful Prorace Toe Cover - Men's
Sometimes, booties are overkill. The Sportful Prorace Toe Covers are just what you need to keep the chill off your little piggies. Full neoprene construction is tough and resistant to the elements, and the low fit means you can leave them on your shoes throughout the spring and fall.
Sportful Prorace WS Bootie - Men's
If they work for the Tinkoff-Saxo pro team, they can certainly work for the rest of us. The Sportful Prorace WS Bootie is light but tough, as it's made of Gore Windstopper 4 Way Warm fabric that's extremely resistant to the elements but also very light. Kevlar used in the sole dramatically boosts...
Sportful Roubaix Thermal Bootie - Women's - Men's
When you're out on a long, cold bike ride, the screaming numbness of your feet can be far more miserable than even the steepest climb or strongest headwind. That's when the Sportful Roubaix Thermal Bootie makes its case, combining the flexibility of neoprene with the wind and water resistance of...
<< Prev | Back | 11 | 12 | 13 | 14 | 15 | 16 | 17 | More | Next >>