Mens Triathlon Accessories - Road Bike Shop
Shop
>
Accessories
>
Triathlon Accessories
>
Men's Apparel Triathlon Accessories
Castelli Summer Headband
None of us want sweat dripping in our eyes. But none of us want to wear head gear that will leave a deep indentation circling our heads after a long, hot ride, either. The Castelli Summer Headband is so soft against your forehead, that you won't even remember you are wearing it. It has a...
Castelli Summer Skullcap
Nothing gets as tiresome as summertime sweat dripping into your eyes on a long ride. Castelli has a remedy in their Summer Skullcap. It's made to fit nicely underneath your helmet, with an airy mesh construction in the top portion. The main working part of the skullcap is the absorbent headband....
Castelli Super Nano Gloves
Retail Price:
$59.95
Our Price: $35.97
buy now
One of the troubling apects of most winter cycling gloves is that they have more bulk than a high-fiber diet. As a result, riding a bike is about the last thing that seems they were designed for. Castelli's Super Nano Gloves are a welcome exception. These ultra-light gloves are part of Castelli's...
Castelli Thermo Skully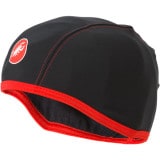 Retail Price:
$29.95
Our Price: $20.97
buy now
Pull on the Castelli Thermo Skully and place the brain bucket over it for the ultimate in cold weather protection. The Thermoflex fleece wicks sweat so your head stays dry, and it retains warmth while blocking the wind--keeping you warm and dry when others hide indoors.
Castelli Velocissimo Tour Cap
With most cycling caps being swag from professional teams, the days of the classic cap seem to be wavering. Castelli has taken its traditional cotton Velocissimo Tour cap and infused it with color. Buy one to match each of your Castelli kits and bring a little style back to cycling. The...
Castelli Viva Donna Skully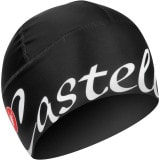 Retail Price:
$34.95
Our Price: $27.96
buy now
Cold weather doesn't discriminate. Even if you have Rapunzel tresses, your head will get cold during your winter rides. A skull cap is a must-have, and even better, Castelli has now created its Viva Donna Skully specifically for women. Castelli constructed the Skully from its Thermoflex fabric....
Castelli Viva Thermo Headband
Retail Price:
$19.95
Our Price: $13.97
buy now
Using an old sweatshirt sleeve as a headband used to cut it ... in 6th grade. Grow up, pull on the Castelli Viva Thermo Headband and join the ranks of the properly attired. Castelli's Thermoflex fabric traps body heat to keep you comfortable when the temperatures start to drop, and the raw cut...
Castelli Viva Thermo Skully Cap
Retail Price:
$34.95
Our Price: $24.49
buy now
When it comes to surviving winter, a skully is one of those indispensable items every rider needs. Not only are they useful for cold training rides, they're handy for keeping your head warm any time you step out the door. You'll dig the Castelli Viva Thermo Skully because it says you're a cyclist...
Craft Active Face Protector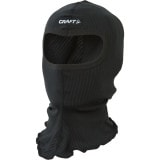 Gear up for brutally cold rides with the Craft ZERO Face Protector. Designed to block piercing winds and to wick perspiration, the ZERO Face Protector lets you spin pedals when others seek shelter.
Craft Active Skull Hat
The Craft ZERO Skull hat is so warm you'll think you're sitting under a dryer at the beauty salon. But the beauty of the Zero Skull cap is that it's thin enough to wear under your helmet without making you feel like you're wearing two helmets. GORE WindStopper material prevents cool air from...
<< Prev | Back | 1 | 2 | 3 | 4 | 5 | 6 | 7 | 8 | 9 | 10 | More | Next >>