Pre-Configured Road Bikes - Road Bike Shop
Shop
>
Bikes
>
Road Bikes
>
Pre-Configured Road Bikes
Pinarello ROKH SRAM Force Complete Road Bike -
Retail Price:
$3600.00
Our Price: $2159.99
buy now
Pinarello bills the frameset at the heart of the ROKH SRAM Force Complete Bike as an "endurance" bike. Having piloted one in various circumstances on the road, we feel that this is an unfair characterization. The differences between this frame and it's more expensive, lighter cousin, the KOBH,...
Pinarello ROKH Ultegra Complete Road Bike - 2015
The last several years of professional road racing have been great to Pinarello. Tour after tour -- most notably that famous French one -- has watched the company's champion steeds cross finish lines first, second, third, or all of the above, and with a remarkable consistency that's hard to...
Ridley Dean RS 10 Ultegra Complete Road Bike - 2015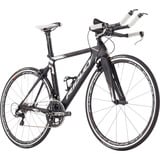 In a perfect vacuum, creating the most efficient aerodynamic bicycle would be an easy job. Just make it light and stiff. But since we don't live and ride in a vacuum, questions of aerodynamics must be addressed, and the Ridley Dean RS 10 Complete Road Bike does so in ways that aren't always...
Ridley Fenix A10 Shimano 105 Complete Road Bike - 2015
Given its name and material, we're inclined to think that the Fenix A10 Complete Road Bike is Ridley's attempt to revive aluminum in the cycling industry. Or maybe it's a reference to the material's inherent climbing pedigree. Whatever the case, the Ridley team has dumped some R&D resources into...
Ridley Fenix C10 Ultegra Complete Road Bike - 2015
The Ridley Fenix C10 Complete Road Bike sits at the top of Ridley's "Endurance" line of racing bikes. To figure out exactly what that means, we looked to the Belgian manufacturer's two other racing bike categories, "Stiffness to Weight" and "Aero." Given that one category claims low weight and...
Ridley Fenix C20 Shimano 105 Complete Road Bike - 2015
The Fenix C20 Complete Road Bike is built to be the ultimate middle man in your cycling operation. It's not as aerodynamic as the top-end Noah, but it weighs 170 grams less. It's also not as light as the feathery Helium, but it's a much smoother ride. In short, the Fenix C20 is the middle ground...
Ridley Helium RS/SRAM Force Complete Road Bike - 2014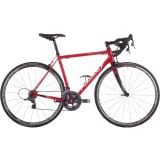 Retail Price:
$4195.00
Our Price: $2699.99
buy now
After successfully increasing the Damocles' stiffness and stability, while dramatically reducing its overall weight, Ridley's engineers emerged with what would become known as the Helium. At nearly 300 grams lighter than the Damocles, it's a frame that was bred for the mountains. Not surprisingly...
Ridley Helium SL 10 SRAM Red 22 Complete Road Bike - 2015
Helium is a noble element, which is the purest, simplest form of matter that you can get without breaking down into subatomic particles. So it's appropriate that, for the Helium SL 10 Complete Road Bike, Ridley opted for a simple, traditional, and proven kit with just a sprinkling of new pieces...
Ridley Liz C20 Shimano 105 Complete Road Bike - 2015
Since Ridley partners with the Topsport Vlaanderen Pro-Duo team, which features such world class athletes as Kelly Druyts, the Belgian manufacturer knows what women can do on a bike. That's why the Liz C20 Complete Road Bike uses the same kit and materials found in the men's Fenix line. The only...
Ridley Noah Fast 20 Dura Ace Complete Road Bike - 2015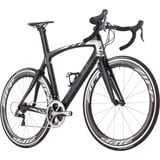 There are different strategies that cyclists employee in different types of races to ensure a win. When brute force is what it's going to take, however, there are few more effective tools than bikes like the 2015 Ridley Noah Fast 20 Complete Bike -- one of the stiffest and most aerodynamic bikes...
<< Prev | 1 | 2 | 3 | 4 | 5 | Next >>