Pre-Configured Road Bikes - Road Bike Shop
Shop
>
Bikes
>
Road Bikes
>
Pre-Configured Road Bikes
Stromer ST-1 Elite Women's Complete Electric Bike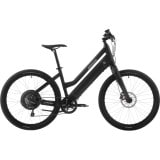 For women who want to enjoy two wheels for commuting and urban riding, the ST-1 Elite Women's Complete Electric Bike is ideal. Stromer is an innovative Swiss company whose roots are in e-bike development. They are now backed by BMC and being introduced on US soil for the first time. The Women's...
Stromer ST-1 Platinum Complete Electric Bike
Given the combined caloric intake needed for recreational riding, competitive cycling, and commuting by bicycle -- on a healthy diet -- grocery bills easily approach operating costs for a dino-burning cage. On the other hand, modern electric bikes, like Stromer's ST-1 Platinum, cut bio-energy...
Wilier Cento1 Air/Shimano Dura-Ace - Ultegra 11 Complete Road Bike - 2014
In case you've been living under a rock, the age of the aero road bike is upon us, which makes Wilier's timing perfect in introducing the Cento1 Air Dura-Ace - Ultegra 11 Complete Road Bike. As the next evolution of the Cento1 SR, you already know that this is a thoroughbred that loves to go fast...
Wilier Cento1 Air/Shimano Ultegra 11 Di2 Complete Road Bike - 2014
Aerodynamic road bikes have been a staple of racers' quivers for quite some time. The caveat has always been a trade-off between wind cheating aerodynamics, power transmission, and a bike that handles with grace and finesse. Wilier's Centro1 Air is the next iteration in the Cento1 series and the...
Wilier GTS/Shimano Ultegra 11 Complete Road Bike - 2014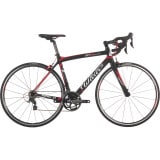 Wilier puts it, "The spirit of the Gran Turismo is embodied in the soul of the GTS." What the Italian frame manufacturer really means is that its new GTS was developed for riders who want that lively race feel in their road machines, but without the aggressive race fit. To achieve this, Wilier...
Wilier Izoard XP/Shimano 105 Complete Road Bike
At a glance, the Wilier Izoard XP 105 Complete Road Bike is deceptively similar to the Italian master's top tier Cento1. Not surprisingly, it may even be close enough to fool the learned observer. So, should the Izoard XP make Cento1 owners a bit jealous? Well, if you look at the price tag, it...
<< Prev | 1 | 2 | 3 | 4 | Next >>