Pre-Configured Road Bikes - Road Bike Shop
Shop
>
Bikes
>
Road Bikes
>
Pre-Configured Road Bikes
Diamondback Haanjo Comp 105 Complete Road Bike - 2016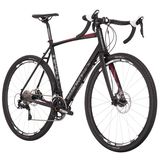 The 2016 Diamondback Haanjo Comp 105 Complete Road Bike brings a race-worthy drivetrain, disc brake power, and high-quality wheels right to your garage as a versatile addition to your cycling stable. With geometry built for all-day comfort and solid handling on a wide variety of terrain, this...
Diamondback Haanjo Metro 24 Complete Bike - 2016
Being the kid who lives close enough to school to ride there in the fresh air every morning can certainly cause some envy among friends who are stuck on a smelly, crowded school bus -- and for good reason. Providing a comfortable, dependable means of transportation for young commuters was the...
Diamondback Haanjo Trail 24 Complete Bike - 2016
Your son or daughter might want to try a few junior 'cross races this year, and you want them to have something reliable to ride during family weekend trips along bike paths and gravel trails. They've told you a few times that they're too big for the mountain bike they've been riding around on --...
Diamondback Podium 650c Complete Road Bike - 2016
Your son or daughter has been hinting that their starter mountain bike is getting clunky and worn out, and the pencil marks on the door frame confirm their claims that they've already grown "this much" since last year. It's time for an upgrade to reward your young rider for the hours they've...
Diamondback Podium 700c Complete Road Bike - 2016
Young riders aspiring to race their way to a podium finish on the road need a bike they can depend on. Far too often, youth bikes are built with unreliable, clunky parts that leave kids frustrated, or they cater to kids only interested in park sessions and trails. Diamondback designed its Podium...
Fuji Bicycles Altamira 1.0 Shimano Dura-Ace 7970 Di2 Complete Road Bike -
Retail Price:
$8119.00
Our Price: $3499.99
buy now
In the early days of the Altamira, Fuji's engineers used real-time race feedback gathered from Spanish squad Geox to refine its new frame platform. This two-year R&D process in proved to be a success, eventually leading to the refined Altamira design, as Geox's Juan Jose Cobo relied on his trusty...
GT Grade Alloy 105 Complete Road Bike - 2016
It's becoming easier and easier to buy a bike that isn't just designed for one specific discipline within cycling, and the fact that aluminum has remained relevant through the rise of carbon has only served to make these new, versatile frames more accessible. When GT uses the lightweight,...
GT Grade Alloy X Rival Complete Road Bike - 2016
A road bike with race geometry is great, if you're consistently racing. But on the days when you just want to head out on a long relaxing ride, with no set pace or destination in mind, the geometry of a race bike can leave your muscles feeling far from relaxed. GT created its Grade Alloy X Rival...
GT Grade Carbon 105 Complete Road Bike - 2016
Endurance frames are having a moment. We seem to be seeing more and more of these versatile builds with their relaxed geometry and a go-anywhere capabilities every day on the roads, and for good reason. Namely, the pro bikes that we've been stuffing ourselves onto for years serve a very different...
GT Grade Carbon Ultegra Complete Road Bike - 2016
If you regularly find yourself wishing you didn't have to choose between going on an exhilarating ride on the ashpalt and exploring winding gravel side roads, then you can breathe a sigh of relief: GT understands. The brand with a long-time passion for riding off the beaten path created its Grade...
<< Prev | 1 | 2 | 3 | 4 | 5 | 6 | 7 | Next >>