Pre-Configured Road Bikes - Road Bike Shop
Shop
>
Bikes
>
Road Bikes
>
Pre-Configured Road Bikes
Colnago CLD 105 Complete Bike-2015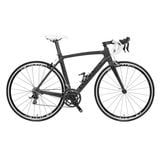 If you're anything like us, you wear many different hats in your life, and this variable lifestyle translates to the saddle, too. You've got room on your cycling calendar for sportives, interval-laden training rides, all-out hammer fests, and everything in between. The Colnago CLD 105 Complete...
Colnago CLD Ultegra Complete Bike - 2015
Colnago's CLD Ultegra Complete Bike is designed for one thing: racing. This isn't designed to appease the growing number of demanding women cyclists by offering the appearance of "performance." It's a firecracker, and it's just waiting for you to light the fuse and take off, because Colnago...
Colnago CX Zero 105 Alloy Complete Bike-2015
Colnago markets the CX Zero 105 Alloy Complete Bike as a "gran fondo" bike, but we know better. This is, after all, the same "gran fondo" geometry that the professionals at Europcar have field-tested across both the stones of Roubaix and the peaks of the Tour. This is one of the only geometries...
Colnago CX Zero 105 Complete Bike-2015
There are certain times in cycling when only the very lightest equipment will suffice. For example, if you're Voeckler, Europcar's irrepressible puncheur, you've been off the front for 70 kilometers for the third day in a row, the finish line is 400 meters of 12% grade away, and the sprinters are...
Colnago CX Zero Disc Ultegra Complete Bike-2015
Disc brakes and electronic shifting are looking strong as the technology that's likely to shape the industry going forward. If you're like some of us, though, then the prospect of digital drivetrains doesn't appeal quite as much as the improved stopping power of hydraulic brakes. Fortunately,...
Colnago CX Zero Disc Ultegra Di2 Complete Bike-2015
If we were forced to select one bike in our stable that embodies the trends of design that we think will dominate the industry in the near future, it would be Colnago's CX Zero Ultegra Di2 Complete Bike. It's got all of the latest features that we're starting to see in the peloton -- including a...
Colnago CX Zero Evo Dura-Ace Complete Bike-2015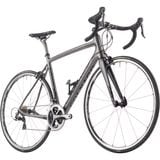 In the final kilometers of a race, when you're gearing up to lay down your final bit of reserve power on the road, Colnago's CX Zero Evo Dura-Ace Complete Bike ensures that you won't be second guessing your equipment. You've trained for months to build up your power stores, and you're using a...
Colnago CX Zero Evo Ultegra Complete Bike-2015
While it would be nice to have a different bike for every type of ride, it just isn't realistic for most of us. And, while the idea of one bike for every road ride this season inevitably entails some degree of compromise for each, the idea is to find one bike that does everything as well as one...
Colnago Strada SL Ultegra Complete Bike-2015
While it may be somewhat overshadowed by Colnago's flagship models, the Strada SL 105 Complete Bike reminds us of two facts. First, Colnago initially made its name working with metal alloys, so it's little surprise that the Italian manufacturer is capable of producing an aluminum frameset that's...
De Rosa Idol Ultegra Complete Road Bike - 2015
Retail Price:
$5200.00
Our Price: $3299.00
buy now
De Rosa has long been known for its classic design and standout steel bikes, and has stepped into the contemporary era of lightweight carbon speed machines with the same flair and solid mix of style and function. The 2015 De Rosa Idol Ultegra Complete Road Bike brings De Rosa's classic heart to a...
<< Prev | 1 | 2 | 3 | 4 | 5 | Next >>