Custom Road Bikes Frames - Road Bike Shop
Shop
>
Bikes
>
Road Bikes
>
Custom Road Bikes & Frames
Bianchi Infinito CV Disc Road Bike Frameset - 2015
As the top model in Bianchi's C2C (Coast 2 Coast) lineup, the Infinito CV was designed to cover long distances with maximum speed and minimum fatigue. This isn't a touring bike; rather, it rethinks traditional assumptions about what it means to be a "racing" bike by focusing on a less stressed...
Bianchi Infinito CV Road Bike Frameset - 2015
With the original Infinito laying the groundwork by Bianchi engineers for their professional team riders, the next step was incorporating a new material into the frame's composition for an even better vibration-damping road feel. Countervail, a patented material developed by Materials Science...
Bianchi Oltre XR.2 Road Bike Frameset - 2015
True to its name, the Bianchi Oltre XR. 2 Road Bike Frameset went so far beyond the expectations of what a racing frameset could be that there is little to change about it for the new model year. It still has the same WorldTour properties of the frameset ridden by last year's Belkin team, and it...
Bianchi Sempre Pro Carbon Road Bike Frameset - 2015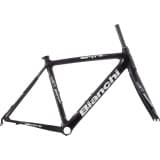 Retail Price:
$2199.00
Our Price: $1978.99
buy now
We'll list out all of the Bianchi Sempre's technology bits, the standards it uses, and the marketing speak that goes along with those lists, but it doesn't get to the heart of the matter. This is an Italian racing bicycle. And, while you can get one with no celeste, it seems it'd be a shame to...
Boardman Bikes Elite SLS 9.8 Road Bike Frameset - 2015
Retail Price:
$2000.00
Our Price: $1600.00
buy now
Lighter isn't always better. Sure it's impressive when you tell your buddies your bike weighs less than a box of feathers, but if you don't feel safe careening downhill on it, is it worth it? Boardman Bikes engineered the Elite SLS 9. 8 Road Bike Frameset to meet the demands of the pickiest, and...
Colnago AC-R Road Bike Frameset - 2015
When we first threw a leg over a built-up model of Colnago's new AC-R Road Bike Frameset, we were a little confused. The bike shares so many aesthetic and ride qualities with the Italian manufacturer's former pro-level monocoque frameset, the M10, that we had suspicions that the AC-R was the same...
Colnago C60 Disc Road Frameset-2015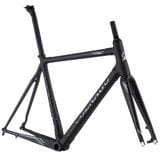 While the pro peloton is just beginning to take tentative steps toward a possible inclusion of disc brakes for the 2017 season, Colnago -- true to form -- has already anticipated cycling's future by perfecting road disc technology in the C60 Disc Road Frameset. Ernesto Colnago's company was the...
Colnago C60 Road Frameset-2015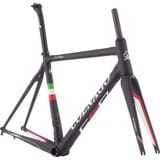 Since the release of the renowned C40 in the 1980s, Colnago has been meticulously redefining what it means to build a bike with carbon fiber. Colnago C60 Road Frameset is next step in what has been a decades long process. The C60 combines the power you'll need for hard kicks and uphill sprints...
Colnago CLD Women's Road Framset-2015
Ernesto Colnago's passion for cycling means his company works with the most talented cyclists in the world, including his countrywoman and former world champion Bronzini. The world-beating likes of Bronzini ride Colnago's flagship frames, but the Colnago CLD Road Frameset means that those of us...
Colnago CX Zero Disc Road Frameset-2015
One bit of trivia that isn't commonly known about Ernesto Colnago -- but that has an impact that's common across the line of bicycles that bear his name -- is that his own racing aspirations ended with a crash and a broken femur. Because of his personal history, Colnago has often privileged...
<< Prev | 1 | 2 | 3 | 4 | 5 | Next >>