Custom Road Bikes Frames - Road Bike Shop
Shop
>
Bikes
>
Road Bikes
>
Custom Road Bikes & Frames
Pinarello Paris Road Frameset
Retail Price:
$3499.95
Our Price: $1750.00
buy now
Given the significant pedigree underwriting its manufacturer's imprimatur and the cultural significance of the city for which it's named, Pinarello's Paris Road Frameset has a lot to live up to. Happily for all parties involved, the Paris borrows heavily from the Dogma framesets, so the...
Pinarello Prince Road Frameset - 2015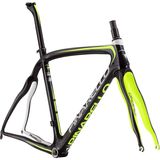 The cycling industry can be fickle, always in pursuit of the next superlative king of the superbikes while ignoring frames that are equal to the top Euro champion's bikes from just two years ago. Pinarello's aptly named Prince Road Frameset, newly revived for 2015, is one such model. Given that...
Ridley Fenix Road Bike Frame - 2015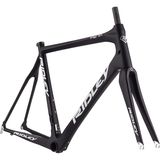 While we're grateful for the endurance trend in the peloton, which moves away from the tendency to privilege aggressive aerodynamics and weight loss at the cost of rider comfort, we aren't necessarily keen on adding weight in order to achieve a more comfortable ride. Ridley's Fenix Road Bike,...
Ridley Fenix Road Bike Frameset - 2014
Retail Price:
$1795.00
Our Price: $1399.99
buy now
While aerodynamics are impressive, especially in the likes of Ridley's Noah Fast, sometimes the roads you ride require comfort to be first and foremost. A stiff frame is important, but the ability to dampen road vibration keeps two wheels firmly on the ground, creating stability and...
Ridley Helium SL Road Frameset - 2015
Shedding the grams from a frame design in the name of creating an ultralight deluxe-o-matic whatever model often results in either a flimsy, flexy frameset that's too easy to overpower, or a stiff, jittery one that's lost its ride quality -- thankfully, the engineers who designed the Ridley...
Ridley Noah FAST Road Bike Frameset - 2014
Retail Price:
$5495.00
Our Price: $2199.00
buy now
The Belgium-based Lotto-Belisol World Tour Team is going for a classic, retro look in 2014 -- the Belgian National lottery has been sponsoring a team in the pro peloton for 30 years, and to this end, the team's kits pay homage to sponsors and to its Belgian origins. And while retro is cool,...
Ridley Noah Fast Road Frameset - 2015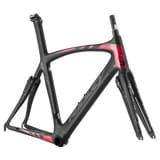 Shopping for a new frameset has become a daunting task. In days gone by, there was no doubt about what you wanted: Reynolds 531, lugged, with a tight wheel base. Sold. But now, it's become almost impossible to sort through the claims and stated benefits of different frames and technologies....
Ridley Noah Road Bike Frameset -
Retail Price:
$3700.00
Our Price: $1699.99
buy now
Mathematically, your odds in a solo breakaway aren't particularly favorable. The Ridley Noah Road Bike Frame is a carefully calculated equation designed to improve those odds. Incorporating a number of Ridley's FAST Concept technologies, the Noah has been tested to reduce the required power input...
Ridley Retro Helium SL Road Frameset - 2015
With its contrasting sponsor bands and nod to multi-material framesets, the Ridley Retro Helium SL Road Frameset combines three distinct eras of cycling. Given its retro styling, we also can't help but chuckle at the irony that its advanced construction techniques and future-proof component...
Storck Aernario Disc Road Bike Frameset - 2014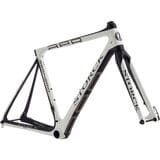 When it was introduced, the Storck Aernario represented a significant leap forward for the German masterminds -- namely an aero road bike that was comfortable and rode brilliantly. Not content to rest on its laurels, Storck has introduced the Aernario Disc, and in so doing, raised the bar for...
<< Prev | 1 | 2 | 3 | 4 | 5 | Next >>