Custom Road Bikes Frames - Road Bike Shop
Shop
>
Bikes
>
Road Bikes
>
Custom Road Bikes & Frames
Ridley Fenix Road Bike Frame - 2014
Retail Price:
$1795.00
Our Price: $1346.00
buy now
While aerodynamics are impressive, especially in the likes of Ridley's Noah Fast, sometimes the roads you ride require comfort to be first and foremost. A stiff frame is important, but the ability to dampen road vibration keeps two wheels firmly on the ground, creating stability and...
Ridley Helium Road Bike Frame - 2014
Retail Price:
$2595.00
Our Price: $1946.00
buy now
Following in the success of the Damocles, Ridley's goal was to create a true climbing machine -- a bike with increased stiffness and stability that would also reign as one of the lightest bikes in the industry. The result is the aptly named Helium, and although it's not technically lighter than...
Ridley Helium SL - 2014
Retail Price:
$3695.00
Our Price: $2771.00
buy now
Every frame company wants to tout that it has the lightest frame in the industry. And yet, constructing an ultra-light frame just to be ogled by blogs and techies doesn't serve much of a purpose unless the ride is also something to behold. Ridley Bikes has constructed the Helium SL, which sits...
Ridley Noah FAST Road Bike Frame - 2014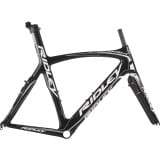 Retail Price:
$5495.00
Our Price: $3297.00
buy now
The Belgium-based Lotto-Belisol World Tour Team is going for a classic, retro look in 2014 -- the Belgian National lottery has been sponsoring a team in the pro peloton for 30 years, and to this end, the team's kits pay homage to sponsors and to its Belgian origins. And while retro is cool,...
Ridley Noah Road Bike Frame
Retail Price:
$3700.00
Our Price: $1850.00
buy now
Mathematically, your odds in a solo breakaway aren't particularly favorable. The Ridley Noah Road Bike Frame is a carefully calculated equation designed to improve those odds. Incorporating a number of Ridley's FAST Concept technologies, the Noah has been tested to reduce the required power input...
Ridley Noah RS
Retail Price:
$2394.95
Our Price: $1435.00
buy now
Ridley has taken the liberty to not only designate its frames by their intended purposes, but to actually design in accordance to the singular characteristics of aerodynamics, stiffness-to-weight, and strength. And, as might already know, the Noah is Ridley's singular aerodynamic offering. At the...
Sarto Classica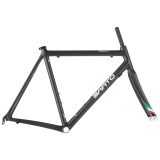 Do not use
Storck Aernario Disc
When it was introduced, the Storck Aernario represented a significant leap forward for the German masterminds -- namely an aero road bike that was comfortable and rode brilliantly. Not content to rest on its laurels, Storck has introduced the Aernario Disc, and in so doing, raised the bar for...
Storck Aernario Platinum Road Bike Frame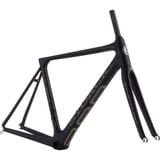 It's been hailed as the 'best frame ever.' Its handling has been described as 'unsurpassed.' Its weight has been likened to 'a dream.' If you haven't guessed, we're talking about the Storck Aernario Platinum Road Bike Frame. Simply put, no other frame achieves a similar balance between weight,...
Storck Aernario Road Bike Frame
Storck designed the Aernario Road Bike Frame with one principle in mind -- balance. Basically, Markus Storck strove to seamlessly mate the aerodynamic frame design of its Aero time trial bikes with the rigidity, handling, and comfort of its Fascenario 0. 7. We would say that he succeeded. If you...
<< Prev | 1 | 2 | 3 | 4 | 5 | 6 | Next >>