Custom Road Bikes Frames - Road Bike Shop
Shop
>
Bikes
>
Road Bikes
>
Custom Road Bikes & Frames
Pinarello Dogma K Hydro Road Frameset - 2015
Inspired by Gran Fondo events, the Pinarello Dogma K Hydro Road Frameset is identical to the Dogma K frameset, except for the addition of disc-brake technology for unmatched stopping power in all conditions. Although it suffers a minor weight penalty over the non-disc Dogma K (in this case,...
Pinarello KOBH Road Bike Frameset -
Retail Price:
$4500.00
Our Price: $2099.99
buy now
Upon its unveiling, the Pinarello Dogma Carbon proved to be the most coveted frameset in recent (and not-so-recent) memory. If test riding one made you dizzy with desire, it seemed that simply being near one did the same. Is it the asymmetric tubing design? Is it the scintillating paint? Is it...
Pinarello Paris Carbon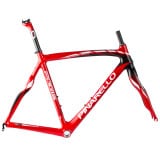 Retail Price:
$3649.95
Our Price: $2785.00
buy now
The Pinarello Paris Frameset is rarely discussed without first making mention of Pinarello's flagship Dogma. Unsurprising, since so much of Pinarello's industry-leading innovation has resulted into a lineage of sorts, trickling down from the venerable Dogma. The unique asymmetrical design and...
Pinarello Paris Road Frameset
Retail Price:
$3499.95
Our Price: $1750.00
buy now
Given the significant pedigree underwriting its manufacturer's imprimatur and the cultural significance of the city for which it's named, Pinarello's Paris Road Frameset has a lot to live up to. Happily for all parties involved, the Paris borrows heavily from the Dogma framesets, so the...
Pinarello Prince Road Frameset - 2015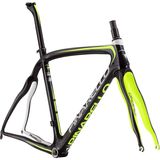 The cycling industry can be fickle, always in pursuit of the next superlative king of the superbikes while ignoring frames that are equal to the top Euro champion's bikes from just two years ago. Pinarello's aptly named Prince Road Frameset, newly revived for 2015, is one such model. Given that...
Ridley Fenix Road Bike Frame - 2015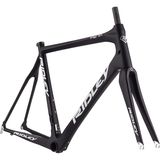 While we're grateful for the endurance trend in the peloton, which moves away from the tendency to privilege aggressive aerodynamics and weight loss at the cost of rider comfort, we aren't necessarily keen on adding weight in order to achieve a more comfortable ride. Ridley's Fenix Road Bike,...
Ridley Fenix Road Bike Frameset -
Retail Price:
$1794.95
Our Price: $1399.99
buy now
In Greek mythology, the phoenix is one to rise from the ashes of its prior self. However, given that this is just the introduction of what's sure to become an iconic breed of all 'rounder frames, the cyclical nature of the phoenix has yet to occur. That is on paper, at least. In practice, the...
Ridley Helium SL Road Frameset - 2015
Well, it's not quite lighter than air, but Ridley knows how to improve upon perfection as is evidenced with the Helium SL Road Frameset. This frame is an even lighter version of the venerable Helium -- with the same ride quality, sans extra weight. The SL weighs in at roughly 750 grams, without...
Ridley Noah FAST Road Bike Frameset - 2014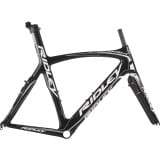 Retail Price:
$5495.00
Our Price: $2199.00
buy now
The Belgium-based Lotto-Belisol World Tour Team is going for a classic, retro look in 2014 -- the Belgian National lottery has been sponsoring a team in the pro peloton for 30 years, and to this end, the team's kits pay homage to sponsors and to its Belgian origins. And while retro is cool,...
Ridley Noah Fast Road Frameset - 2015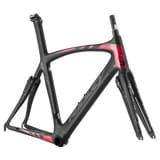 Shopping for a new frameset has become a daunting task. In days gone by, there was no doubt about what you wanted: Reynolds 531, lugged, with a tight wheel base. Sold. But now, it's become almost impossible to sort through the claims and stated benefits of different frames and technologies....
<< Prev | 1 | 2 | 3 | 4 | 5 | 6 | Next >>