Custom Road Bikes Frames - Road Bike Shop
Shop
>
Bikes
>
Road Bikes
>
Custom Road Bikes & Frames
Pinarello Limited Edition RHINO Dogma F8 Road Frameset - 2015
Despite the fact that the frame's design and layup was developed in partnership with Jaguar, Pinarello's Limited Edition RHINO Dogma F8 Road Frameset's story hinges on a different animal: the rhino. The rhino graphics on this frame serve as publicity for United for Wildlife, an anti-poaching...
Pinarello Paris Carbon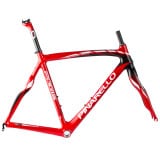 Retail Price:
$3650.00
Our Price: $2784.99
buy now
The Pinarello Paris Frameset is rarely discussed without first making mention of Pinarello's flagship Dogma. Unsurprising, since so much of Pinarello's industry-leading innovation has resulted into a lineage of sorts, trickling down from the venerable Dogma. The unique asymmetrical design and...
Pinarello Prince Road Frameset - 2015
The cycling industry can be fickle, always in pursuit of the next superlative king of the superbikes while ignoring frames that are equal to the top Euro champion's bikes from just two years ago. Pinarello's aptly named Prince Road Frameset, newly revived for 2015, is one such model. Given that...
Ridley Fenix Road Bike Frame - 2015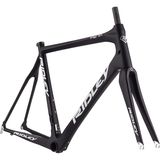 While we're grateful for the endurance trend in the peloton, which moves away from the tendency to privilege aggressive aerodynamics and weight loss at the cost of rider comfort, we aren't necessarily keen on adding weight in order to achieve a more comfortable ride. Ridley's Fenix Road Bike,...
Ridley Fenix SL Road Frameset - 2015
Some cyclists have the luxury of access to multiple bikes to cover different types of riding: the lightweight climbing rig, endurance and base mile grinder, and super stiff criterium racer. We typically call them "pros." Those of us who are self-sponsored need one bike that can cover all of our...
Ridley Helium SL Road Bike Frameset - 2016
The 2016 Ridley Helium SL Road Bike Frameset is a featherweight among giants, ready to fly up the mountains like a stage-hunting falcon. While some may express concerns about an ultralight frameset's ability to transfer power and handle descents, rest assured that this frame boasts a near-unicorn...
Ridley Helium SL Road Frameset - 2015
Well, it's not quite lighter than air, but Ridley knows how to improve upon perfection as is evidenced with the Helium SL Road Frameset. This frame is an even lighter version of the venerable Helium -- with the same ride quality, sans extra weight. The SL weighs in at roughly 750 grams, without...
Ridley Noah Fast Road Frameset - 2015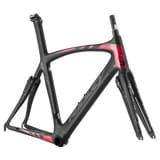 Shopping for a new frameset has become a daunting task. In days gone by, there was no doubt about what you wanted: Reynolds 531, lugged, with a tight wheel base. Sold. But now, it's become almost impossible to sort through the claims and stated benefits of different frames and technologies....
Ridley Noah SL Road Bike Frameset - 2016
With both a low weight and an aerodynamically obsessed design, the 2016 Ridley Noah SL Road Bike Frameset is something of an anomaly in the bike industry -- a frame that's virtually compromise-free. Built to shepherd the Lotto Soudal team through everything from one-day Ardennes Classics to long,...
Ridley Noah SL Road Frameset - 2015
Ridley's Noah SL Road Frameset blends advantages typically considered mutually exclusive in the cycling industry: saving weight and gaining aerodynamics. While the gains made through weight loss and Ridley's wind-cheating FAST technology may appear marginal when measured individually and for only...
<< Prev | 1 | 2 | 3 | 4 | 5 | 6 | Next >>