Custom Road Bikes Frames - Road Bike Shop
Shop
>
Bikes
>
Road Bikes
>
Custom Road Bikes & Frames
Ridley Fenix Road Bike Frame - 2015
While we're grateful for the endurance trend in the peloton, which moves away from the tendency to privilege aggressive aerodynamics and weight loss at the cost of rider comfort, we aren't necessarily keen on adding weight in order to achieve a more comfortable ride. Ridley's Fenix Road Bike,...
Ridley Fenix Road Bike Frameset -
Retail Price:
$1794.95
Our Price: $1299.99
buy now
In Greek mythology, the phoenix is one to rise from the ashes of its prior self. However, given that this is just the introduction of what's sure to become an iconic breed of all 'rounder frames, the cyclical nature of the phoenix has yet to occur. That is on paper, at least. In practice, the...
Ridley Fenix SL Road Frameset - 2015
Some cyclists have the luxury of access to multiple bikes to cover different types of riding: the lightweight climbing rig, endurance and base mile grinder, and super stiff criterium racer. We typically call them "pros." Those of us who are self-sponsored need one bike that can cover all of our...
Ridley Helium SL Road Frameset - 2015
Well, it's not quite lighter than air, but Ridley knows how to improve upon perfection as is evidenced with the Helium SL Road Frameset. This frame is an even lighter version of the venerable Helium -- with the same ride quality, sans extra weight. The SL weighs in at roughly 750 grams, without...
Ridley Noah Fast Road Frameset - 2015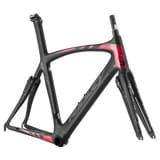 Shopping for a new frameset has become a daunting task. In days gone by, there was no doubt about what you wanted: Reynolds 531, lugged, with a tight wheel base. Sold. But now, it's become almost impossible to sort through the claims and stated benefits of different frames and technologies....
Ridley Noah SL Road Frameset - 2015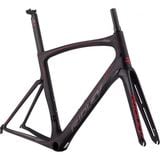 Ridley's Noah SL Road Frameset blends advantages typically considered mutually exclusive in the cycling industry: saving weight and gaining aerodynamics. While the gains made through weight loss and Ridley's wind-cheating FAST technology may appear marginal when measured individually and for only...
Ridley Retro Helium SL Road Frameset - 2015
Even if the bike underneath the gorgeous, retro-minded paint weren't the Ridley Helium SL, we'd try hard to find a spot for this frame in our quiver, just because the paint and graphics are so perfect. Thankfully, though, it's pretty easy to justify the addition of the Helium SL -it's Ridley's...
Storck Aerfast Pro Road Bike Frameset - 2015
The 2015 Storck Aerfast Pro Road Bike Frameset is built with one thing in mind: speed. With aerodynamic design features and Storck's trademark stiffness and impeccable handling, this frameset is built to fly to the finish line. Made from light, stiff unidirectional carbon fiber, the Aerfast Pro...
Storck Aernario Disc Road Bike Frameset - 2014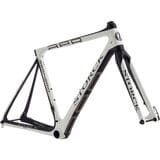 Combining aero design, endurance-race comfort, and powerful stiffness into one package isn't a simple task, or one that's easy to describe, but, like the good Germans they are, Storck came up with a name for such a contraption: the Aernario. In reality, the Aernario concept isn't totally new, but...
Storck Aernario Platinum Road Bike Frameset - 2015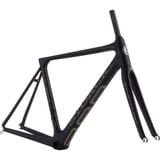 Storck uses its CFR/UD Optimized carbon fiber for the Aernario. The UD stands for unidirectional. The Aernario is formed by placing strands of carbon fabric oriented on one axis into each mold. Engineers place the strands in a monocoque shell, meaning that, with the exception of the fork, it is a...
<< Prev | 1 | 2 | 3 | 4 | 5 | Next >>