Custom Road Bikes Frames - Road Bike Shop
Shop
>
Bikes
>
Road Bikes
>
Custom Road Bikes & Frames
Pinarello Dogma F8 Road Frameset - 2015
Conceptualizing the 8th edition of Pinarello's revered Dogma platform originated last summer, at that time when the Italian brand's proven Dogma 65. 1 was in the process of claiming yet another victory at le Tour under Team Sky's command. It was there that two of the UK squad's top sponsors...
Pinarello Dogma Hydro 65.1 Think 2 Road Bike Frameset - 2015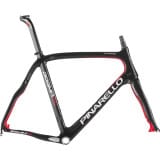 Pinarello is a true Italian company, and in the spirit of a country obsessed with style, the engineers at Pinarello are possessed to relentlessly pursue perfection -- even if the product has already reached a pinnacle in the eyes of onlookers. Such is the case with the Dogma. Working with...
Pinarello KOBH Road Bike Frameset -
Retail Price:
$4500.00
Our Price: $2299.00
buy now
Upon its unveiling, the Pinarello Dogma Carbon proved to be the most coveted frameset in recent (and not-so-recent) memory. If test riding one made you dizzy with desire, it seemed that simply being near one did the same. Is it the asymmetric tubing design? Is it the scintillating paint? Is it...
Ridley Fenix Road Bike Frameset -
Retail Price:
$1794.95
Our Price: $1199.99
buy now
In Greek mythology, the phoenix is one to rise from the ashes of its prior self. However, given that this is just the introduction of what's sure to become an iconic breed of all 'rounder frames, the cyclical nature of the phoenix has yet to occur. That is on paper, at least. In practice, the...
Ridley Fenix Road Bike Frameset - 2014
Retail Price:
$1795.00
Our Price: $1199.00
buy now
While aerodynamics are impressive, especially in the likes of Ridley's Noah Fast, sometimes the roads you ride require comfort to be first and foremost. A stiff frame is important, but the ability to dampen road vibration keeps two wheels firmly on the ground, creating stability and...
Ridley Helium Road Bike Frame - 2014
Retail Price:
$2595.00
Our Price: $1946.00
buy now
Following in the success of the Damocles, Ridley's goal was to create a true climbing machine -- a bike with increased stiffness and stability that would also reign as one of the lightest bikes in the industry. The result is the aptly named Helium, and although it's not technically lighter than...
Ridley Helium SL Road Frameset - 2015
Shedding the grams from a frame design in the name of creating an ultralight deluxe-o-matic whatever model often results in either a flimsy, flexy frameset that's too easy to overpower, or a stiff, jittery one that's lost its ride quality -- thankfully, the engineers who designed the Ridley...
Ridley Noah FAST Road Bike Frameset - 2014
Retail Price:
$5495.00
Our Price: $2749.99
buy now
The Belgium-based Lotto-Belisol World Tour Team is going for a classic, retro look in 2014 -- the Belgian National lottery has been sponsoring a team in the pro peloton for 30 years, and to this end, the team's kits pay homage to sponsors and to its Belgian origins. And while retro is cool,...
Ridley Noah Fast Road Frameset - 2015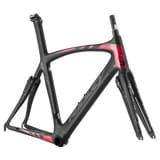 Shopping for a new frameset has become a daunting task. In days gone by, there was no doubt about what you wanted: Reynolds 531, lugged, with a tight wheel base. Sold. But now, it's become almost impossible to sort through the claims and stated benefits of different frames and technologies....
Ridley Noah Road Bike Frameset -
Retail Price:
$3700.00
Our Price: $1850.00
buy now
Mathematically, your odds in a solo breakaway aren't particularly favorable. The Ridley Noah Road Bike Frame is a carefully calculated equation designed to improve those odds. Incorporating a number of Ridley's FAST Concept technologies, the Noah has been tested to reduce the required power input...
<< Prev | 1 | 2 | 3 | 4 | 5 | Next >>