Custom Road Bikes Frames - Road Bike Shop
Shop
>
Bikes
>
Road Bikes
>
Custom Road Bikes & Frames
Colnago CX Zero Disc Road Frameset-2015
One bit of trivia that isn't commonly known about Ernesto Colnago -- but that has an impact that's common across the line of bicycles that bear his name -- is that his own racing aspirations ended with a crash and a broken femur. Because of his personal history, Colnago has often privileged...
Colnago CX Zero Evo Road Frameset-2015
With the CX Zero Evo Road Frameset, Colnago is throwing its expertise and pedigree behind the new breed of so-called endurance frames that have become popular in the pro peloton. As it's used here, "endurance" actually means grueling days in the saddle when the pros want a frame that'll...
Colnago Master Road Framset-2015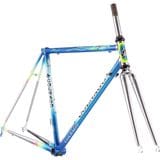 Even in cycling (or especially in cycling), trends come and go. For years, steel was the standard material for the frame builder. Aluminum became the gold standard in the '70s, then titanium. These days, even mid-range models are being built with carbon fiber. Through it all, one manufacturer has...
Colnago V1-R Disc Road Framset - 2015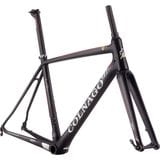 For over half a century now, the Colnago name has been synonymous with industry-defining innovation, whether it's the steel Master that reinvented racing geometry or the legendary C40 that certified carbon for even the most punishing races. True to this history, the all-new V1-R Disc Road...
Colnago V1-R Road Framset-2015
We typically associate the name Colnago with tradition, history, and lugged joints. From the steel Master we fell in love with in our youths to the legendary C40 that made carbon viable in even the most punishing races, lugged construction has long been Colnago's signature. The all-new V1-R Road...
De Rosa Idol Road Frameset - 2015
Retail Price:
$3995.00
Our Price: $2199.00
buy now
The name De Rosa conjures a certain sense of romance that extends beyond the cardioid imagery of the logo, encompassing both the golden history of cycling and, with the latest model of the recently revived Idol Road Frameset, the design innovations that will define the sport's future. It's rare...
De Rosa Protos Road Bike Frameset - 2015
Though De Rosa doesn't specify which particular frame it's using as a basepoint, it claims the Protos Road Bike Frameset's stiffness-to-weight ratio is a full 35% better than "traditional competition racing bikes." We admit that we don't have the equipment or technical know-how to properly vet...
LeMond Limited Edition 1989 Road Bike Frameset - 2014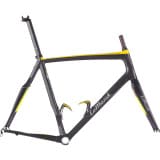 Retail Price:
$4449.00
Our Price: $2799.00
buy now
After claiming the '86 Tour atop a custom carbon fiber frame, there was no going back for LeMond. He'd proven to the world that both he and carbon fiber bicycles were there to stay in professional bicycle racing. The man responsible for building the revolutionary carbon machines for LeMond and...
LeMond Limited Edition 1990 Road Bike Frameset - 2014
Retail Price:
$4449.00
Our Price: $3199.00
buy now
It was the summer of 1990, and "LeMonster" was in form to gobble the peloton for the second year in a row. With the confidence of two previous Tour wins and his new powerhouse Team "Z" on his side, LeMond was armed to defend the title. We're all aware of the rest of the story, with that...
Merlin Empire Road Bike Frameset - 2015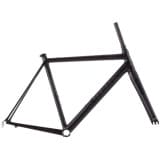 Retail Price:
$4199.00
Our Price: $3359.00
buy now
Enter the Empire. Standing as Merlin's maiden voyage into the carbon realm, it comes fully armed with the bird-of-prey engineering prowess revered by so many, along with a platform that's been built from the ground up by a team of cyclists and composite experts hell-bent on delivering the best...
<< Prev | 1 | 2 | 3 | 4 | 5 | 6 | Next >>