Custom Road Bikes Frames - Road Bike Shop
Shop
>
Bikes
>
Road Bikes
>
Custom Road Bikes & Frames
De Rosa Protos Road Bike Frameset - 2016
Retail Price:
$5995.00
Our Price: $2697.75
buy now
Though De Rosa doesn't specify which particular frame it's using as a basepoint, it claims the Protos Road Bike Frameset's stiffness-to-weight ratio is a full 35% better than "traditional competition racing bikes." We admit that we don't have the equipment or technical know-how to properly vet...
Factor Bike 02 Road Frameset - 2017
Despite its status as a relative newcomer to the industry, Factor Bikes is already known primarily for its willingness to depart from traditional frame limitations in pursuit of on-road benefits. The O2 Road Frameset represents a different kind of departure for the British brand, eschewing much...
Factor Bike One Road Frameset - 2017
Factor Bikes' One Road Frameset has a long, storied pedigree that began as a twinkle in the eye of bf1systems, one of Britain's preeminent motorsport design firms. The One's predecessors, the Factor 001 and the Vis Vires, pushed the boundaries of stiff, responsive handling and aerodynamic frame...
Factor Bike One S Road Frameset - 2017
The "S" in Factor Bikes' One-S Road Frameset may well refer to "steerer," as in: The One-S's fork has a traditional steerer tube instead of the unconventional OTIS fork on the brand's flagship One. Despite the different fork, the One-S incorporates the same Twin Vane bisected down tube hiding...
GT Grade Carbon Frameset - 2016
If your ride of choice includes all manner of pavement, gravel, and smooth fire roads winding lonesomely through the hills, then the 2016 GT Grade Carbon Frameset might be just the bike you're looking form. Keeping in line with its long-time passion for taking the path less traveled, GT created...
NeilPryde Nazare 2 Road Frameset - 2016
Retail Price:
$2600.00
Our Price: $1430.00
buy now
With NeilPryde's long history working with carbon in the windsurfing world, it isn't surprising that the 2016 Nazare 2 Road Frameset comes with claims of wind-slicing aerodynamics, responsive handling, and an impeccably balanced ride. It's constructed from NeilPryde's C6. 9 uni-directional,...
Pinarello Dogma F10 Road Frameset - 2017
You're a venerable Italian frame builder. Over the past two years, your current flagship race machine has been ridden to the top of the world's most prestigious podium. Twice. The bike it replaced was earlier ridden to the same podium step. Also twice. What's your response? Well, if you're...
Pinarello Dogma F8 Disc Road Frameset - 2016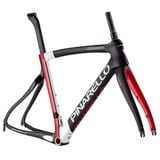 Retail Price:
$5750.00
Our Price: $5060.00
buy now
From the halcyon days of cycling's romantic past to the, um, "unique" profile of Big Mig's Espada Carbon, Pinarello has long occupied the pointy end of cycling's espada of design and innovation. Given that history, it's no surprise that the Italian firm's latest flagship model, which also bears...
Pinarello Dogma F8 Disc Road Frameset - 2017
For those of us not chasing WorldTour dreams and bound by fussing international governing body rules, disc brakes are the way of the future with their unrivaled stopping power and modulation. Given Pinarello's dedication to design and innovation, it's no surprise that it's created the 2017 Dogma...
Pinarello Dogma F8 Limited Edition Road Frameset - 2016
Retail Price:
$5750.00
Our Price: $4485.00
buy now
When Pinarello and Jaguar colluded to design the Dogma F8 Road Frameset, we knew one thing would be true. Whatever the technology, innovations, flashy tube shapes, and grand tour-winning design elements they developed to include in the bike, it was guaranteed to look damn sharp. And now this...
<< Prev | 1 | 2 | 3 | 4 | 5 | Next >>