Custom Road Bikes Frames - Road Bike Shop
Shop
>
Bikes
>
Road Bikes
>
Custom Road Bikes & Frames
Bianchi Oltre XR4 Road Bike Frameset - 2018
Bianchi's Oltre XR4 Road Bike Frameset is the go-to frame for LottoNL-Jumbo. Even on the big mountains where we would expect riders on the uber-lightweight Specialissima, the team calls on this frameset to get results on the sport's biggest stages under riders like Kruijswijk, who we're certain...
Bianchi Specialissima Road Bike Frameset - 2018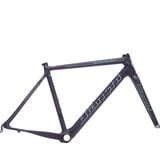 If Coppi were alive today, he'd ride a Specialissima. Bianchi sets the bar very high with this climbing frameset, and whether you're new to cycling or a grizzled racing vet, Bianchi's celeste represents the epitome of Italian cycling with palmares and rich history that continues to impress and...
Bianchi Specialissima Road Frameset - 2017
Retail Price:
$4999.99
Our Price: $4000.00
buy now
Bianchi's celeste green holds a special place in the hearts of many a cyclist since its hue is splashed across decades of classic Italian bicycles found in everything from local tweed rides to the high mountains of the grand tours. This year, Bianchi adds a modern featherweight to its line with...
Factor Bike 02 Disc Road Frameset - 2018
Factor Bikes is a relatively newcomer in the road bike market, but their work with team AG2R La Mondiale--and the palmares the partnership has already achieved--put the brand in cycling's elite. It isn't afraid to push the boundaries of traditional frame designs in the quest of building the best...
Factor Bike 02 Road Frameset - 2018
Despite its status as a relative newcomer to the industry, Factor Bikes is already known primarily for its willingness to depart from traditional frame limitations in pursuit of on-road benefits. The O2 Road Frameset represents a different kind of departure for the British brand, eschewing much...
Factor Bike One Road Frameset - 2017
Factor Bikes' One Road Frameset has a long, storied pedigree that began as a twinkle in the eye of bf1systems, one of Britain's preeminent motorsport design firms. The One's predecessors, the Factor 001 and the Vis Vires, pushed the boundaries of stiff, responsive handling and aerodynamic frame...
Factor Bike One S Road Frameset - 2017
The "S" in Factor Bikes' One-S Road Frameset may well refer to "steerer," as in: The One-S's fork has a traditional steerer tube instead of the unconventional OTIS fork on the brand's flagship One. Despite the different fork, the One-S incorporates the same Twin Vane bisected down tube hiding...
Merlin Empire Road Bike Frameset - 2015
Retail Price:
$4199.00
Our Price: $2099.50
buy now
Standing as Merlin's maiden voyage into the carbon realm, it comes fully armed with the bird-of-prey engineering prowess revered by so many, along with a platform that's been built from the ground up by a team of cyclists and composite experts hell-bent on delivering the best carbon road machine...
Pinarello Dogma F10 Disk Road Frameset - 2018
It takes something awfully special to improve upon Pinarello's F10. The ride quality, weight, and looks are beyond reproach and put the bike in a class of its own. We have however, become smitten since riding disc brakes on the road. The performance advantage in all-conditions cannot be argued,...
Pinarello Dogma F8 Disc Road Frameset - 2017
Retail Price:
$5750.00
Our Price: $3880.00
buy now
For those of us not chasing WorldTour dreams and bound by fussing international governing body rules, the unrivaled stopping power and modulation of disc brakes make them the wave of the future. Given Pinarello's dedication to design and innovation, it's no surprise that it created the 2017 Dogma...
<< Prev | 1 | 2 | 3 | 4 | 5 | Next >>