Custom Road Bikes Frames - Road Bike Shop
Shop
>
Bikes
>
Road Bikes
>
Custom Road Bikes & Frames
Factor Bike One S Road Frameset - 2017
The "S" in Factor Bikes' One-S Road Frameset may well refer to "steerer," as in: The One-S's fork has a traditional steerer tube instead of the unconventional OTIS fork on the brand's flagship One. Despite the different fork, the One-S incorporates the same Twin Vane bisected down tube hiding...
GT Grade Carbon Frameset - 2016
Retail Price:
$1999.00
Our Price: $1399.95
buy now
If your ride of choice includes all manner of pavement, gravel, and smooth fire roads winding lonesomely through the hills, then the 2016 GT Grade Carbon Frameset might be just the bike you're looking form. Keeping in line with its long-time passion for taking the path less traveled, GT created...
Pinarello Dogma F10 Road Frameset - 2017
You're a venerable Italian frame builder. Over the past two years, your current flagship race machine has been ridden to the top of the world's most prestigious podium. Twice. The bike it replaced was earlier ridden to the same podium step. Also twice. What's your response? Well, if you're...
Pinarello Dogma F8 Disc Road Frameset - 2017
For those of us not chasing WorldTour dreams and bound by fussing international governing body rules, the unrivaled stopping power and modulation of disc brakes make them the wave of the future. Given Pinarello's dedication to design and innovation, it's no surprise that it created the 2017 Dogma...
Pinarello Dogma F8 Road Frameset - 2017
While the overall excitement of this year's Tour is up for debate, nobody can argue with the moments of suspense and tactical genius deployed by Team Sky atop the 2017 Pinarello Dogma F8 Road Frameset. From screaming descents to last-minute breakaway time trials to mountaintop epics, this frame...
Pinarello Dogma K8-S Disc Road Frameset - 2017
Until recently, plush suspension and disc brakes were things you'd only find on bikes designed to be ridden in the dirt. That's all changes with the influx of disc-equipped cross bike, a trend towards all-road capability, and a continued push to make the cobbled classics a little less jarring on...
Pinarello Dogma K8-S Road Bike Frameset - 2016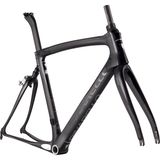 Retail Price:
$6250.00
Our Price: $3437.50
buy now
Rear suspension isn't something you often think of when conceptualizing road bikes, but when your superstar team asks for something to help soften the cobbles of the spring classics and reduce rider fatigue, you get inventive. At the request of Team Sky, Pinarello brought in the same group of...
Pinarello Dogma K8-S Road Frameset - 2017
Road bikes and plush suspension aren't things you usually think of pairing, especially in a race bike, but when one of the world's most dominant teams wants a bike to soften the spring classics cobbles you start thinking outside the proverbial road racing box. Enter the 2017 Pinarello Dogma K8-S...
Pinarello Gan RS Road Frameset - 2017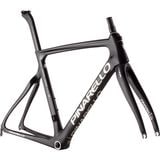 Retail Price:
$4000.00
Our Price: $3200.00
buy now
For most of us, Pinarello's dreamy Dogma F8 sits at such an untouchable price point that we've nearly given up hope of clipping into a frame with such classic Italian style and race-proven design. Pinarello's 2017 Gan RS Road Frameset may just be the answer to those top-tier frameset woes,...
Ridley Dean Fast CC Road Frameset - 2015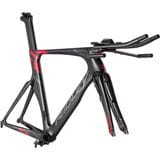 Retail Price:
$6799.00
Our Price: $2379.65
buy now
If there's anything that the engineers at Ridley have taught us through successive generations of FAST technology, it's that aerodynamics aren't simple. Fortunately, they've dumbed the science down to four simple letters: F, A, S, and T. And that spells PR, podium spots, speed, and--of...
<< Prev | 1 | 2 | 3 | 4 | Next >>