Custom Road Bikes Frames - Road Bike Shop
Shop
>
Bikes
>
Road Bikes
>
Custom Road Bikes & Frames
Boardman Bikes Elite SLS 9.8 Road Bike Frame - 2014
Sure, you want a lightweight bike. Who doesn't? But, if the frame design compromises handling and for the sake of a few grams, is it worth it? Chris Boardman, British cyclist, three-time hour record holder, Tour prologue winner and gold medalist at the '92 games, was nicknamed "The Professor" for...
Diamondback Haanjo Comp Complete Bike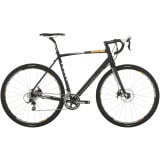 Gravel road racing is gaining popularity. But what type of bike is best suited for gravel? Well, you'll see every concoction imaginable on the course -- from road bikes to mountain bikes, and even beach cruisers. Diamondback's Haanjo Comp combines the best of road, mountain, and cyclocross...
Diamondback Haanjo Complete Bike
Sure, racing is fun, and we know all too well that you spend hours and hours training to go fast. But, we ask this all the same, why not take some time to rediscover the fun of riding on two wheels? Throw your training plan out the window for a few days a month and discover the roads less...
Ibis Silk SL Carbon Road Bike Frame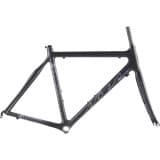 Retail Price:
$1699.00
Our Price: $1274.00
buy now
It's not presumptive to say that Ibis is best known for its tongue-in-cheek approach to cycling, and of course, its mountain bikes. What isn't widely known is that Ibis has been building road bikes for decades, and that they're awesome. The Silk SL is a full carbon frame that's designed to do a...
LeMond Limited Edition 1986 Road Bike Frame
The cycling world was rocked in the summer of 1986 by a relentless young American who made history by becoming the first non-European to claim le Tour's overall title. LeMond's victory was a monumental achievement, not only for the significance it played on the World Tour stage, but also for...
LeMond Limited Edition 1989 Road Bike Frame
After claiming the '86 Tour atop a custom carbon fiber frame, there was no going back for LeMond. He'd proven to the world that both he and carbon fiber bicycles were there to stay in professional bicycle racing. The man responsible for building the revolutionary carbon machines for LeMond and...
LeMond Limited Edition 1990 Road Bike Frame
It was the summer of 1990, and "LeMonster" was in form to gobble the peloton for the second year in a row. With the confidence of two previous Tour wins and his new powerhouse Team "Z" on his side, LeMond was armed to defend the title. We're all aware of the rest of the story, with that...
Merckx AXM Road Bike Frame - 2009
Retail Price:
$4800.00
Our Price: $1899.00
buy now
Mr. Merckx and his team of engineers have learned a few things over the years in terms of what it takes to make a fast, reliable, and lightweight road machine. After all, "The Cannibal" made a name for himself by devouring his opponents on the road, amassing 525 overall wins in the process. The...
Merckx EMX-5 Road Bike Frame -
Retail Price:
$3800.00
Our Price: $1799.00
buy now
Once considered to be the workhorse race frame in team Quick-Step's arsenal, the Merckx EMX-5 was built to provide a lightweight, rigid, and stable platform for the strongest riders in professional cycling. The frameset was fine-tuned from previous EMX versions, blending a large BB86 bottom...
Merckx EMX-5 Road Bike Frame - 2010
Retail Price:
$3750.00
Our Price: $1699.00
buy now
The Cannibal never needs a formal introduction, but his collections of bicycles -- produced with some of the most advanced technological innovations -- are so good that they deserve to be carefully addressed. The Quick-Step boys were in on the Belgian's secrets from the get-go, as they rode the...
<< Prev | 1 | 2 | 3 | 4 | 5 | 6 | Next >>