Custom Road Bikes Frames - Road Bike Shop
Shop
>
Bikes
>
Road Bikes
>
Custom Road Bikes & Frames
Colnago C60 Disc Road Frameset-2015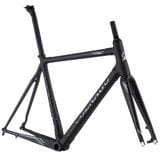 While the pro peloton is just beginning to take tentative steps toward a possible inclusion of disc brakes for the 2017 season, Colnago -- true to form -- has already anticipated cycling's future by perfecting road disc technology in the C60 Disc Road Frameset. Ernesto Colnago's company was the...
Colnago C60 Road Frameset-2015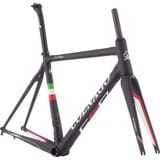 Since the release of the renowned C40 in the 1980s, Colnago has been meticulously redefining what it means to build a bike with carbon fiber. Colnago C60 Road Frameset is next step in what has been a decades long process. The C60 combines the power you'll need for hard kicks and uphill sprints...
Colnago V1-R Disc Road Framset - 2015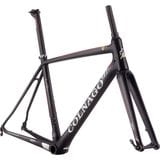 For over half a century now, the Colnago name has been synonymous with industry-defining innovation, whether it's the steel Master that reinvented racing geometry or the legendary C40 that certified carbon for even the most punishing races. True to this history, the all-new V1-R Disc Road...
Colnago V1-R Road Framset-2015
We typically associate the name Colnago with tradition, history, and lugged joints. From the steel Master we fell in love with in our youths to the legendary C40 that made carbon viable in even the most punishing races, lugged construction has long been Colnago's signature. The all-new V1-R Road...
De Rosa Idol Road Frameset - 2015
Retail Price:
$3995.00
Our Price: $1999.99
buy now
The name De Rosa conjures a certain sense of romance that extends beyond the cardioid imagery of the logo, encompassing both the golden history of cycling and, with the latest model of the recently revived Idol Road Frameset, the design innovations that will define the sport's future. It's rare...
De Rosa Protos Road Bike Frameset - 2016
Retail Price:
$5995.00
Our Price: $4995.00
buy now
Though De Rosa doesn't specify which particular frame it's using as a basepoint, it claims the Protos Road Bike Frameset's stiffness-to-weight ratio is a full 35% better than "traditional competition racing bikes." We admit that we don't have the equipment or technical know-how to properly vet...
Pinarello Dogma 2 Road Bike Frameset -
Retail Price:
$6100.00
Our Price: $3049.99
buy now
At the same moment in the 2011 Tour de France when Thomas Voeckler veered from the tarmac into a vacant driveway near the bottom of the descent into Pinerolo, Edvald Boasson Hagen joyously threw up his hands in victory. It was a redemptive stage for Team Sky as their early tour hopes were...
Pinarello Dogma 65.1 Think 2 Road Bike Frameset - 2014
Retail Price:
$5300.00
Our Price: $3444.99
buy now
For the Dogma 65. 1 Think2, Pinarello uses a Japanese carbon that's more rigid and reactive than anything it has ever used on a bike frame -- Torayca's all-new 65-ton 65HM1K Nano-alloy Carbon Fiber. The improved rigidity allows Pinarello to save weight, by using less carbon fiber in key areas....
Pinarello Dogma F8 Disc Road Frameset - 2016
From the halcyon days of cycling's romantic past to the, um, "unique" profile of Big Mig's Espada Carbon, Pinarello has long occupied the pointy end of cycling's espada of design and innovation. Given that history, it's no surprise that the Italian firm's latest flagship model, which also bears...
Pinarello Dogma F8 Limited Edition Road Frameset - 2016
When Pinarello and Jaguar colluded to design the Dogma F8 Road Frameset, we knew one thing would be true. Whatever the technology, innovations, flashy tube shapes, and grand tour-winning design elements they developed to include in the bike, it was guaranteed to look damn sharp. And now this...
<< Prev | 1 | 2 | 3 | 4 | 5 | Next >>