Mountain Bike Frames - Road Bike Shop
Shop
>
Bikes
>
Mountain Bikes
>
Mountain Bike Frames
Bianchi Methanol 29 SL Carbon
Retail Price:
$2199.00
Our Price: $1539.00
buy now
Never one to sit back and marvel at its lengthy list of achievements and race-winning innovations, Bianchi took on its latest off-road, big-wheeled project with the same high energy and enthusiasm that's kept it at the manufacturing forefront for more than 125 years. The new Methanol 29 SL Carbon...
Ibis Mojo HDR - 2014
Quickly becoming a modern classic, the Mojo HD redefined mountain biking with a gravity-focused geometry, 160mm of travel, and a lightweight chassis. And keeping with Ibis' tradition of industry-leading innovation, the HDR builds on that bike's success by cutting a cup-of-lard from the carbon...
Ibis Mojo HDR 650B - 2014
When re-imagining its long-travel trail bike for 27.5-inch wheels, Ibis refused to sacrifice the handling that popularized the Mojo HD. So, rather than reinventing it, Ibis chose instead to refine it by shedding a half-a-pound of weight, adding ISCG05 chain guide compatibility, and renaming it...
Ibis Mojo SL-R W/ CTD Kashima - 2014
When Ibis returned to the world of mountain bikes, things had changed drastically from the days of hand jobs and threaded steerer tubes. But they mustered up the gumption, and entered a volatile market with the latest technology packed into a sharp design -- rightfully named the Mojo. It's hard...
Ibis Ripley - 2014
In 2005, when Ibis' modern Mojo first touched dirt, its pedigree wasn't what caused a stir in an industry dominated by beer-can frames. An organic shape, progressive material choice, and extensive development -- which undoubtedly pointed to the future -- caused a period of high consumer demand...
Merlin XLM 29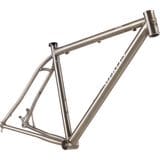 Shaped stays, both seat and chain, define the ride and form of modern hardtails. It all started over a quarter century ago, when Merlin set out to build a frame for the defending '85 NORBA champion -- and proudly lives on in this XLM 29. That Merlin resulted in two mountain bike firsts; curvy,...
Niner AIR 9 RDO -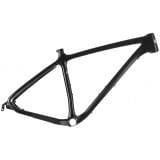 Retail Price:
$2098.95
Our Price: $994.90
buy now
The AIR 9 is a highly respected tool of the hardtail trade, and it's difficult to believe that Chris Sugai and his band of overachieving engineers could improve on that platform. But, not surprisingly, it happened. In fact, Niner actually developed a completely new chassis, worthy of Niner's RDO...
Niner JET 9 RDO - 2014
When the JET 9 RDO first kicked dirt into the eyes of cynics, it broke every preconceived opinion of ultralight full-suspension 29ers. It also marked RDO as a true, no-holds-barred quality designation. And since the introduction of the Race Day Optimized JET 9, Niner's added components, a...
Niner R.I.P. 9 -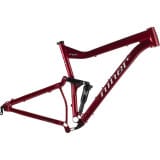 Retail Price:
$1849.00
Our Price: $998.46
buy now
Sporting longer travel then the cross-country focused Jet 9, the Niner R.I.P. 9 treats you with more composure when the trail gets unruly. By using Niner's CVA twenty-niner specific suspension design and extensive hydrofoming, forging, and CNC machining, the R.I.P. 9 keeps weight on the lighter...
Niner R.I.P. 9 RDO - 2014
When Niner releases a new model, competitors and consumers alike take notice. This is because of Niner's persistent research and design that squeezes every ounce of performance from the popular 29er platform. With 125mm of travel, the carbon fiber R.I.P. 9 RDO continues Niner's tradition of...
<< Prev | 1 | 2 | 3 | 4 | Next >>