Complete Mountain Bikes - Road Bike Shop
Shop
>
Bikes
>
Mountain Bikes
>
Complete Mountain Bikes
Diamondback Mason Complete Mountain Bike
The 29er has been the mountain bike of choice for a few years now. And although the common perception is that the wheel size limits the design and frame geometry, manufacturers are continually proving this wrong through small changes that give the 29er more versatility. Born in the Northwest, the...
Diamondback Mason Pro Complete Mountain Bike
In recent years, the 29er's popularity has led builders to continually refine the geometry in search of ways to maximize its potential as an all-mountain bike. And while there's an pervasive logic that tells us that the larger wheel size limits extreme modifications, Diamondback has made a few...
Diamondback Overdrive Carbon Complete Mountain Bike
Through the use of hydroformed aluminum and astute, calculated geometry, Diamondback could already consider its rightful place reclaimed. However, not one to rest on its laurels, Diamondback sought to improve upon its XC platform by sprinkling some carbon fiber into the mix. In fact, it pulled...
Diamondback Sortie 1 29 Complete Mountain Bike
Even with the untested encroachment of 27. 5-inch mountain bikes, the 29er still reigns supreme for 2014. Serving as testimony to this, Diamondback took its much lauded 26-inch platform and redesigned it for the added benefits of 29-inch wheels -- momentum, increased surface contact, and...
Ibis Mojo HDR 650B/Shimano XT Complete Mountain Bike - 2014
Shimano's XT line has always been a noble workhorse that's also able to pull double-duty in a steeplechase, which happens to be a picture-perfect match for this Ibis Mojo HDR 650b complete mountain bike. A modern interpretation of the mountain bike, the latest Ibis is ready to tackle tough lines,...
Ibis Mojo HDR 650B/SRAM X01 Complete Mountain Bike - 2014
Was it the tasteful shape, or the iconic names that quickly popularized the 2005 Ibis Mojo? In actuality, it was much more than swoopy lines and the resurrection of a respected, but bankrupt, brand. And like this Mojo HDR 650b/SRAM X01 Complete Mountain Bike, that bike pushed standards using...
Ibis Mojo HDR 650B/SRAM XX1 Complete Mountain Bike - 2014
In the realm of aggressive use trail bikes, there's arguably no bike more classic than the Mojo HD. So when Ibis gave it an update, they dropped half a pound off the frame and increased the clearance to accommodate 27. 5-inch wheels. And here we have the Mojo HDR 650b XX1 complete mountain bike....
Ibis Ripley / Shimano XT Complete Mountain Bike - 2014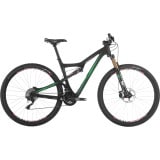 If Ibis was to blindly follow industry trends, we'd have half-decade old Ripley's on the dirt. But, those bikes would have been lost in the extended list of long-wheelbase, four-inch-travel, full-suspension 29ers that are already crowding the bandwagon. Instead, Ibis stuck to its goal of...
Intense Cycles 951 EVO - 2014
Perhaps more than any other discipline in cycling, Downhill allows riders to literally buy speed. Whether upgrading to more powerful brakes, or dropping the cash on top-tier suspension dampers, minor improvements to your setup can turn into precious seconds saved when racing the clock. And with...
Intense Cycles 951 EVO Gravity Complete Mountain Bike- 2014
Downhill has always been the realm of tinkerers, which is why Intense has developed such a legendary reputation in gravity circles. And while its M1 rewrote the book on Downhill bikes, Intense's newer experiments with larger wheels prove that Jeff Steber and the gang aren't done yet. The Intense...
<< Prev | 1 | 2 | 3 | 4 | 5 | 6 | 7 | 8 | 9 | 10 | Next >>