Womens Road Bike Tops - Road Bike Shop
Shop
>
Women's Apparel Clothing
>
Women's Apparel Road Bike Clothing
>
Women's Apparel Road Bike Tops
Etxeondo Entzuna Sport Jersey - Women's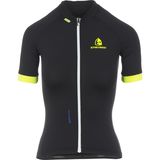 Retail Price:
$126.95
Our Price: $69.82
buy now
A newer addition to Etxeondo's women's line, the Entzuna Sport Women's Jersey features bright, saturated colors that catch the eye. Despite its Basque name translating to mean "heard" in English, the Entzuna will undoubtedly help ensure you're seen on the roads -- how well-heard you are is up to...
Etxeondo Nere Jersey - Women's
Retail Price:
$114.95
Our Price: $74.72
buy now
European cyclists undoubtedly look good while they do what they love, and while it's more important to worry over aerodynamic performance rather than the way you look, nobody will blame you if you opt for the classic Women's Nere Jersey by European Etxeondo. In no way shape or form would we say...
Etxeondo Terra Jersey - Women's
Retail Price:
$138.95
Our Price: $90.32
buy now
The Etxeondo Women's Terra Jersey has a heathered tone with marbled patterns that add a sophisticated touch as you pedal through posh neighborhoods. That's not to say that the Terra is simply some stylish piece only suitable for the high-brow cyclists of today; on the contrary, its Powersystem 1....
Etxeondo WS Team Edition All Weather Jersey Kit - Women's
Retail Price:
$231.95
Our Price: $162.36
buy now
Blocking whipping winds from freezing your core, the Etxeondo Women's WS Team Edition All Weather Jersey Kit is ideal for riding through rapidly changing weather in spring and fall seasons. Gore WindStopper fabric blocks strong gusts when you're pedaling along brisk coastlines and wind-blasted...
Giordana Arts Jersey - Sleeveless - Women's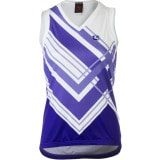 Retail Price:
$94.95
Our Price: $37.98
buy now
Keep stylishly cool in this Giordana Women's Sleeveless Arts Jersey. As part of its Art collection, these tops are limited editions, when the run is done, there will be no more, and you'll have to wait for next year to see what new designs are on offer. And with no sleeves and a V-neck, you'll be...
Giordana Arts Short-Sleeve Jersey - Women's
Retail Price:
$94.95
Our Price: $61.72
buy now
Having a jersey for the days you don't want to take yourself too seriously on the bike is a good thing, and we'd imagine that was what Giordana was thinking when it created the Arts Short-Sleeve Women's Jersey. You don't always have to show up for your club ride looking like you're about to race,...
Giordana Arts Sleeveless Jersey - Women's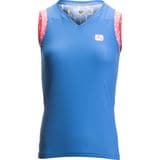 Retail Price:
$89.95
Our Price: $58.47
buy now
Sleeves aren't for everyone or every day, and the Giordana Women's Arts Sleeveless Jersey was made for the days you want to look stylish on the bike without being encumbered by sleeves and zippers. As part of Giordana's Art collection, these jerseys are special editions released in a new...
Giordana FormaRed Carbon Custom Jersey - Short Sleeve - Women's
Retail Price:
$194.95
Our Price: $146.21
buy now
Giordana's FormaRed Carbon Custom Women's Jersey has long been at the top of the pile for the brand's lady racing kit. While its dominance has been usurped by the new NX-G line, we're still pretty damned taken with how the FormaRed Carbon's understated, classy aesthetics mask its racing pedigree....
Giordana FR-C Raggi Jersey - Long-Sleeve - Women's
Thermal jerseys have long been the realm of club cuts and ill-fitting elastic hems and cuffs. Giordana changes that with its FR-C Raggi Women's Jersey, which combines the functional versatility of a thermal jersey with all of Giordana's FormaRed-Carbon (FR-C) race line. This includes, primarily,...
Giordana Fusion Long Sleeve Jersey - Women's
Shoulder season cycling means one thing to us: transitioning landscapes seen from the saddle. With the Fusion Women's Jersey, Giordana provides the thermal support we need to enjoy those landscapes, making the first day that we pull it on in fall one of our favorite moments in cycling. While we...
<< Prev | Back | 1 | 2 | 3 | 4 | 5 | 6 | 7 | 8 | 9 | 10 | More | Next >>