Womens Road Bike Tops - Road Bike Shop
Shop
>
Women's Apparel Clothing
>
Women's Apparel Road Bike Clothing
>
Women's Apparel Road Bike Tops
Twin Six Standard Jersey - Short-Sleeve - Women's
The Twin Six Standard Short-Sleeve Women's Jersey is all about fabric and fit -- not cute graphics. And, given the T6 fabric which blocks the sun (UPF 28+) and has MoistureTransport technology, you're going to enjoy riding in this top. T6 is a wicking polyester blend that ensures you're well...
Twin Six Wayfinders Jersey - Short-Sleeve - Women's
The Twin Six Women's Wayfinders T-Shirt makes you look like you know what you're doing and where you're going, even if you have no idea. Don't be surprised if you turn around and a mob of people are following you. Twin Six was started by two graphic designers who happen to be passionate road and...
Velocio Light Long Sleeve Jersey - Women's
With a fabric weight that works in a variety of conditions and temperatures, Velocio's Light Long Sleeve Jersey was designed to give you more coverage and versatility than its summer-specific riding tops. Consider it a transitional jersey that comfortably takes you from one season to the next in...
Velocio Printed Blue Stripes Jersey - Short Sleeve - Women's
Velocio's designers created the new Printed Blue Stripes Jersey with a clean, women's-specific silhouette and modern graphic treatment to keep you supported, comfortable, and looking great for all of your warm-weather rides ahead. Velocio relied on Bioceramic as the primary fabric for the Printed...
Velocio Printed Orchid Paint Jersey - Short-Sleeve - Women's
The Velocio Printed Orchid Paint Jersey takes the best from two worlds, competitive cycling and casual urban riding, and combines them into a piece that works hard while providing all the little features that makes it wearable, no matter what cycling adventure comes your way. Constructed from...
Velocio Printed White Stripes Jersey - Short-Sleeve - Women's
Velocio's cycling advocates include the well known Ina-Yoko Teutenberg, a thirty-two year veteran of the sport who retired in 2013. To this end Velocio's women's line is designed with a women's specific silhouette, and technical details are not forgotten in place of good looks. The Printed White...
Velocio Signature Jersey - Short Sleeve - Women's
As Velocio's grand entrance into the world of cycling apparel, the Signature Jersey it created fully reflects the designers' commitment to quality, style, and the finishing details absent in so many women's cycling jerseys currently available. To start, Velocio relied on Bioceramic as the primary...
Velocio Wind Vest - Women's
The design team at Velocio knows that a proper vest is not to be ignored, especially during those early and late season rides when the weather does what it pleases. That's why they designed their Wind Vest to be protective, comfortable, and filled with functional details, yet still be light...
Zero RH + Mirage Jersey - Sleeveless - Women's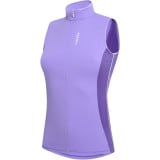 In the heat of summer, keeping your core dry and cool means that your body spends more energy propelling you forward than regulating body temperature. The Zero RH+ Mirage Sleeveless Jersey proves that excellent cooling properties aren't only in pro-tier sleeved jerseys. The Mirage was sewn from...
Zero RH + Spirit Spaghetto Jersey - Sleeveless - Women's
Once the dead of winter has blown away, getting a bit of sunshine on your shoulders is always a priority. The ZeroRH+ Spirit Spaghetto Jersey's slim fit and ample storage make it a go to for warm weather riding. Like many of its sister jerseys, the Spaghetto was sewn from FireDry Gold 100. This...
<< Prev | Back | 11 | 12 | 13 | 14 | 15 | 16 | 17 | 18 | 19 | More | Next >>