Womens Road Bike Tops - Road Bike Shop
Shop
>
Women's Apparel Clothing
>
Women's Apparel Road Bike Clothing
>
Women's Apparel Road Bike Tops
Mavic Ventoux Short Sleeve Women's Jersey
Retail Price:
$109.90
Our Price: $43.96
buy now
Mont Ventoux is home to the tallest peaks in the southern region of France, and is usually considered to be one of the greatest challenges when its climbs are included on the Tour de France. The fully-featured Mavic Ventoux Jersey might not help you climb like Armstrong or Pantani, but it'll...
Moxie Cycling Color Block Jersey - Short Sleeve - Women's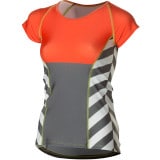 Riding a bike doesn't always mean getting kitted up in a full ensemble of logo-covered gear. Moxie Cycling's Color Block Short Sleeve Jersey keeps you cool and dry while blending into the urban scene. Constructed from moisture-wicking fabric, the Moxie jersey's claim to fame isn't just its...
Moxie Cycling Layered Jersey Tank Top - Women's
Women finally have a choice of a tank-styled cycling jersey that both looks good and functions as well as a pro-tier top. Moxie's Layered Jersey Tank Top features technical fabric, plenty of storage, and a farmer's-tan-defying design. Although the Layered tank is constructed from wicking fabric...
Moxie Cycling Sweetheart Jersey - Sleeveless - Women's
Simple and fun sometimes trump looking 'pro' on the bike. The Moxie Cycling Sweetheart Jersey is the ideal top for when style trumps speed. Designed with a soft knit fabric, the jersey isn't your typical tank top. It wicks moisture away from your skin to keep you dry. The t-back style leaves your...
Moxie Cycling T-Back Jersey - Sleeveless - Women's
For years ladies have been searching for the perfect blend of fun, tank-styled jerseys that actually function like cycling jerseys and not just "looks only" fashion statements. Moxie has the perfect answer with its Sleeveless T-Back Jersey. Moxie designed the jersey with a wicking fabric that...
Pearl Izumi Elite Jersey - Short-Sleeve - Women's
Hard-core riders, whether on the road or the forested trails, really appreciate a well-designed, utilitarian jersey. And if a company can throw in a little techy expertise in the fabrics, they're even happier. If you, too, are in need of an everyday jersey that will give you top performance...
Pearl Izumi Elite Prima Reversible Vest - Women's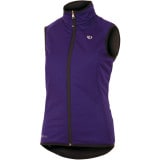 While a vest in itself is an exceptionally versatile piece of apparel, Pearl Izumi decided to take this concept even further. With its new Elite Prima Women's Reversible Vest, you receive a layer of protection between your core and the wind, rain, and cold weather -- all in a reversible design....
Pearl Izumi Elite Thermal LTD Jersey - Long Sleeve - Women's
Retail Price:
$129.95
Our Price: $90.96
buy now
The new Elite Thermal LTD Women's Long Sleeve Jersey was developed by Pearl Izumi to keep your core body temperature regulated throughout your cool- and cold-weather rides. Izumi accomplished this using its advanced fabric technology, which works in conjunction with the streamlined fit to provide...
Pearl Izumi P.R.O LTD Jersey - Short-Sleeve - Women's
Retail Price:
$119.95
Our Price: $59.98
buy now
The Pearl Izumi's P. R. O. LTD Jersey features and sleek and aerodynamic cut to keep you slipping through the wind like greased lightning. Designed to move with you and not bunch up when hunched over in the drops, the P. R. O. LTD Jersey won't inhibit your ability to out-kick your rivals in the...
Pearl Izumi P.R.O. Leader Jersey - Short-Sleeve - Women's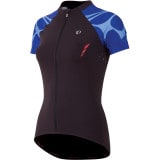 Pearl Izumi was among the first to offer women's clothing designed by women. And, a quick look at the shape and features crafted into the P. R. O. Leader Women's Short-Sleeve Jersey proves that they indeed have put a lot of know-how and riding time into their creations. Pearl Izumi uses its...
<< Prev | Back | 11 | 12 | 13 | 14 | 15 | 16 | 17 | 18 | 19 | More | Next >>