Womens Road Bike Tops - Road Bike Shop
Shop
>
Women's Apparel Clothing
>
Women's Apparel Road Bike Clothing
>
Women's Apparel Road Bike Tops
Louis Garneau Equipe Women's Long Sleeve Jersey
Retail Price:
$129.99
Our Price: $77.99
buy now
While many long sleeve jerseys excel at keeping you warm, Garneau knows that warmth means nothing if the body isn't able to expel moisture that builds up inside during exercise. This is why it developed the new Equipe Women's Long Sleeve Jersey to provide a light layer of insulation that wicks...
Louis Garneau Factory Women's Jersey
Retail Price:
$84.95
Our Price: $42.48
buy now
Long rides on sweaty, humid days are far more comfortable when you're in the right jersey. However, the question begs to be asked, out of Louis Garneau's extensive line of jerseys, which is best suited to your riding style? Well, if you intend to ride long and hard, but you don't want a jersey...
Louis Garneau Gardena Long Sleeve Women's Jersey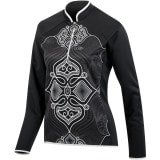 Retail Price:
$74.99
Our Price: $59.99
buy now
Just as life is too short for cheap wine, the same holds true for boring jersey design. The Louis Garneau Gardena Long Sleeve Jersey 2 is a breath of fresh air in a world of plain-colored doldrums. The Gardena's anatomic design and proprietary warming fabrics will keep you rolling in style all...
Louis Garneau Icefit Women's Jersey
Staying cool in sweltering summer heat is easy with Louis Garneau's Icefit Jersey. Its advanced fabrics keep you cool, allowing your resources to be put into more important things -- like powering up that local climb. The jersey was constructed from Icefit fabric. Icefit is essentially a reactive...
Louis Garneau Limited Women's Jersey
Louis Garneau's Limited Women's Jerseys are fresh off the presses. But don't wait, these women's-specific jerseys won't stick around for too long. The Limited jerseys are sewn from Garneau's Airdry fabric. As the name implies, the nature of the fabric is to keep you dry. If you look closely at...
Louis Garneau Lite Skin Tank Top - Women's
Not everyone is striving to be a professional racer. Some folks just like to be on a bike. Similarly, not everyone wants to slide into skin-tight race apparel every time they take their bike for a nice cruise around the city. Louis Garneau designed the Women's Lite Skin Tank Top for people like...
Louis Garneau Mondo Jersey - Short-Sleeve - Women's
Retail Price:
$159.95
Our Price: $63.98
buy now
The Louis Garneau Women's Mondo Jersey will keep you comfortable, dry, and looking fast as you blow by the competition. This high-end top features the soft, comfortable Mondo fabric, which stretches to fit like a second skin. It is supplemented by Carbon-X inserts that provide extra ventilation...
Louis Garneau Nova Vest - Women's
We're fairly certain that the peace of mind you'll get from having the Louis Garneau Nova Women's Vest along with you on your training rides is worth its reasonable price. Think of a time when it was so nice outside you didn't feel the need to check the weather report before you left -- and then...
Louis Garneau Silhouette Women's Tank Top
Retail Price:
$64.95
Our Price: $25.98
buy now
Louis Garneau's new Silhouette Tank Top provides you with a versatile, supportive riding top that's perfect for both warmer riding conditions and spinning away for hours in the gym. The Silhouette blends two technically advanced fabrics in order to create a top with all of the sought after...
Louis Garneau Sirocco Tank Top - Women's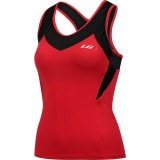 Take a race jersey out on a hot summer day. Now tear off all the stuff that you wish wasn't there. What you have left is the absolute bare essentials, and it's called the Louis Garneau Women's Sirocco Tank Top. This isn't a cheap, no-features jersey, it's exactly what you need to perform your...
<< Prev | Back | 11 | 12 | 13 | 14 | 15 | 16 | 17 | 18 | 19 | More | Next >>