Womens Road Bike Tops - Road Bike Shop
Shop
>
Women's Apparel Clothing
>
Women's Apparel Road Bike Clothing
>
Women's Apparel Road Bike Tops
Mavic Athena Jersey - Short-Sleeve - Women's
Retail Price:
$99.90
Our Price: $39.96
buy now
Athena was a goddess. And as goddesses go, she was pretty badass. Not only was she stunningly beautiful, she was the goddess of wisdom, courage, inspiration, civilization, law and justice, just warfare, mathematics, strength, strategy, the arts, crafts, and skill. And our guess is that she never...
Mavic Athena Thermo Jersey - Long Sleeve - Women's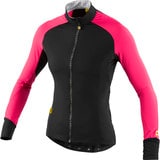 Retail Price:
$119.95
Our Price: $71.97
buy now
In keeping with its reputation for thoroughness as a company, Mavic offers clothing for every shade of weather you may encounter when riding through the colder months. Does the standard Athena Long-Sleeve Jersey not offer up enough warmth for today's ride, but the Athena Thermo Jacket feels like...
Mavic Bellissima Jersey - Short Sleeve - Women's
Retail Price:
$124.95
Our Price: $62.48
buy now
The Mavic Women's Bellissima Short Sleeve Jersey mixes a sleek, athletic look with high-performance fabrics so you get to ride in style and comfort. Even if you work up a good sweat, this jersey will help you keep your cool. Form-friendly Sleek Wick ST fabric quickly pulls sweat away from your...
Mavic Cloud Jersey - Short-Sleeve - Women's
Retail Price:
$79.95
Our Price: $39.98
buy now
Zip up the Mavic Women's Cloud Cycling Jersey, and pull away from the mob. Complete with matching arm warmers, the Cloud offers functionality on top of comfort. Built with innovative ST material to dry quickly and manage moisture, this jersey helps prevent overheating and over-cooling alike. Mesh...
Mavic Meadow Jersey - Women's
You love the trail, the trees, the dirt, and even the sweat, but when the mercury climbs too high, the heat can zap you of your energy. Keep cool even when temperatures rise with the Mavic Women's Meadow Short Sleeve Jersey. Mavic's Hot Ride design system uses breathable, moisture-managing...
Mavic Oxygen Women's Vest
Weather happens everyday. Unfortunately, the bad stuff can happen with no warning miles from home in the middle of a ride. You'll always be ready, though, if you shove the Mavic Women's Oxygen Vest in your pocket before you head out.
Mavic Ventoux Jersey - Women's
Mont Ventoux is one of the tallest peaks in the southern region of France, and is usually considered to be one of the greatest challenges when its climbs are included on the Tour de France. The fully-featured Mavic Ventoux Jersey might not help you climb like Pantani, but it'll certainly give you...
Moxie Cycling Color Block Jersey - Short-Sleeve - Women's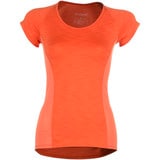 Retail Price:
$47.95
Our Price: $23.97
buy now
Riding a bike doesn't always mean getting kitted up in a full ensemble of logo-covered gear. Moxie Cycling's Color Block Short Sleeve Jersey keeps you cool and dry while blending into the urban scene. Constructed from moisture-wicking fabric, the Moxie jersey's claim to fame isn't just its...
Moxie Cycling Sweetheart Jersey - Sleeveless - Women's
Retail Price:
$64.95
Our Price: $32.47
buy now
Simple and fun sometimes trump looking 'pro' on the bike. The Moxie Cycling Sweetheart Jersey is the ideal top for when style trumps speed. Designed with a soft knit fabric, the jersey isn't your typical tank top. It wicks moisture away from your skin to keep you dry. The t-back style leaves your...
Moxie Cycling T-Back Jersey - Sleeveless - Women's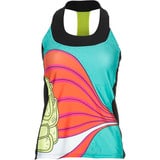 Retail Price:
$57.95
Our Price: $26.08
buy now
For years ladies have been searching for the perfect blend of fun, tank-styled jerseys that actually function like cycling jerseys and not just "looks only" fashion statements. Moxie has the perfect answer with its Sleeveless T-Back Jersey. Moxie designed the jersey with a wicking fabric that...
<< Prev | Back | 11 | 12 | 13 | 14 | 15 | 16 | 17 | 18 | 19 | More | Next >>