Womens Road Bike Tops - Road Bike Shop
Shop
>
Women's Apparel Clothing
>
Women's Apparel Road Bike Clothing
>
Women's Apparel Road Bike Tops
Capo SC Donna Jersey - Women's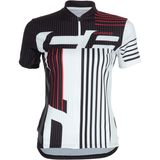 The SC in Capo SC Donna jersey stands for "Super Corsa." We were sure it was just the first two letters in "Screamin' Deal." It's made with Capo's Carbon ES fabric, which is found on some of its top-shelf race jerseys. In addition to top-notch fabric and technology, the SC Donna comes with...
Capo Siena Jersey - Long Sleeve - Women's
Retail Price:
$129.95
Our Price: $51.98
buy now
The Capo Women's Siena Long-Sleeve Jersey is designed to meet the needs of almost any rider for almost any ride this fall and winter season, with simple but bold style and a host of advanced fabrics to protect you in cooler weather conditions. The Siena jersey falls into Capo's Corsa family,...
Castelli Bellissima Wonder Jersey - Sleeveless - Women's
Most cycling jerseys are pretty much the same, but the Castelli Bellissima Women's Jersey takes things in a different direction. The most obvious distinction is the sleek racerback styling, which puts the t-shirt look of traditional jerseys to shame. That's great, but it wouldn't be nearly as...
Castelli Certezza Full-Zip Jersey - Short-Sleeve - Women's
As the most technical jersey in Castelli's women's collection, the Certezza was developed through extensive wind-tunnel testing and by applying new paneling designs. The result is a sleek, comfortable riding top that hugs your torso and keeps you supported while in the saddle. The Certezza jersey...
Castelli Climber's Jersey - Short Sleeve - Women's
There are two elements of summer cycling that we tend to forget about during the long winter base miles and trainer sessions. First, we forget just how much work climbing at speed can be; second, we forget how much the heat of climbing temperatures exacerbates the negatives of that work....
Castelli Cromo Long Sleeve Women's Jersey
Retail Price:
$179.95
Our Price: $89.97
buy now
So here's a common cold-weather scenario. You're out grinding base miles in the spooky gloom of late fall, but the best route for doing so happens to include a few hills. Being dressed appropriately for flat riding in the cold doesn't mean you're equipped to handle climbs, but with the Castelli...
Castelli Elegante Spaghetti Top Women's Jersey
Retail Price:
$69.95
Our Price: $41.97
buy now
Castelli continues its line of warm-weather jerseys with the introduction of the Elegante Spaghetti Top Jersey. And when we say 'warm,' we don't just mean warm conditions outside, as the Elegante Spaghetti's ultra-thin straps and light fabrics make it the perfect companion for sweating out the...
Castelli Fiore Long Sleeve Women's Jersey
Retail Price:
$119.95
Our Price: $71.97
buy now
At the beginning of November, daylight saving time provides an extra hour of morning sunlight. If you're like us, that means morning rides in the fall can start earlier and we don't lose half a day. Be prepared to take advantage of the first light and cool, early mornings with the Women's...
Castelli Fortuna Jersey - Short Sleeve - Women's
Castelli always nails the look, from their most entry-level offerings to their highest end. The Fortuna Women's Jersey is certainly no exception, with bold colors taking the lead, and strong secondary colors and graphics following closely behind. The jersey is sewn from Castelli's Prosecco fabric...
Castelli Gisele Cycling Sleeveless Women's Jersey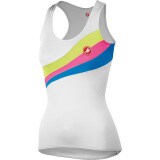 Retail Price:
$79.95
Our Price: $47.97
buy now
Some weather is just too hot for even the most lightweight of short sleeve jerseys. Besides that, those mid-bicep tan lines tend to draw some curious-looking stares when you're cruising around town in your tank tops. For these warm riding occasions, Castelli decided to take its popular Gisele...
<< Prev | Back | 1 | 2 | 3 | 4 | 5 | 6 | 7 | 8 | 9 | 10 | More | Next >>