Womens Road Bike Bottoms - Road Bike Shop
Shop
>
Women's Apparel Clothing
>
Women's Apparel Road Bike Clothing
>
Women's Apparel Road Bike Bottoms
2XU Elite MCS Compression Short - Men's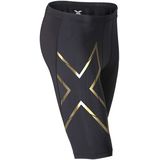 2XU has been designing compression clothing for athletes since before there was compression clothing for athletes. It hasn't rested on its laurels, though. 2XU constantly pushes the science of compression forward to increase athlete performance and reduce injuries caused by high-impact workouts....
2XU Elite MCS Compression Tight - Women's
If you're training for a big race and logging mile after mile on pavement, your muscles can use any extra help they can get. When you're heading out for your weekend long run, replace your tried-and-true tights with the 2XU Elite MSC Compression Tight instead. With strategic zones of compression...
2XU Elite MCS Compression Tights - Women's
Injury due to muscle overuse is extremely common. While we often wear protective clothing, such as body armor and a helmet during athletic activities, we seldom protect our muscles and tendons during high-impact workouts. 2XU has been making compression clothing designed to protect against...
2XU Elite MCS Thermal Compression Tight - Women's
Cold evening runs always ask more of your joints and muscles than you expect. You dart out onto snowy roads after work eagerly, only to be taken aback by telltale aches arriving a few miles in. Instead of grimacing and running through the nagging pain, grab the 2XU Elite MCS Thermal Compression...
2XU Elite Recovery Compression Tights - Women's
We've all heard the axiom about pain being weakness leaving the body. The implication is that pain is ultimately good for us and that we should embrace it as part of our form-building journey. But frankly, we like to see pain leave as fast as possible. 2XU's Elite Power Recovery Women's...
2XU Hyoptik Compression Shorts
Retail Price:
$79.95
Our Price: $51.97
buy now
While they're providing compression to your muscles, the 2XU Hyoptik Compression Shorts will also make sure you stay visible to other road users as you train with the highly reflective graphics added to the outside of each leg. The shorts are constructed using high-filament yarns with...
2XU MCS Alpine Compression 3/4 Tights - Women's
Engineered for cool-weather rides and endurance activities, the 2XU Women's Elite MCS Thermal Compression 3/4 Tights provide thermal warmth and targeted compression. Because they're only 3/4-length tights, these work best with compression socks or leg warmers, allowing you to customize your...
2XU Mid Rise Compression 7/8 Tight - Women's
Retail Price:
$84.95
Our Price: $49.86
buy now
The 2XU Women's Mid Rise Compression 7/8 Tights hits at that perfect hem position between full-length awkward sock gap and oddly-proportioned capri that lends a dash of sporty to any activity intensity. Not to focus solely on style, these tights feature compressive PWX fabric that provide...
2XU Mid-Rise Compression Tights - Women's
They'll definitely require a serious pants dance to get into, but once you have the 2XU Mid Rise Compression Tights on, you won't want to take them off. With graduated compression from PWX FLEX fabric, the hardest working muscles of your legs will receive wraparound support to decrease muscle...
2XU Recovery Women's Compression Tights
If you grew up with a mom who wore jeans a size or two too small in order to keep her girlish figure well into post-pregnancy middle age, then you might've decided that her method was too similar to medieval torture methods. Riding your bike to stay fit is a far better solution. The 2XU Recovery...
<< Prev | Back | 1 | 2 | 3 | 4 | 5 | 6 | 7 | 8 | 9 | 10 | More | Next >>