Womens Road Bike Bottoms - Road Bike Shop
Shop
>
Women's Apparel Clothing
>
Women's Apparel Road Bike Clothing
>
Women's Apparel Road Bike Bottoms
2XU Compression Shorts - Mens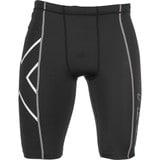 Compression garments like the 2XU Compression Shorts have caused quite a stir in the last decade, and there are a lot of unsubstantiated claims about the technology floating around. These claims fall along a sliding scale from true to false, with the recovery benefits of increased circulation and...
2XU Elite MCS Compression Tights - Women's
Injury due to muscle overuse is extremely common. While we often wear protective clothing, such as body armor and a helmet during athletic activities, we seldom protect our muscles and tendons during high-impact workouts. 2XU has been making compression clothing designed to protect against...
2XU Elite MCS Thermal Compression 3/4 Tights - Women's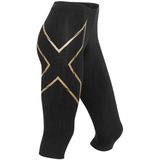 Engineered for cool-weather rides and endurance activities, the 2XU Women's Elite MCS Thermal Compression 3/4 Tights provide thermal warmth and targeted compression. Because they're only 3/4-length tights, these work best with compression socks or leg warmers, allowing you to customize your...
2XU Mid-Rise Compression Tights - Women's
They'll definitely require a serious pants dance to get into, but once you have the 2XU Mid Rise Compression Tights on, you won't want to take them off. With graduated compression from PWX FLEX fabric, the hardest working muscles of your legs will receive wraparound support to decrease muscle...
2XU Recovery Women's Compression Tights
If you grew up with a mom who wore jeans a size or two too small in order to keep her girlish figure well into post-pregnancy middle age, then you might've decided that her method was too similar to medieval torture methods. Riding your bike to stay fit is a far better solution. The 2XU Recovery...
2XU Sub Cycle Short - Women's
Retail Price:
$169.95
Our Price: $76.48
buy now
There are lots of companies manufacturing bike shorts these days, and every one claims to be the best. Many of these claims are just hype, and what you???re actually spending your money on is a pair of stretchy shorts with a pillow sewn into the seat. Of course, you???re really paying for a brand...
Assos H FI.Lady_S5 Women's Shorts
Retail Price:
$188.95
Our Price: $94.47
buy now
Short rides and morning spin classes may not hold the same weight as climbing 3,000 feet in the Swiss Alps, but these activities still require the use of wicking fabrics and a supportive chamois. Although you may not need the intensity of bibs, a well-constructed pair of shorts will feel...
Assos H.laalalaiShorts_s7 Lady Shorts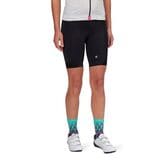 The bib-free Assos H. laalalaiShorts_s7 Lady Shorts showcase Assos' goldenGate construction method, a welcome addition to the Swiss manufacturer's women's line since it may be our favorite recent advancement in cycling shorts technology. GoldenGate involves attaching the chamois at the front and...
Assos hK.434 Lady_S5 Women's Knickers
Retail Price:
$218.95
Our Price: $142.32
buy now
Knickers might look like an easy garment to make, but experience indicates otherwise. Assos recognizes this; that's why the HK. 434 S5 Lady Knickers are made from seven pattern pieces using two different kinds of spandex. Most of the panels are made from Assos Type A. 434 compression spandex, a...
Assos hK.607 Lady_S5 Women's Knickers
Retail Price:
$268.95
Our Price: $121.03
buy now
Knickers can be among the most versatile bottoms in your cycling wardrobe. They're good for at least two seasons of every year, fall and spring. Sometimes we wear them well into winter depending on the weather. The key to wearing knickers is that they need to fit well; a poorly placed gripper or...
<< Prev | Back | 1 | 2 | 3 | 4 | 5 | 6 | 7 | 8 | 9 | 10 | More | Next >>