Womens Road Bike Bottoms - Road Bike Shop
Shop
>
Women's Apparel Clothing
>
Women's Apparel Road Bike Clothing
>
Women's Apparel Road Bike Bottoms
2XU 3/4 Thermal Compression Tights - Women's
With the onset of cool weather, our protection from the elements emerges in the form of lightweight layers. For these transition days, we look for 2XU, as it designed the 3/4 Thermal Compression Tights with the same characteristics found in the rest of its active collection, but included a...
2XU Compression Cycling Tights - Women's
Reduced soreness after an afternoon of intervals means you can get back on the bike tomorrow with fresh feeling legs. The benefits of post-ride compression are great, but on-the-bike compression, like you'll get with the 2XU Women's Compression Cycling Tights, means your muscles have the benefit...
2XU Compression Women's Shorts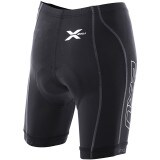 Retail Price:
$179.95
Our Price: $62.98
buy now
You need the best? 2XU has the best. We're not going to waste your time with any marketing pitch. Instead, read ahead and find out why. 2XU constructed the main body from its 105D/CK fabric. We know, we're not fans of titles filled with seemingly arbitrary numbers and letters, either. So, let's...
2XU Cycle Women's Knickers
If you're like us, you probably wonder why the shoulder seasons tend to feel so long? Both spring and fall seem to drag, but given that riding conditions are at their best at these times of year, we let it slide. However, true to the seasonal theme of transition, the required apparel is in flux....
2XU Femme Hipster Women's Short
Retail Price:
$79.95
Our Price: $31.98
buy now
Forget skinny jeans and flats -- the 2XU Femme Hipster Shorts are a shorter-inseam version of the 2XU's popular Femme Tri Short. With breathable fabrics and a minimal design, the Femme Hipster is designed to keep you comfortable in sweltering summer temperatures. After all, when you're competing...
2XU Perform Women's Compression Shorts
Retail Price:
$190.00
Our Price: $114.00
buy now
It is no surprise that the leader in high performance compression apparel has dipped into the cycling world with their Women's Perform Compression Cycling Shorts. These shorts come with the same signature 2XU compression features we have grown so fond of, with the addition of cycling specific...
2XU Recovery Women's Compression Tights
If you grew up with a mom who wore jeans a size or two too small in order to keep her girlish figure well into post-pregnancy middle age, then you might've decided that her method was too similar to medieval torture methods. Riding your bike to stay fit is a far better solution. The 2XU Recovery...
2XU Sublimated Cycle Women's Shorts
Retail Price:
$199.95
Our Price: $79.98
buy now
Sublimation. Most materials can't handle it, yet we all want it. Simply put, there's no other process that can apply details as smoothly or with more durability potential. However, most fabrics that can be sublimated are typically either weighty, dense, or devoid of all important cycling...
2XU Sublimated Women's Bib Shorts
Retail Price:
$169.95
Our Price: $101.97
buy now
If there was a line in the sand with 'form' on one side and 'function' on the other, we would be standing with function. However, there are rare occasions where the two interact harmoniously. Case in point are the 2XU Sublimated Women's Bib Shorts. To construct the Sublimated bib shorts, 2XU used...
2XU Women's Compression Shorts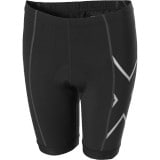 The 2XU Compression Cycling Short supports and protects muscles to reduce fatigue and damage. The Fusion Pro X chamois takes the bite out of hours spent in the saddle and manages moisture to keep you dry and comfortable.Italian Fusion Pro X multidensity chamois absorbs shock, reduces vibration,...
<< Prev | Back | 1 | 2 | 3 | 4 | 5 | 6 | 7 | 8 | 9 | 10 | More | Next >>