Womens Road Bike Bottoms - Road Bike Shop
Shop
>
Women's Apparel Clothing
>
Women's Apparel Road Bike Clothing
>
Women's Apparel Road Bike Bottoms
Giordana Tenax Pro Bib Short - Women's
Retail Price:
$119.95
Our Price: $89.96
buy now
On race day, when every watt counts and we're deep in the pain cave, we don't care about style. But on days when the goal is to bag a couple of peaks and then retreat to the cafe, style matters. Giordana's Tenax Pro Women's Bib Shorts are made for those days. The shorts' stretchy yet compressive...
Giordana Trade Vero Shorts - Women's
Retail Price:
$109.95
Our Price: $82.46
buy now
Price-wise, Giordana's Women's Trade Vero short falls near the middle of Giordana's line of cycling shorts. At first glance, this can be a bit misleading. The technology that the Trade Vero short utilizes and the meticulous design and quality that are immediately evident in this short land it way...
Giro Chrono Expert Halter Bib Shorts - Women's
While we all love a good pair of bib shorts, they're often accompanied by mid-ride pits stops fraught with the prospect of de-layering, identifying a sanitary location to set your jersey, and then wrestling with clammy arm bands against damp skin to get everything back into place. Keep your bibs...
Giro Chrono Expert Thermal Bib Tight - Women's
Stopping for a nature break while sporting bibs is typically a session of removing layers of clothing in an attempt to access bib straps so we can get down to business. While this is an inconvenience while riding in idyllic conditions, it's a down-right pain when it's cold out. Someone at Giro...
Giro Chrono Pro Shorts - Women's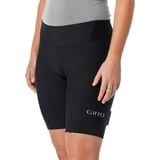 Retail Price:
$149.95
Our Price: $97.47
buy now
Depending on who you ask, bib-free shorts are either far more, or far less, comfortable than their bibbed cousins. Wherever you may stand on the issue, Giro constructed its women's Chrono Pro Shorts to appeal to both sides of the fence. With a wide, flat waistband reminiscent of a favorite pair...
Giro Chrono Sport Halter Bib Short - Women's
Revolutionizing the manner in which female cyclists suit up for daily rides, the Giro Women's Chrono Sport Halter Bib Short does away with pesky bibs in favor of a comfort-enhancing, pitstop-friendly halter strap. This innovative design not only provides the same level of support you've come to...
Giro Chrono Sport Shorts - Women's
Every bike ride doesn't have to be a hammerfest, a snot-bubble TT, or an epic day of QOMs. Sometimes a ride can just be a ride, the kind of day when we leave stressful ambitions at home and are more interested in the arc of a smile and the turn of the cranks than rise and fall of power output...
Giro New Road Boy Shorts - Women's
Retail Price:
$79.95
Our Price: $47.97
buy now
Everybody loves merino wool, so it was a no brainer for Giro to use it in the New Road Women's Boy Shorts. It does seriously everything. It's warm in the winter, cool in the summer, stretchy, breathable, moisture wicking, and naturally odor resistant, so you'll be hard pressed to find a situation...
Giro New Road Mobility Overshorts - Women's
Retail Price:
$89.95
Our Price: $9.00
buy now
Summer weather lends itself to post-ride activities -- concerts, farmers 'markets, drinks -- and while we're not afraid to hang out in Lycra, more relaxed kit like the Giro New Road Mobility Women's Overshorts can be a godsend in these situations. They have casual looks and a comfortable stretch...
Giro Ride Classic Overshorts - Women's
Retail Price:
$99.95
Our Price: $44.98
buy now
One of the nice things about Giro's apparel collection is that every piece works just as well off the bike as it does on. That being said, its designers still created several items that lean more in one direction or the other, using features and fabrics as giveaways as to the main intent of where...
<< Prev | Back | 1 | 2 | 3 | 4 | 5 | 6 | 7 | 8 | 9 | 10 | More | Next >>