Womens Road Bike Bottoms - Road Bike Shop
Shop
>
Women's Apparel Clothing
>
Women's Apparel Road Bike Clothing
>
Women's Apparel Road Bike Bottoms
Machines for Freedom Endurance Bib Short - Women's
Many cycling adventures go beyond the borders of the city, and well off into the beyond, winding up steep canyons, rolling through undulating hills of vineyards, and ending 150-miles away from starting point in a quaint village that sleeps under a blanket of stars. The trouble with these...
Maloja AlseaM Tights - Women's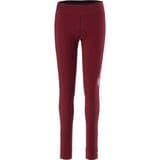 Retail Price:
$184.95
Our Price: $110.97
buy now
You won't retreat from your cycling regime just because winter's temperatures bring a chill to your breath. As long as there isn't ice on the pavement, you're going for a ride, and one of the few difference between riding in warm weather and riding right now is the Maloja Women's AlseaM Tights....
Maloja AlseaM. 3/4 Tight - Women's
Retail Price:
$154.95
Our Price: $92.97
buy now
Cycling in the cooling fall months and during the spring thaw involves navigating a maze of clothing requirements. Too much winter protection will leave you roasting on the bike before riding home in a cold, clammy funk; however, too little protection and the first chill you experience will...
Maloja EngelsteinM. Short - Women's
Retail Price:
$129.95
Our Price: $60.17
buy now
Tight and technical, the Maloja Women's EngelsteinM. Short keeps you and your butt comfortable through extensive hours spent in the saddle. Constructed from an innovative Lycra blend, this short offers high elasticity, holds its shape, and brings you elevated freedom of movement that handles the...
Maloja GabyM. 3/4 Knicker - Women's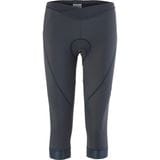 Retail Price:
$144.95
Our Price: $94.22
buy now
Spring and fall seasons are notoriously fickle, with cool temperatures and strong breezes causing goosebumps if you're wearing bib shorts. Offering just-the-right coverage in transitional seasons, the Maloja Women's GabyM. 3/4 Knicker keeps you comfortable through crisp autumn mornings and drafty...
Maloja SchlierseeM. Short - Women's
Retail Price:
$139.95
Our Price: $97.96
buy now
Bringing you high compression as well as a high level of mobility, the Maloja Women's SchlierseeM. Short accompanies you on long, all-day rides with easy movement and breathable, cushioned comfort. An innovative Lycra HC Eco fabric brings you tons of mobility in a sustainable package, while the...
Maloja TorontoM 3/4 Knicker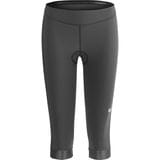 Sleek and supportive, the Maloja TorontoM. 3/4 Knicker is ready to ride through chilly fall days when you need a bit of extra coverage from cool canyon breezes. With a smooth blend of nylon and spandex, the TorontoM. 3/4 Knickers are designed to cut through cool air, with a soft and fleecy touch...
Maloja TorontoM Tight - Women's
When the road looks wet and dreary from cool fall days and an early winter chill, get out with some alpine inspiration from Maloja. With wintery-colors, a sleek form fit, and light insulation you'll stay toasty in the Maloja TorontoM. Tights, as you pedal through a frost covered wonderland. The...
Maloja Tualatin Tight - Women's
Retail Price:
$159.95
Our Price: $95.97
buy now
Inspired by hard-to-reach locales and mountain life, Maloja clothing exudes off-beat, energetic style matched by seriously functional construction. Whether you log laps on the Nordic trails before work on your skate skis most mornings or spend winter dabbling in a bit of everything, the Maloja...
Mavic Echappee Short - Women's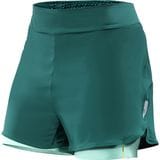 Retail Price:
$89.95
Our Price: $76.46
buy now
Striking the balance between looking like a comfy running short and performing like a top-tier cycling short, the Mavic Women's Echappee Short provides padding for comfort on the bike, but in a design that won't show when you're off it. A stretchy, wicking Trail Tech fabric helps keep you cool,...
<< Prev | Back | 11 | 12 | 13 | 14 | 15 | 16 | 17 | 18 | 19 | 20 | More | Next >>