Womens Road Bike Accessories - Road Bike Shop
Shop
>
Women's Apparel Clothing
>
Women's Apparel Road Bike Clothing
>
Women's Apparel Road Bike Accessories
2XU Compression Recovery Arm Sleeves
Prevent arm fatigue caused by riding rough roads or gripping the brake hoods with the 2XU Compression Recovery Arm Sleeves. The 2XU sleeves are sewn from a 250 denier fabric, which features graduated compression designed to promote increased circulation of blood back to the heart. Its wicking...
2XU Recovery Compression Calf Sleeves
You've seen compression socks and tights, so what exactly is the point of a compression calf sleeve? Well, if you're like a lot of us, you have favorite socks for cycling or running, and the 2XU Recovery Compression Calf Sleeves allow you to wear your favorite socks while reaping the benefits of...
Assos armProtector_S7 Arm Warmers
Sleeves like these Assos armProtectors are ideal protection on hot days. For some it is anathema to summer. My Vitamin D! But when you have to protect your skin, a summer sleeve is the way to go. These armProtectors are closer to 'coolers' than they are to 'warmers,' as they're so thin you'll...
Assos armUno_s7 Arm Warmers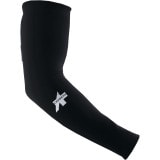 Retail Price:
$48.95
Our Price: $34.96
buy now
We can't help but get excited when Assos introduces new products, and if you're reading this, you probably can't either. Just in time for the approaching cool down of the year, Assos gives us the armUno_s7 Arm Warmers. Moving away from the ideology of over-engineering at the cost of pricepoint...
Assos armWarmers_S7 Arm Warmers
No one rides with their arms perfectly straight, so why would anyone design arm warmers that way? Not Assos, who engineered the armWarmers_s7 Arm Warmers with ergonomic bends that mirror the shape of your arms on the bike, which increases comfort and helps the sleeves stay in place. Assos...
Assos kneeUno_s7 Knee Warmers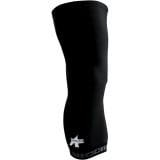 Retail Price:
$64.95
Our Price: $45.46
buy now
During transitional weather seasons, the day's temperatures are too unpredictable to dedicate your ride to bib tights. Though your joints need to be warm, wrapping your legs in heavy fabrics is a one way ticket to bonktown. Really, all that you need is a bit more coverage around your knees, and...
Assos kneeWarmer_s7 Knee Warmers
We're all for better-engineered, exceptionally-designed solutions. Especially for pieces of apparel that have gone relatively unchanged for decades. Knee warmers -- we're lookin' at you. Think of it, have you ever known of a knee warmer that hasn't been a lightly-tapered tube of fleecy fabric...
Assos legUno_s7 Leg Warmers
When the temperature is too much for your summer shorts to bear, yet it's simply not cold enough for your bib tights, the Assos legUno_ s7 Leg Warmers fill the gap between your winter and summer layers. Developed with the Assos signature of detail, the legUno_s7 warmers use exclusive fabrics and...
Assos legWarmer_s7 Leg Warmers
Retail Price:
$118.95
Our Price: $83.26
buy now
The goal was simple. Improve the comfort, fit, and warmth of leg warmers. An easy task? We doubt it. Leg warmers have been pretty good on all fronts already. It was a puzzle, but Assos managed this feat with their legWarmer_s7 by starting with design. Rather than one-piece and a single material,...
Assos summerGloves_s7 - Women's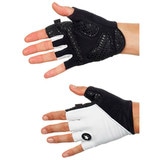 Retail Price:
$74.95
Our Price: $52.46
buy now
We love the day that comes every spring when we can finally go on a long bike ride without even wearing knit gloves, putting our hands straight on the hoods. But sometimes love hurts, and that first long ride can be murder on delicate extremities used to hibernating in the plush comfort of...
<< Prev | Back | 1 | 2 | 3 | 4 | 5 | 6 | 7 | 8 | 9 | 10 | More | Next >>