Womens Road Bike Accessories - Road Bike Shop
Shop
>
Women's Apparel Clothing
>
Women's Apparel Road Bike Clothing
>
Women's Apparel Road Bike Accessories
Giro Foray Helmet
Over the past few years, the helmet world has shown a massive trending toward aero options such as the Giro Synthe and Air Attack. While these helmets look cool and reduce drag, they're not always at a price point most of us can afford. For those of us without unlimited funds who want in on the...
Giro Monica Glove - Women's
Your butt, feet, and hands are the interfaces between you and your steed, and while you pay plenty of attention to your chamois and shoes, gloves get about as much love as a dog that pooped in your bed. Giro's Monica Women's Glove would never soil your sheets, though, because it's too busy...
Giro Pneumo Helmet
Retail Price:
$149.95
Our Price: $52.48
buy now
We can never get enough of versatility. Sure, there are some things that are better left dedicated, like time trial helmets, but this still doesn't dispel the excitement of using the same helmet on the road, trail, or commute to work. However, until the Giro Pneumo Helmet, this simply wasn't a...
Giro Reverb Helmet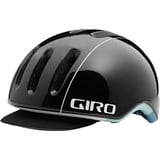 The Reverb Helmet may resemble ye olde Giro helmets from the 1990s--that golden age of cycling when fluo was in style for the first time--but its body is sleeker, its weight is lower, and its impact absorbing EPS foam padding is updated with In-Mold technology to be impact-absorbier. Giro has...
Giro Saga Helmet
The Giro Saga Helmet is a more affordable chapter in the arcing story of modern, ultra-aerodynamic cycling helmets. So much science is focusing on aerodynamics these days, it's no wonder that the humble helmet -- responsible for surprisingly large amounts of drag on your bike -- has been...
Giro Saros Helmet
Retail Price:
$124.95
Our Price: $93.71
buy now
To us, the hallmark of a Giro design are its three central vents. And, not coincidentally, you'll find this feature on the Giro Saros Helmet. It was originally part of the Prolight design, but nearly every subsequent helmet has revolved around the three prominent central holes. To us, this...
Giro Savant Helmet
Helmets are perhaps the kings of diminishing returns -- after all, every bicycle helmet sold in the US is subject to the same testing, and requires the same certification. What's left after that is ventilation, fit, and, of course, style. Giro's Savant has all three in spades, at a price that...
Giro Savant MIPS Helmet
There is no guarantee you'll never crash. But, wearing a helmet that is designed with the utmost attention to detail gives your brain a fighting chance. And speaking of fighting, the Giro Savant was developed using head impact studies from boxing to inform its design. A collaboration between Giro...
Giro Sonnet Helmet - Women's
Giro focused on comfort, ventilation, and value when it designed the Sonnet Women's helmet. The low-profile design keeps the weight down and reduces the spaceman appearance that large, bulky helmets can give you. More importantly, however, Giro built the Sonnet with 25 large vents and its Roc Loc...
Giro Sonnet MIPS Helmet - Women's
You've probably seen the MIPS name everywhere -it's certainly taken bike helmets by storm, but what is it? MIPS is a technology that does its best to protect your brain by mimicking what the brain does to protect itself. Namely, MIPS aims to mimic the cerebrospinal fluid that allows the skull and...
<< Prev | Back | 1 | 2 | 3 | 4 | 5 | 6 | 7 | 8 | 9 | 10 | More | Next >>