Womens Road Bike Accessories - Road Bike Shop
Shop
>
Women's Apparel Clothing
>
Women's Apparel Road Bike Clothing
>
Women's Apparel Road Bike Accessories
Giro Atmos II Helmet
If you're into road cycling, then chances are good that you've owned, or known someone who's owned, an Atmos. It's been a staple of ours and our riding buddies for so long that it's hard to imagine not seeing one bobbing up and down in the group. Now, Giro has made the risky decision to release...
Giro Atmos Replacement Coolmax Helmet Pads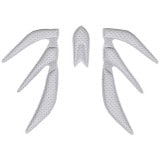 Retail Price:
$14.99
Our Price: $9.99
buy now
Here's what we know: The Giro Atmos is the undisputed greatest helmet ever made. It's the only one we want to sell because it's so much more comfy and breathable than any other helmet on the market, and its customization of fit is pretty much infinite. In fact, the only issue we've ever had with...
Giro Foray Helmet
The world of cycling has come, in the last few seasons, to a deeper understanding of the importance of aerodynamics in helmets. Witness the pro peloton's adoption of slippery, low-profile lids virtually across its teams, and the rising popularity of helmets like Giro's own Synthe or Air Attack,...
Giro Ionos Replacement Pad Set
The Giro Ionos is impressive for many reasons. One of those reasons are the helmet pads. They manage to fit seven helmet pads in the set, all thin strips, on the inside of the helmet. Two are for your brow, the remaining are for everywhere else. The replacement set comes with all seven pads. The...
Giro Monica Glove - Women's
Retail Price:
$39.95
Our Price: $15.98
buy now
Hands are an often overlooked contact point on the bike. Though we dress our cockpits with the right bars for our shoulder width and wrap them with tape that feels good under our palms, we rarely tend to think of hand coverings as anything more than an afterthought when the weather is warm. This...
Giro Pneumo Helmet
Retail Price:
$149.95
Our Price: $74.98
buy now
We can never get enough of versatility. Sure, there are some things that are better left dedicated, like time trial helmets, but this still doesn't dispel the excitement of using the same helmet on the road, trail, or commute to work. However, until the Giro Pneumo Helmet, this simply wasn't a...
Giro Reverb Helmet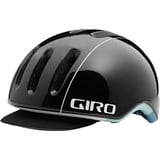 The Giro Reverb Helmet may look as though it just fell out of a faded 1991 Tour de France poster, but if you look closer, you'll find modern re-tooling, and subtle homage to the famed helmet that put a then little-known Giro Sport Design on the map. Gone are the outdated standards of yesteryear,...
Giro Saga Helmet
The Giro Saga Helmet is a more affordable chapter in the arcing story of modern, ultra-aerodynamic cycling helmets. So much science is focusing on aerodynamics these days, it's no wonder that the humble helmet -- responsible for surprisingly large amounts of drag on your bike -- has been...
Giro Sapphire Helmet - Women's
Retail Price:
$149.95
Our Price: $74.97
buy now
Giro's In-Mold Composite Reinforcement and Roll Cage technology allows its designers to provide the Sapphire Women's Helmet with cooling ventilation and class leading safety. The In-Mold Composite Reinforcement fuses the shell and impact-absorbing EPS foam into one lightweight structure. In-Mold...
Giro Saros Helmet
Retail Price:
$124.95
Our Price: $74.93
buy now
To us, the hallmark of a Giro design are its three central vents. And, not coincidentally, you'll find this feature on the Giro Saros Helmet. It was originally part of the Prolight design, but nearly every subsequent helmet has revolved around the three prominent central holes. To us, this...
<< Prev | Back | 1 | 2 | 3 | 4 | 5 | 6 | 7 | 8 | 9 | 10 | More | Next >>